Long ball downs Dice-K, Mets in Pittsburgh
Right-hander regrets ill-fated pitch on night offense couldn't cash in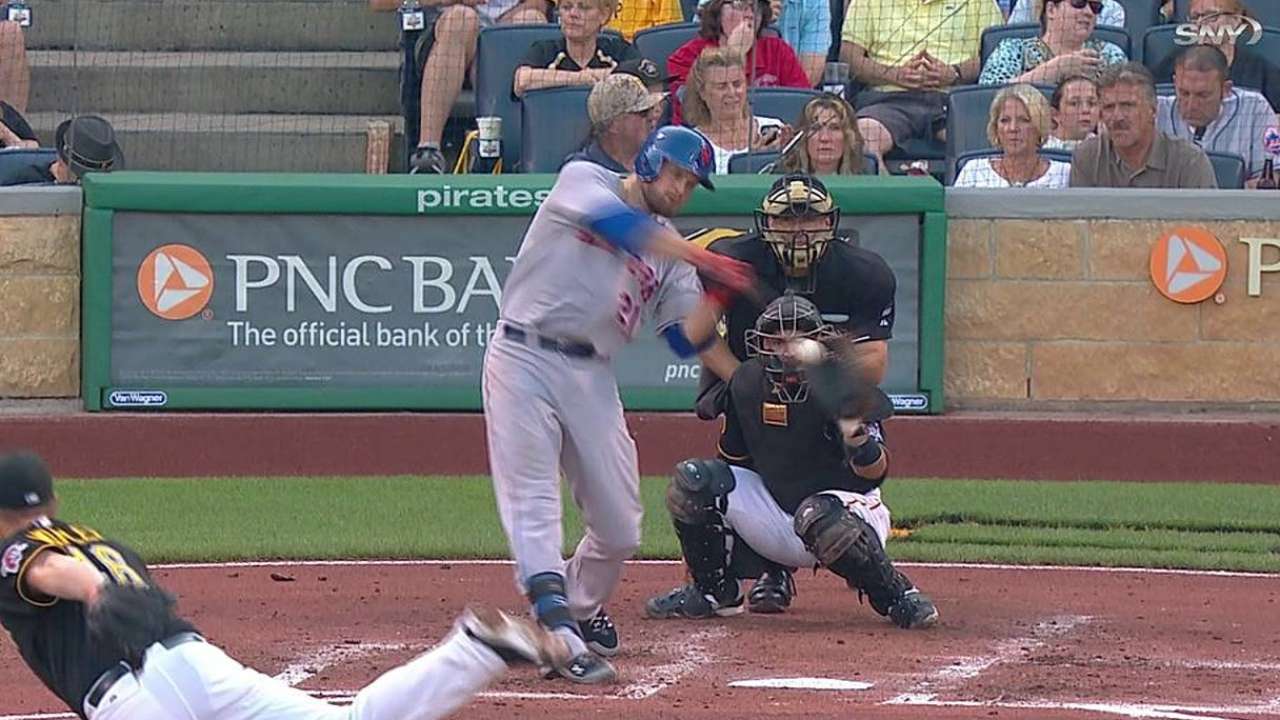 PITTSBURGH -- Working with two runners in scoring position and a full count against one of baseball's newest phenoms, Daisuke Matsuzaka wanted a strikeout.
Catcher Travis d'Arnaud called for a changeup. Dice-K shook him off and went with a slider.
Gregory Polanco deposited that slider about 10 rows deep in PNC Park's right-field seats, and it proved to be the difference as the Pirates took down the Mets, 5-2, in Thursday's series opener.
"I actually shook off d'Arnaud on that pitch, and it ended up being a big mistake," Matsuzaka said. "I need to apologize to him about it."
With Polanco batting in the fifth inning and runners on first and second, a passed ball advanced both, taking the double play out of order with one out. Matsuzaka said that changed the dynamic of the at-bat, and when he failed to keep the slider down, Polanco hit the second homer of his 16-game career.
"With runners on second and third, it made the situation more difficult," said Matsuzaka, who gave up five hits and walked four in six innings. "I was looking to get a ground ball and get a double play, but that no longer was an option. I was going for a strikeout, and the result ended up being the worst possible result. It was really regretful."
Said Pirates manager Clint Hurdle of his hot-hitting right fielder: "He has very good strike-zone discipline for a young hitter. It's been showing up here as well. He put a good swing on a breaking ball up over the plate."
The Mets outhit the Pirates, 9-8, but their knocks were too scattered to push enough runs across the plate. Lucas Duda got New York on the board in the fourth with his 12th homer of the season, a fly ball that just cleared the short porch in left field. David Wright added an RBI double in the eighth, which extended his hitting streak to 10 games.
And though nine players -- including Matsuzaka and Juan Lagares, who was playing for the first time since June 1 after a stint on the disabled list -- had hits, nobody in the lineup had a multi-hit day and six of the knocks were singles by runners who never came around to score.
Entering the game, the Mets were averaging 7.5 runs in their last four contests. However, they were kept in check by Bucs starter Vance Worley, who pitched seven innings and gave up seven hits, the only of which that caused damage being Duda's homer.
The Mets had a strong opportunity to strike first in the second inning when Ruben Tejada singled to left with two men aboard. With Matsuzaka on deck, Bobby Abreu was waved home but thrown out by left fielder Josh Harrison.
"We didn't have a ton of opportunities today to do much," manager Terry Collins said. "But we certainly had some guys on early. ... We hit the ball pretty good."
After the Mets squandered a few early chances, the Pirates took a 2-1 lead in a quirky manner in the fourth.
With runners on the corners and two outs, Matsuzaka tried to pick off Ike Davis at first base. Davis got himself into a pickle, and with the defense in a shift with left-handing-hitting Neil Walker at the plate, Andrew McCutchen had a lot of free rein at third base. The play was by design, and McCutchen took off and scored before the Mets were able to tag Davis.
"[We] saw an opportunity to steal and thought, 'Time to give it a shot,'" said Pirates first-base coach Rick Sofield, who called the play. "Ike jumped off, lucky on the throw over, Andrew took off ... thought we could do something right there, and it worked out for us."
The Mets wouldn't even the game again, and they lost their second straight after winning five of six earlier in the week.
Stephen Pianovich is an associate reporter for MLB.com. This story was not subject to the approval of Major League Baseball or its clubs.