Strasburg working to refine mechanics on hill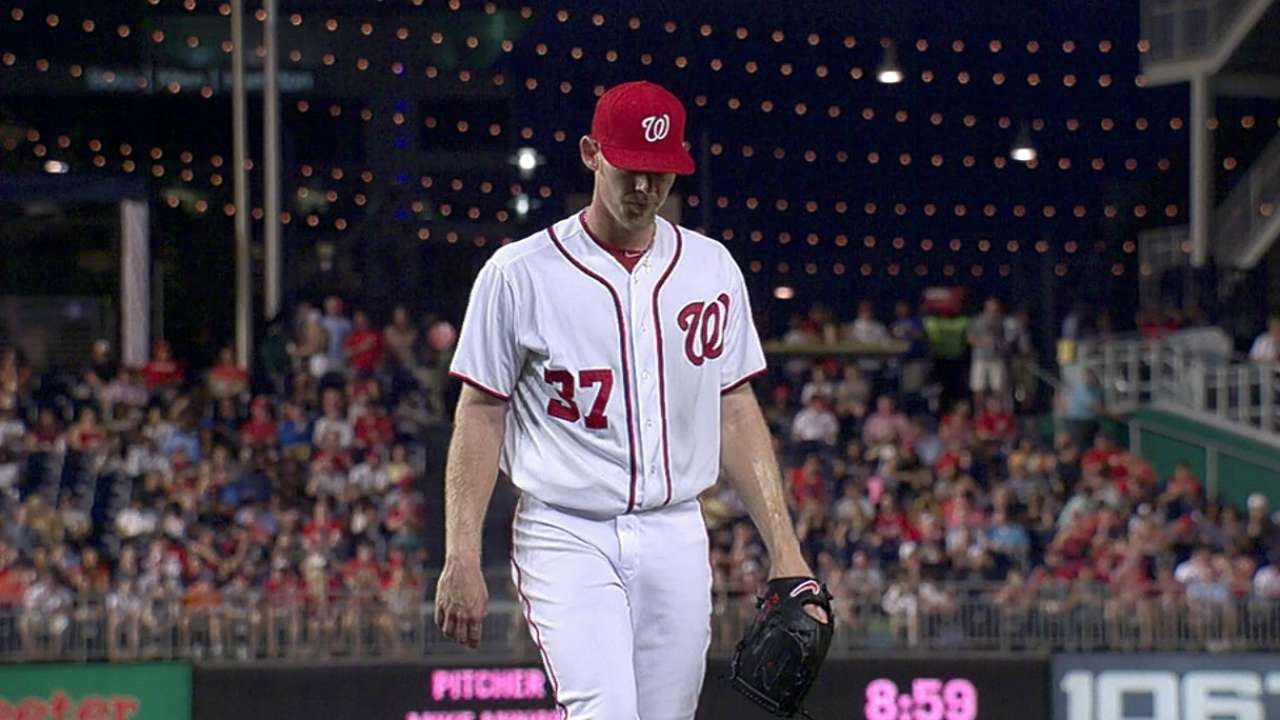 CHICAGO -- Stephen Strasburg said after his start Wednesday that something felt off mechanically. That came as a surprise to manager Matt Williams when he heard about it Thursday.
"Mechanically, I thought he was good," Williams said. "His changeup wasn't as good. We talked about that yesterday. It wasn't as crisp, that may be what he's referring to. But I don't see any mechanical issues with him. I thought he was fine. He made a mistake with the bases loaded, and that happens sometimes. But his numbers have been really good."
The bases-loaded mistake Williams refereed to was a grand slam by Scooter Gennett in the second inning of Thursday's 9-2 loss to the Brewers. Strasburg allowed seven earned runs on eight hits in 4 2/3 innings pitched in the loss, pushing his ERA to 3.70 ERA. It was his second straight sub-par outing after he allowed four earned in six innings against Atlanta on June 20.
Take those two starts out, however, and Strasburg has a 3.24 ERA.
"It's not an emergency. Guys are allowed to, even the Strasburgs, are allowed to have a bad game in there," said pitching coach Steve McCatty. "So the last two were not good. Yeah, we see it, and we're going to work on it. I'm not going to let him get overly amped up and say, 'Oh my gosh, something's going wrong here.' It's two games."
McCatty said the mechanical issue he's seen is that Strasburg has been opening up his front side too quickly, which has caused him to rush his delivery. That in turn means Strasburg's back leg has been collapsing too quickly, which has caused his arm slot to drag. Consequently, Strasburg has left the ball up in the zone more frequently.
"That's kind of what I feel. I feel like trying to throw a true four-seamer and it's coming out more like a two-seamer," Strasburg said. "I'm not saying that it's got the two-seam rotations but it's got the movement of a two-seamer, so it's got too much left-to-right action. It's not really keeping the angle and not really pounding it down, and I think it's just something that I kind of focus in on mechanically to get back to hitting the spots a little bit better and not having it tail over the plate."
Joe Popely is an associate reporter for MLB.com. This story was not subject to the approval of Major League Baseball or its clubs.