Baseball captivated by US team's World Cup run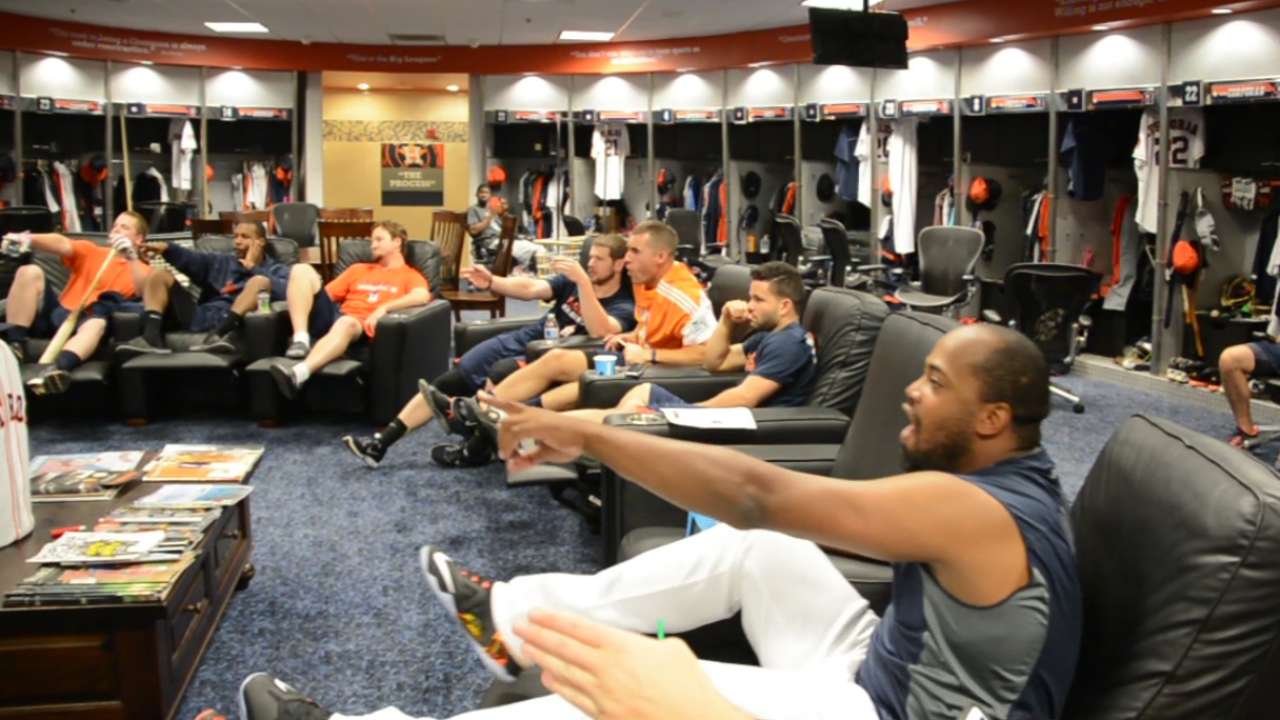 Once again, America's Pastime was riveted to the world's game.
The United States' final group-play match in soccer's quadrennial World Cup took place Thursday against heavily favored Germany, and it was a crucial one for America's hopes of moving forward in the 32-team tournament.
As had happened in the Americans' dramatic first-match victory over Ghana and second-match draw with Portugal, the action being broadcast Thursday from a water-logged soccer pitch in Recife, Brazil, was as captivating to people around Major League Baseball as it was to the millions of other Americans tuning in.
Team USA lost to Germany, 1-0, but because Portugal beat Ghana on Thursday and the United States had a better goal differential than Portugal, it was the Germans and Americans who moved on from the talent-stacked "Group of Death" to the knockout round of 16. The United States will play Belgium in a win-or-go-home game on Tuesday.
Back around the very American ballparks of the big leagues, representatives from many teams had a vested interest in the proceedings and got into the spirit.
Rockies outfielder Charlie Blackmon, for example, posted on Instagram a photo of himself hoisting a United States soccer banner, with the comment: "That feeling when your team advances."
Said Blackmon: "I'm a soccer fan once every four years. I feel like in my old age now, I'm trying to appreciate things that other cultures appreciate more. Since it's technically the biggest sport in the world, I feel like I should see what it's all about."
Blackmon said he noticed that other players have been getting into the Cup, too.
"There's a couple of jokers running around with jerseys of different countries," Blackmon said. "I saw a soccer ball make its first appearance yesterday in the training room, which is a dangerous place. Soccer cleats, even, were running around. There's some guys that are really into it."
In Houston, the Astros were getting prepared for their day game against the Braves, and the U.S.-Germany match was playing on the JumboTron in center field to a good-sized and enthusiastic batting-practice crowd.
Partisan cheering also was going on in the Astros' clubhouse. Outfielder George Springer showed up wearing the jersey of Brad Davis of the Houston Dynamo, who happens to be a member of the U.S. Men's National Team.
"They've been playing really well," Springer said. "It's a shame they gave up that goal in the last seconds in stoppage time [Sunday in the tie against Portugal], but I feel confident. I feel like they're going to tie, at the very least."
That didn't happen, but it didn't stop Springer from cheering while watching the game alongside teammates Alex Presley, Jake Buchanan, Jose Altuve, Jesus Guzman and Jerome Williams. Outside, pitchers Josh Zeid and Collin McHugh watched on the big screen from the dugout railing.
"Give it to Davis," Springer screamed at one point. "It's raining. This is the shot we have. Brad's going to put one in the back of the onion bag."
Presley, who donned a red U.S. Soccer shirt, said he grew up playing soccer and was proud that, "I know what's going on when I watch a game and most guys don't know what's going on."
After the game, the Astros realized the significance of what had happened, despite the fact that the team had technically lost.
"Soccer's starting to catch on in the States," McHugh said. "I don't think it's going to be long, maybe four or five years, before we're … an actual influence in the world of soccer. It's exciting to see."
The Pittsburgh Pirates were excited to see it, too. Before batting practice, Gerrit Cole, Russell Martin, Gaby Sanchez and Jeff Locke kicked a soccer ball around the PNC Park outfield while wearing soccer jerseys and shorts, and the game was an early TV staple in the clubhouse.
"It would've been nice to beat Germany," Cole said. "But we beat Ghana, so I guess we deserved it."
Added Pirates manager Clint Hurde: "I think it's a great event and a great sport. Any time countries can rally around something … and I'm a big fan of dancing in the streets."
Meanwhile, over at Wrigley Field, the Cubs got sucked into the drama while readying themselves for a game against the Nationals, and outfielder Justin Ruggiano looked at Team USA's accomplishment from a wider lens.
"I think World Cup soccer brings a new awareness of the sport to our country," Ruggiano said. "Just to see the passion that these international countries have for their sport is incredible, and that's a bunch of work they're doing out there. That's not an easy sport. They have to be in ridiculous shape.
"Hitting a baseball is hard, and may be the hardest thing to do in sports, but hitting a soccer ball at that velocity with your head into a goal with that accuracy, it has to be tough."
For Hall of Fame pitcher and current Twins broadcaster Bert Blyleven, who was in Anaheim as Minnesota took on the Angels, it will be tough to root against the highly touted Netherlands team. Blyleven, after all, was born in that country, and his father took him to soccer games before he even knew what baseball was.
"My parents were born in Holland, they were big soccer people, and if my dad was here, he would be rooting for the Dutch, as I am," Blyleven said. "So I'm taking over for my Pops."
Twins first baseman Joe Mauer said he is no soccer expert, but he is a fan of competition at the highest level.
"It doesn't get much more in soccer than the World Cup," Mauer said.
The only player with any Major League Baseball experience with a rooting interest in the German side on Thursday was, not surprisingly, raised in Germany. Outfielder Donald Lutz, who made it to The Show for the Reds last year and is currently playing for Cincinnati's Triple-A club in Louisville, was all over Twitter on Thursday as he and his teammates watched the game from a sports bar.
Lutz wasn't shy in displaying his partisanship for his homeland, but he also expressed satisfaction with the result of both teams moving on.
After the game ended, he posted a picture of himself smiling, with the comment, "Everyone happy."
Doug Miller is a reporter for MLB.com. Follow him on Twitter @DougMillerMLB. This story was not subject to the approval of Major League Baseball or its clubs.