Halfway there: Crew sets club-best 81-game record
Beating Rockies at season's halfway point, Milwaukee pacing MLB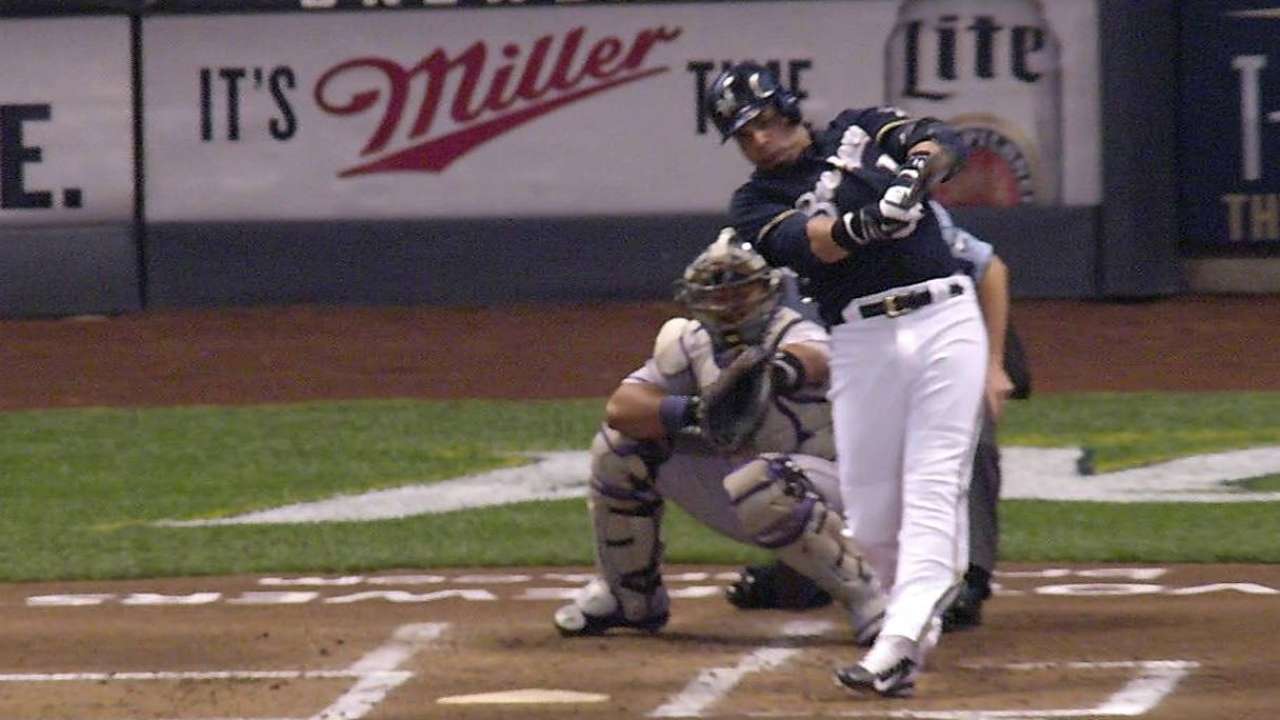 MILWAUKEE -- The Brewers were already assured of reaching the mathematical midpoint of the season Thursday with the best record in franchise history.
A tight win gave Milwaukee the most wins in baseball to boot.
Rickie Weeks began a three-hit night with his 26th career leadoff home run, and Jonathan Lucroy and Khris Davis delivered RBIs in a go-ahead fifth inning that propelled the Brewers to a 7-4 win over the reeling Rockies on Thursday night.
At 49-32, Milwaukee leads the Major Leagues in victories and is off to its best 81-game start in a franchise history that dates to 1969 -- two games better than the previous mark set in 1979 and matched in 2007.
According to Elias, since the advent of the Wild Card in 1995, 69 percent of teams in first place after 81 games have made the postseason (82 of 118), and 61 percent have won the division (72 of 118).
"It's halfway of the season? It doesn't feel like it yet," said Brandon Kintzler, one of the four Brewers pitchers who provided scoreless relief for starter Wily Peralta. "I'll take another 49 [wins]."
Weeks has not forgotten that most preseason prognosticators ranked the Brewers fourth in the National League Central.
"We felt good about our situation," Weeks said earlier Thursday. "Obviously, a lot of the media didn't. That's one of the things that keeps us together in this clubhouse."
Only Oakland (48-30, .615) has a better winning percentage than the .605 Brewers, who beat the Rockies for the fourth time in seven days. Weeks sparked a three-run first inning by hitting Colorado left-hander Christian Friedrich's first pitch for a home run, and Aramis Ramirez added a two-run homer later in the same inning.
The Brewers were poised to add more when they put runners at second and third base with nobody out in the third inning, but Rockies third baseman Ryan Wheeler speared a Jonathan Lucroy line drive and tagged third to double up Weeks before Carlos Gomez struck out to end the threat. In the next half-inning, Wheeler gave the Rockies the lead with his first career grand slam.
"That would have been huge if 'Luc' gets that ball by him and we have another big inning," Brewers manager Ron Roenicke said. "It does change things. We talk about a guy having a great at-bat, and you can't control what happens."
Peralta was tough outside of that four-run, five-hit inning, holding the Rockies to no more runs on only three hits in five other innings of work. The Brewers rewarded him by scoring twice against Friedrich and reliever Rob Scahill in the fifth inning. Lucroy tied the game with a 400-foot single that nearly cleared the center-field fence -- and was nearly caught by Drew Stubbs. Three batters later, Khris Davis hit a go-ahead sacrifice fly.
Brewers reliever Will Smith escaped a bases-loaded jam in the seventh inning with two strikeouts, and Kintzler stranded a runner at third base in the eighth, pumping his fist after getting a called third strike on pinch-hitter Brandon Barnes.
"Certainly nothing has come easy lately," Rockies manager Walt Weiss said. "We had some opportunities late."
After Scooter Gennett's pinch-hit, two-run home run extended the lead to 7-4, Francisco Rodriguez breezed through a nine-pitch, 1-2-3 ninth inning for his 26th save.
With 330 career saves, Rodriguez tied John Wetteland for 12th all-time. He sent the Rockies to their ninth loss in 10 games.
"Any time we come in with a lead, every single out is so big," Kintzler said. "For us, we have to trust each other. If you get a guy on, you know the other guy behind you is going to pick you up."
They all picked up Peralta, who has won each of his starts in June with a rather unremarkable 4.22 ERA. He walked two batters on Thursday, struck out seven and has better outings in his young right arm, Roenicke said.
"I thought the last probably three outings, he's pitched well but he's not locked in," Roenicke said. "Before that, he had a couple games where he was locked in, and really he went through lineups. Now he's struggling to get through lineups. He's still making good pitches, but he's struggling to get through the lineup."
With 14 games to go before the All-Star break, the Brewers are five wins shy of another club mark. Their record for most wins at the break is 54, set in 1979.
"Baseball is fun when you win," Weeks said.
Adam McCalvy is a reporter for MLB.com. Read his blog, Brew Beat, and follow him on Twitter at @AdamMcCalvy. This story was not subject to the approval of Major League Baseball or its clubs.