Hot hitting not altering Gennett's platoon status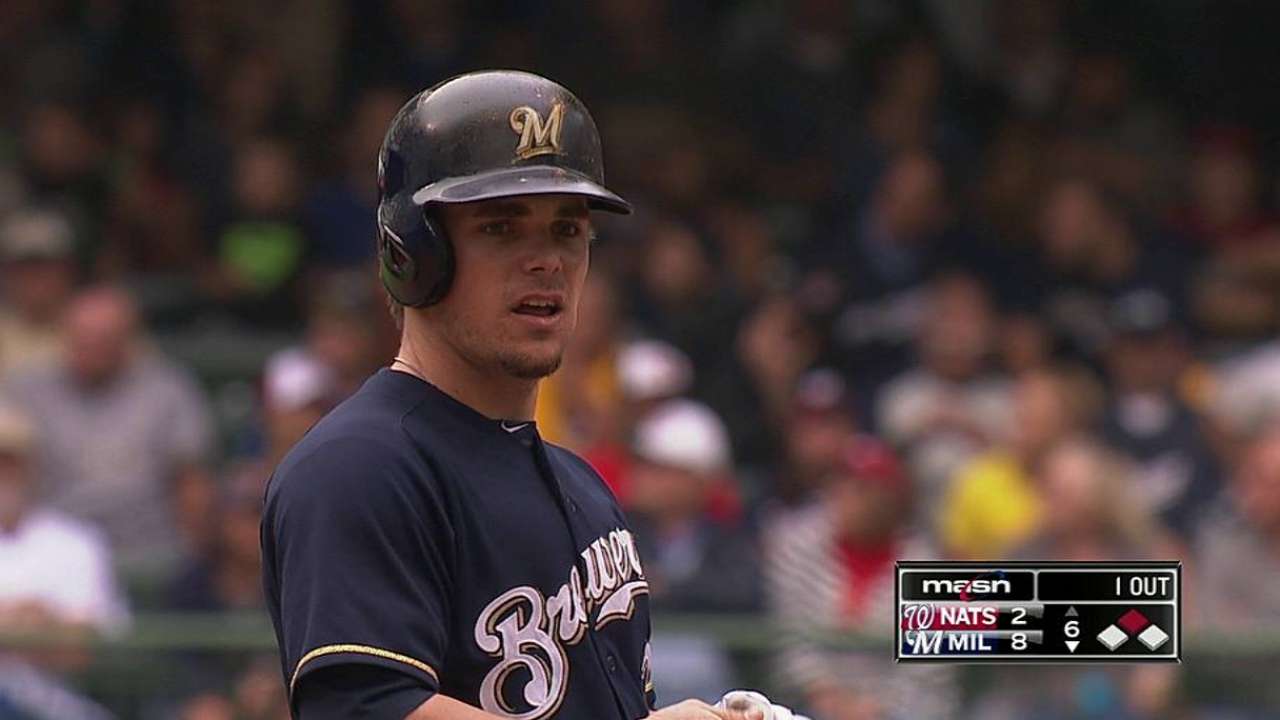 MILWAUKEE -- The National League's top slugging second baseman hit a grand slam and logged five RBIs in Wednesday's win over Washington yet found himself on the Brewers' bench for most of Thursday night's 7-4 win against the Rockies.
Was Scooter Gennett even a little bit surprised?
"No," he insisted.
Gennett said he knew Rickie Weeks would start instead because the Rockies had a left-handed starting pitcher starting Thursday night in Christian Friedrich. All season, Weeks has started against left-handers and Gennett against right-handers, matchups that have helped Gennett compile a .308 batting average and .473 slugging percentage that led NL second basemen entering Thursday. Only the Tigers' Ian Kinsler had a better slugging percentage among Major League second basemen.
Gennett knew Weeks would get the nod, and he was there to greet Weeks in the dugout when Weeks led off the bottom of the first inning with a first-pitch home run against Friedrich.
"As an everyday guy, like we've both been in the past, you never not want to play," Gennett said before the game. "But if that's our role, that's something we've just got to deal with -- just like having to deal with the traffic leaving the park."
Weeks is in the final season of his contract, and manager Ron Roenicke has said recently that, at some point, Gennett will get the opportunity to prove he can hit left-handed pitching.
In limited opportunities this season, mostly against relief pitchers, Gennett has a .129/.156/.161 slash line in 31 at-bats. Against right-handers, he was hitting .335/.371/.519 in 206 at-bats entering Thursday, when he hit a pinch-hit home run off right-hander Tommy Kahnle in the eighth inning. Weeks, meanwhile, entered the night hitting .243/.329/.400 against lefties.
If the platoon remains in place -- and Roenicke gave no indication Thursday of nearing a change of plans -- then Weeks will start three of the Brewers' four games in the current series against Colorado. Gennett's lone start would be Saturday against right-hander Jhoulys Chacin.
While conceding that Gennett was the better defender of the two, Roenicke suggested room for improvement.
"Offensively, he's done a really good job, but he needs to be better out there [on defense]," Roenicke said of Gennett. "He does. If he was playing unbelievable on defense and doing what he's been doing offensively, this would probably be a different conversation.
"There are a lot of double plays that we haven't gotten two. When you have double plays, you have to turn them. Last year, I really liked the way he played second base. We need to get him more consistent. I think it's a learning process of figuring out the league."
Gennett is remaining patient.
"I would rather play and maybe struggle against a lefty than not play at all," he said. "But if that's what the team can benefit most from, then I'm happy with it at the same time."
Adam McCalvy is a reporter for MLB.com. Read his blog, Brew Beat, and follow him on Twitter at @AdamMcCalvy. This story was not subject to the approval of Major League Baseball or its clubs.