Castro, looking for ASG votes, shows improvement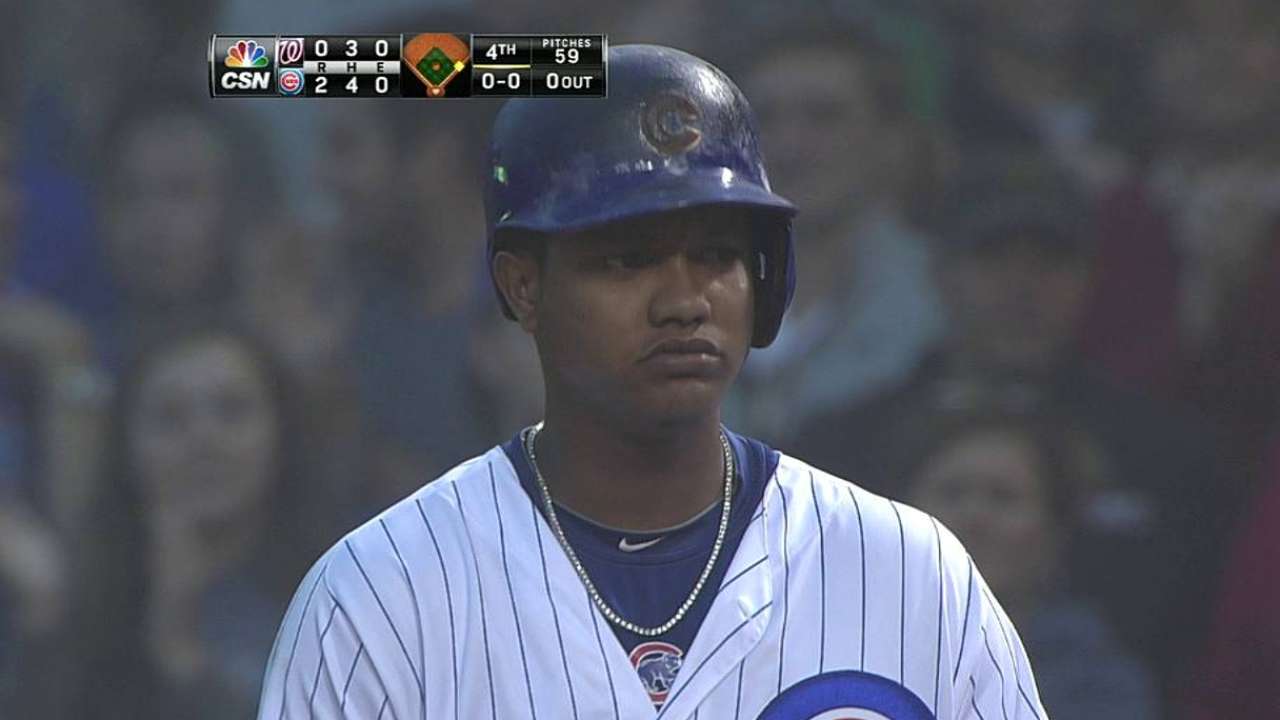 CHICAGO -- Starlin Castro has more home runs and RBIs in 76 games this season than he totaled in 161 games last year with the Cubs. The shortstop says one of the reasons for his success is that manager Rick Renteria has inserted him into the No. 4 spot in the lineup, and left him there. It wasn't on purpose, Renteria said.
"As far as he was concerned, we were just trying to find a slot that suited him the best," Renteria said. "We have Starlin hitting fourth now and [Anthony Rizzo] has been hitting third all year long. If we can give them a sense of comfort, we'll find it. It wasn't our intent, but in that particular slot, [Castro] has found a little bit of a balance to where he can be and doesn't think about it too much."
Castro found more success hitting fourth in Thursday's 5-3 victory over the Nationals. The shorstop smacked a two-run single in the fourth inning.
Last year, Castro hit everywhere in the lineup except the No. 4 hole. But Renteria doesn't think the shortstop is best suited for that spot.
"It depends on the club on which you're at," Renteria said. "All things being equal right now, he's growing up and maybe I'm wrong. Maybe he is a No. 4 hitter. I think time will tell if he is or isn't. Right now, he's having a really good run. Is a typical four hitter much more of a power guy? Yeah. [Castro] happens to be a guy who can hit and has power. He's not a [David Ortiz] or any number of power hitters who exist in the four spot."
Castro, who had 11 home runs and 45 RBIs entering Thursday, one more in each category than he totaled last year, also is in the running to return to the All-Star Game. He ranks second among National League shortstops in batting average (.287) and hits (87).
Fans can cast their votes for starters at MLB.com -- online or on a mobile device -- using the 2014 All-Star Game MLB.com Ballot Sponsored by Experian until Thursday, July 3, at 10:59 p.m. CT. The 2014 All-Star Game will be played at Target Field on Tuesday, July 15 on FOX.
Thursday was the last day for All-Star in-stadium balloting at Wrigley Field.
Carrie Muskat is a reporter for MLB.com. She writes a blog, Muskat Ramblings, and you can follow her on Twitter @CarrieMuskat. This story was not subject to the approval of Major League Baseball or its clubs.