Nats' comeback attempt falls short against Cubs
Span drives in two on two hits, but it's not enough to nail down win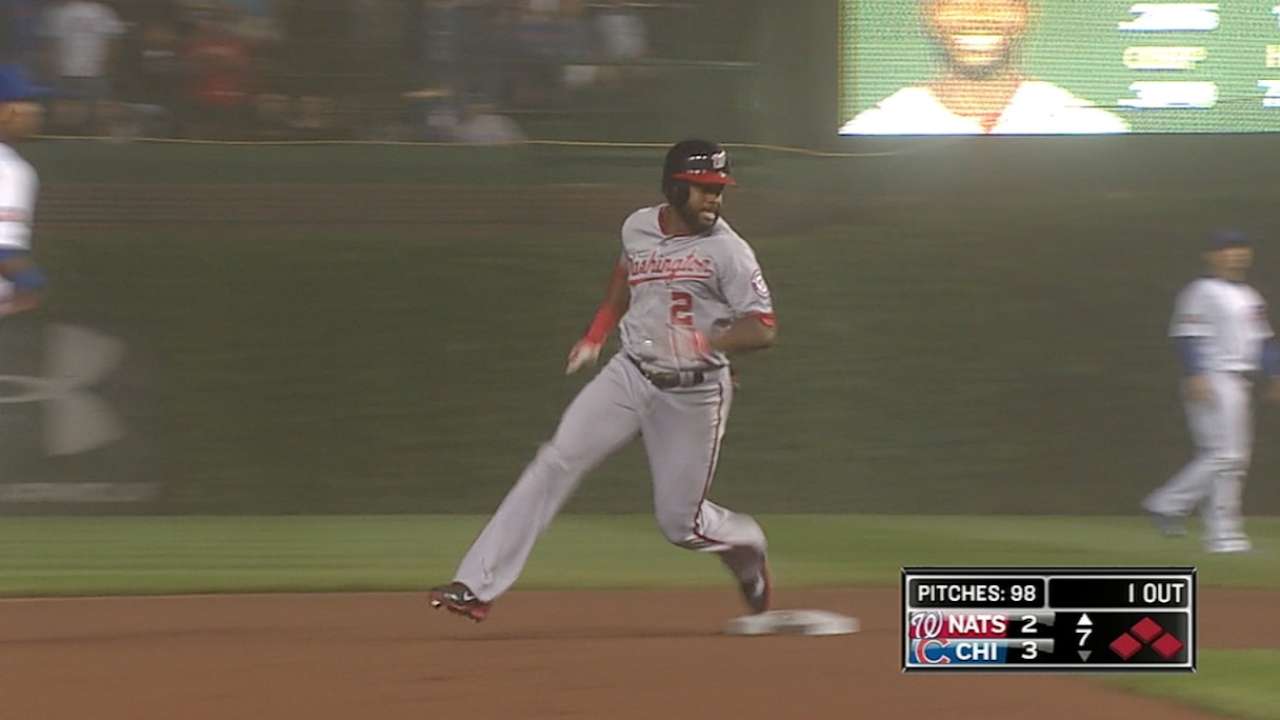 CHICAGO -- The Nationals' normally stout bullpen couldn't hold things down Thursday at Wrigley Field. Craig Stammen gave up a two-run double to Justin Ruggiano in the seventh that broke a tie, as the Nationals dropped the series opener, 5-3.
Approximately a mile from Lake Michigan, Wrigley Field featured conditions fit for April, as a dense fog enveloped the ballpark and reduced visibility. Denard Span, for example, never saw a ball off the bat of Luis Valbuena with two outs in the sixth. The ball fell beyond Span and led to a triple, but thankfully for the Nats, Valbuena didn't score. So the fog didn't affect the Nationals as much as a struggling offense and an off-night from Stammen.
Chicago's winning rally started on Darwin Barney's one-out double. After Ryan Sweeney reached on fielder's choice, Ruggiano yanked his double down just inches fair the left-field line.
"Yeah, it was right on the line, but it was a bad pitch," said Stammen of a fastball he intended to throw to the outside corner, but ended up center-cut. "You can take luck out of it at that point."
Washington had tied the game at 3 in the top of the seventh off Cubs starter Travis Wood. Wilson Ramos and Danny Espinosa walked to start the inning, and Nationals manager Matt Williams elected to let Doug Fister stay in and sacrifice the two up a base. Span followed with a two-run double.
"That would be their third time coming up and it's a situation where we can get guys over, and Denard came through," Williams said. "He was seeing the ball really good tonight, so I figured we get those two guys over in scoring position and tie it with one swing as opposed to trying to go after with more than one."
Prior to that inning, the Nationals had trouble breaking through against Wood.
In the second, Ryan Zimmerman doubled and was thrown out trying to score two hitters later on Ramos' single, a play that was confirmed after Crew chief Jerry Layne requested a replay review.
The Nationals managed just one hit in innings three through five until Span lead off the sixth with a double and scored on Anthony Rendon's RBI single. Jayson Werth followed with a walk that put two on with nobody out, but Adam LaRoche hit into the second of three double plays for the Nats. Ryan Zimmerman walked with two outs before Ian Desmond struck out.
Fister posted a quality start, allowing three earned runs on seven hits in six innings. The Cubs scored all three runs off Fister in the fourth, though he wasn't exactly clobbered in the inning. Ruggiano led off with a weakly hit infield single, and Starlin Castro broke his bat on a two-run single to left two batters later.
But the end result is all that mattered to Fister.
"Felt like I was executing, but at the same time, the pitches need to be a little bit better," Fister said. "I need to make sure they're in or out a little bit more, down more. If I get it in a little bit further on that jam shot over the infield, then who knows. A lot of 'shoulda-woulda-couldas,' it's just a matter of going out there and getting it done."
Span, who accounted for all three Nationals runs, was just happy nothing truly bad happened on Valbuena's fog-aided triple.
"I didn't know where it was," Span said. "I finally figured that the ball was coming toward me because everyone was looking at me and pointing in my direction, but other than that -- but it is scary.
"Once I figured out the ball was coming toward me, I didn't want to look up because the last thing I wanted was to let the ball hit me in my pretty face."
Span's face looked just fine after the game. The Nats, meanwhile, fell to four games over .500 (41-37), but maintained their one-game lead in the NL East thanks to Atlanta's 6-1 loss to the Astros.
"Stammen's been really good for us, and it started with Barney and him trying to go down and away with a slider and hung it over the middle of the plate," Williams said. "He was one pitch from getting out of it. It's tough to see from the dugout, but I don't how that ball was fair, but not by a lot.
"We find ourselves in that position a lot where if we are down early, we've got a chance to come back and we've done it a lot. Didn't work out for us tonight."
Joe Popely is an associate reporter for MLB.com. This story was not subject to the approval of Major League Baseball or its clubs.