Cubs bats cut through the fog to down Nationals
Castro, Ruggiano knock key two-run hits to back Wood's solid outing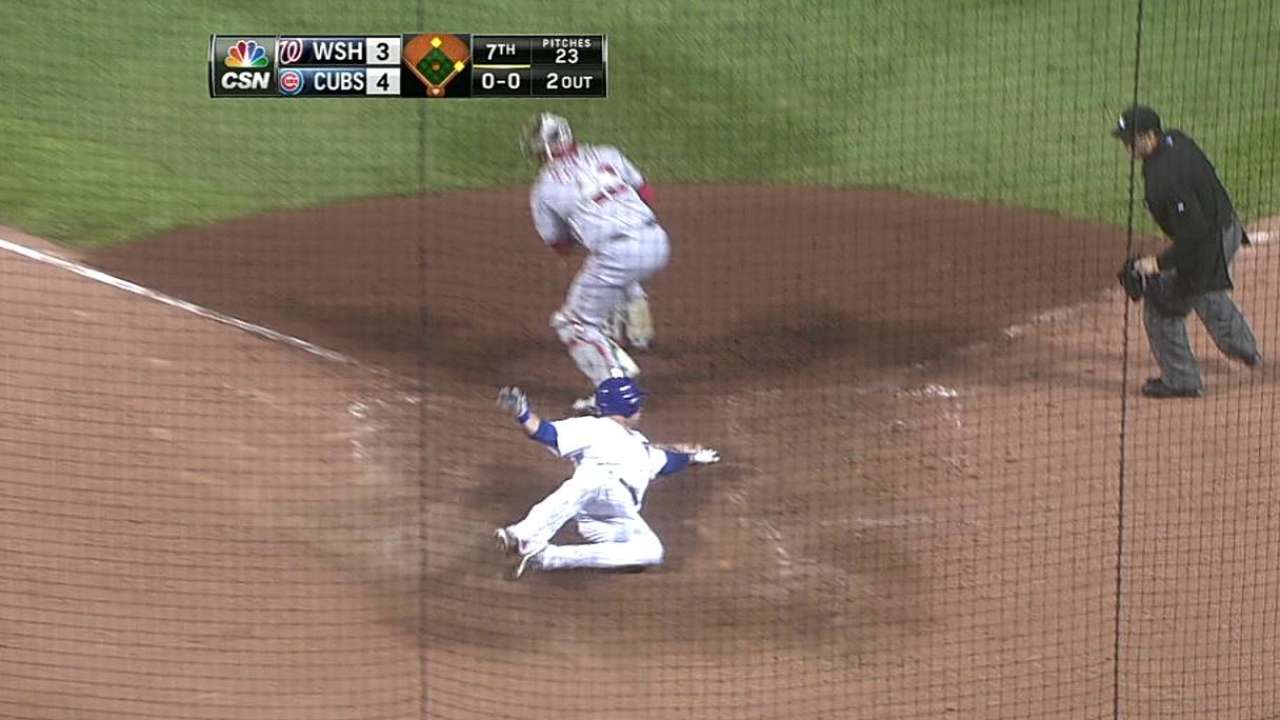 CHICAGO -- The Cubs survived a scare in the second, took advantage of the elements, and rallied to post a 5-3 victory over the Nationals.
Justin Ruggiano hit a tie-breaking two-run double with two outs in the seventh to lift Chicago to the win in front of 28,867 at murky Wrigley Field. At least, we think there were that many people. It was hard to see.
It felt more like San Francisco than Chicago as fog blanketed Wrigley Field, in part, according to local meteorologists, because of the polar vortex. Lake Michigan is cooler than usual, and the wind off the lake was creating the unusual weather conditions.
It's not the first time it's been foggy at Wrigley, but the first time for the Nationals' Denard Span who lost Luis Valbuena's fly ball in center field in the sixth because of poor visibility. Valbuena ended up with a triple, but did not score.
"I've seen it on TV, but never experienced it live," Nats manager Matt Williams said. "It was difficult if the ball goes in the air."
Outfielders weren't the only ones who had a tough time.
"You have to keep ready and really down, especially the ball the second baseman [Danny Espinosa] hit to me [in the fifth]," Cubs shortstop Starlin Castro said. "I saw that ball at the last moment -- the double-play ball. I didn't see it when it came off the bat. I saw it when it was right on me."
The Cubs got a scare in the second when center fielder Junior Lake slammed into one of the metal outfield doors trying to catch Ryan Zimmerman's fly ball. Lake had to leave the game, while Zimmerman ended up with a double. One out later, Zimmerman tried to score on Wilson Ramos' single to left but he was thrown out at home on a perfect relay from Ryan Sweeney to Valbuena to Welington Castillo. Lake suffered only bruises on his head and leg, and would be re-evaluated on Friday.
Ruggiano singled to lead off the Chicago fourth against Nats starter Doug Fister, and reached third on Anthony Rizzo's double before both scored on Starlin Castro's single to left. One out later, Castro scored on Castillo's single for a 3-0 lead.
Chicago starter Travis Wood scattered four hits over the first five innings, then Span doubled to open the Nationals' sixth and scored on Anthony Rendon's single. Wood then walked the first two batters in the Washington seventh, and both scored one out later on Span's double to tie the game at 3. Wood was pulled after matching a season-high by walking five over 6 2/3 innings.
"Walks, in general, for me are disappointing," Wood said. "To walk a couple and miss with a pitch and allow them to get back in the ballgame, it can't happen. Fortunately for us, Ruggiano came through."
The Cubs had runners at first and second with two outs in the seventh against Craig Stammen when Ruggiano lined his double to left, driving in both runners. He was thrown out at third trying to stretch his hit.
"I was trying to stay away, and I just threw it right down the middle," Stammen said of his pitch to Ruggiano.
"It was nice to help out," said Ruggiano, who missed time this season with an injury and posted his first-multi RBI game since April 23. "You always feel like hitting in front of [Anthony] Rizzo, you're going to get pitches to hit. You want to make sure you swing at strikes when hitting in front of Rizzo because he's been on fire. In my mind, he's an All-star, he's been an All-Star."
Rizzo, by the way, went 3-for-4, notching his fourth three-hit game of the month.
With the win, the Cubs now have the same record (33-44) as they did at this point last season. They have a new manager, and several new faces. Does it feel the same?
"For me, it feels a little bit different," Wood said. "We're playing pretty good ball now. Last year was a grind all the way through, but this year, things are rolling pretty decent now."
Carrie Muskat is a reporter for MLB.com. She writes a blog, Muskat Ramblings, and you can follow her on Twitter @CarrieMuskat. This story was not subject to the approval of Major League Baseball or its clubs.