Duvall goes deep in memorable big league debut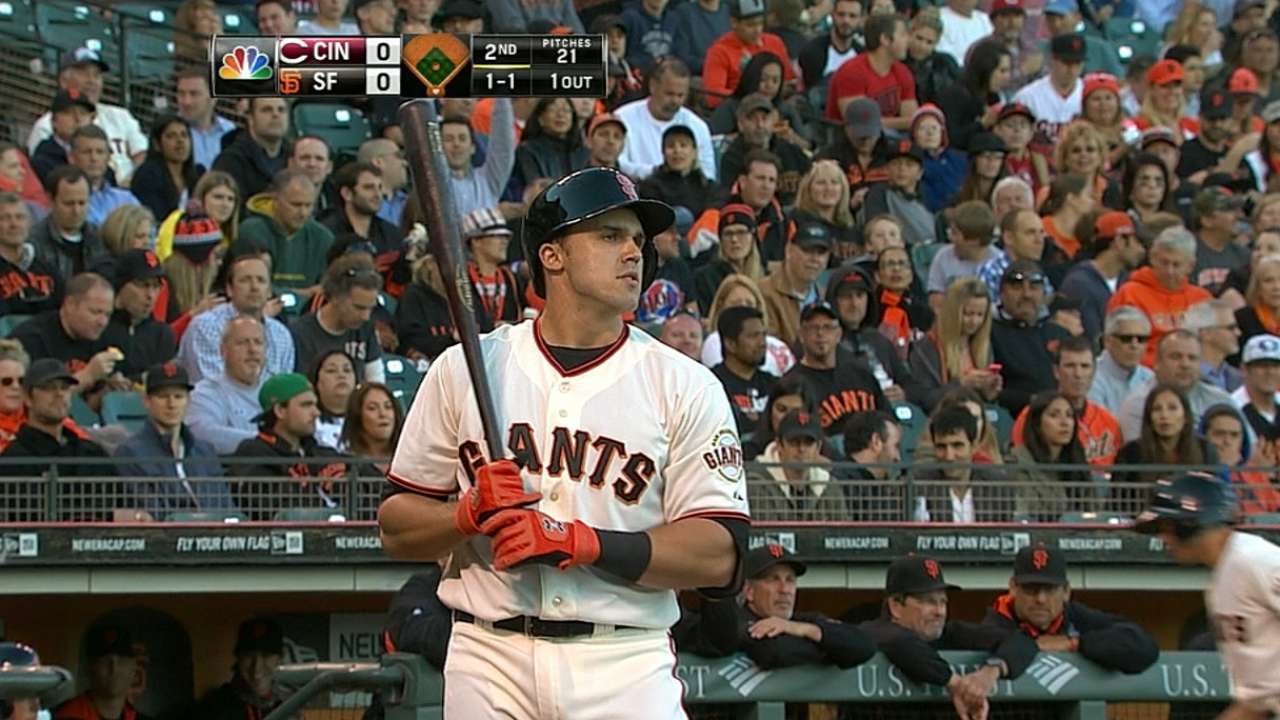 SAN FRANCISCO -- Minutes after his first Major League game ended, Adam Duvall was greeted by a group of 10 friends and family members outside the home team's clubhouse inside AT&T Park. A special stranger joined them.
That stranger is named Tony. Tony was the season-ticket holder who, an hour earlier, caught Duvall's first career home run, a no-doubter into the left-field bleachers. Tony returned the newly-minted keepsake to Duvall, who returned the favor by taking pictures and autographing both a ball and a bat for Tony.
"I was just hoping it was going to go out," Duvall said of his seventh-inning blast. "I've heard a lot of talk about how it [the ball] doesn't fly and it's hard to hit out here, so I was just hoping I got enough.
"When I finally saw that it did clear the fence, it was a pretty cool feeling."
Pretty cool feelings are becoming commonplace for the 25-year-old. Late Tuesday night, he received his first Major League callup. After catching a flight from Texas, Duvall arrived at AT&T Park minutes before first pitch on Wednesday afternoon. Three hours of Tim Lincecum brilliance later, he witnessed a no-hitter for the first time. Not a bad first day on the job.
Orientation abruptly ended late Thursday afternoon, though. Shortly after first baseman Michael Morse was scratched from the lineup due to illness, manager Bruce Bochy informed the newcomer he'd be making his first career start.
One home run later, Duvall had earned employee of the day honors as one of the lone bright spots on what otherwise was bleak performance by the Giants in the 3-1 loss to the Reds.
Pretty cool, indeed.
"That's a feeling I'll never forget, running the bases," Duvall said. "It's my first hit, so it was pretty neat to be able to do that.
"I'm not sure what I saw after I hit, I was just making sure I touched all the bases."
That he'd again touch all bases was the last glimmer of hope for the spectators who remained in the stands for the bottom of the ninth inning. With two outs and Buster Posey on second, Duvall entered the batter's box to face flamethrower Aroldis Chapman representing as the tying run.
The funny-but-scary possibility of Duvall's first plate appearance coming against the power-pitching lefty had crossed Bochy's mind before Morse fell ill. "Then I thought, 'I can't do that to him,'" Bochy joked before Thursday night's game.
Duvall lined out to third baseman Todd Frazier for the night's final out, thus concluding the wildest 48-hour stretch of his life.
"The nerves were there for sure," Duvall said. "I was just trying to tell myself it's the same game, just a bigger crowd."
He won't look back on Thursday as just another day at the office.
Chris Haft is a reporter for MLB.com. Read his blog, Haft-Baked Ideas, and follow him on Twitter at @sfgiantsbeat. Ryan Hood is an associate reporter for MLB.com. This story was not subject to the approval of Major League Baseball or its clubs.