Short-handed Giants harassed by Leake in opener
Duvall homers in debut, but San Francisco's division lead cut to two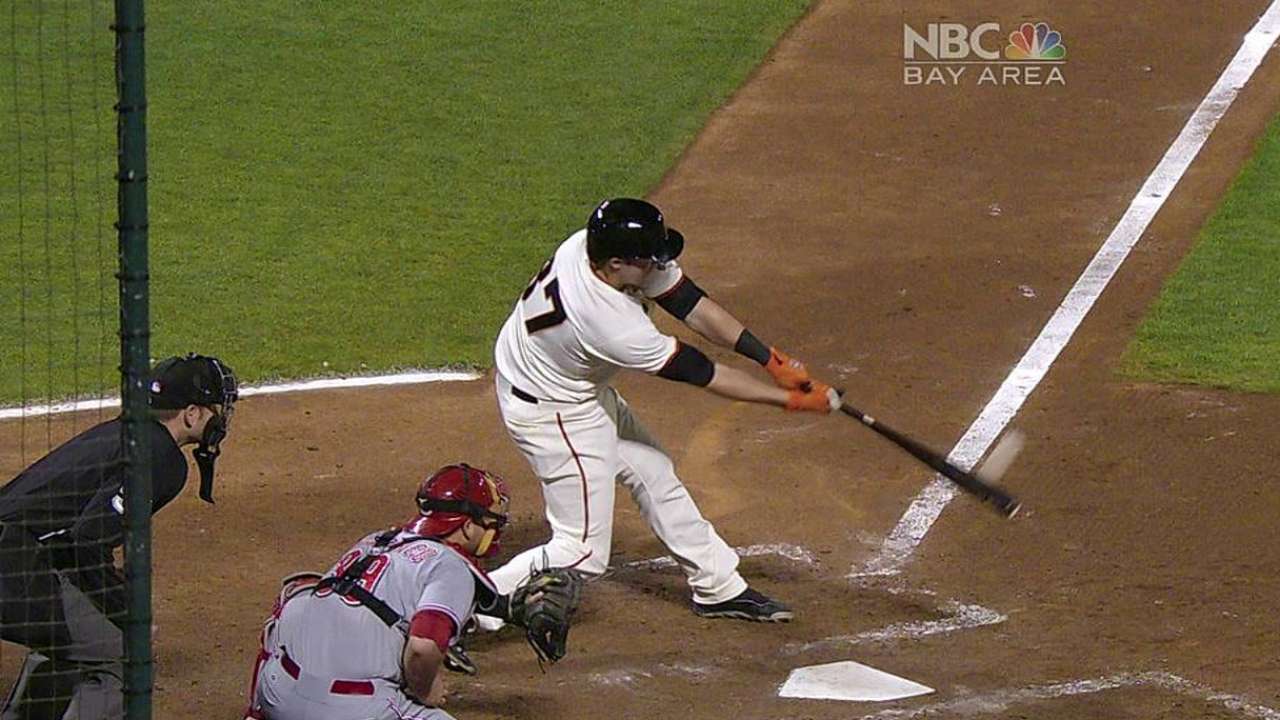 SAN FRANCISCO -- The Giants' 3-1 loss Thursday to the Cincinnati Reds became official at 10:01 p.m. PT when Adam Duvall lined to third base for the final out. But the setback was preordained hours earlier when first baseman Michael Morse was scratched from the lineup.
Morse was stricken by the "crud," as the weakening, stifling malady is known among the Giants. The remaining batting order might as well have joined Morse in the infirmary.
For much of the season, the Giants have reveled in the belief that they can generate offense at any time and from any source in their batting order. No longer did they have to wait for the middle of the order's turn to bat. Hence the Giants' 33-10 record when they score first and their plethora of two-out runs.
But without Morse, Giants manager Bruce Bochy might as well have used invisible ink to scribble the names on the lineup card below the cleanup spot, with the possible exception of triples maven Brandon Crawford. The absences of Morse and injured leadoff hitter Angel Pagan have robbed the lineup of its length, in baseball parlance.
Duvall made his Major League debut a memorable one by homering in the seventh inning. "That's a feeling I'll never forget, rounding the bases," said Duvall, who became the 13th Giant dating back to 1919 to homer in his first big league game.
But after absorbing their 12th defeat in 16 games, the Giants couldn't savor Duvall's sweet story. Their National League West lead over second-place Los Angeles dwindled to two games, the smallest margin since May 20.
Reds starter Mike Leake seized upon San Francisco's diluted lineup to amass a career-high 12 strikeouts, all but three coming against the fifth through ninth spots in the order.
Bochy refused to cite the near-total lack of Pagan and Morse -- the latter struck out as a pinch-hitter in the ninth inning -- as an excuse.
"It's still a good lineup," Bochy insisted. "We're just not swinging the bats very well. ... As a group, we're not clicking."
In fact, Leake (6-6) didn't reserve his biggest strikeout for the soft underbelly of the Giants' lineup. Rather, he fanned cleanup hitter Pablo Sandoval with runners on the corners and two outs in the sixth inning to preserve a 1-0 lead.
Leake was fully aware that Sandoval entered the game with a .647 lifetime batting average (11-for-17) against him.
"It definitely felt good to get out of that jam and get out of there without any runs [allowed]," the right-hander said. Asked to explain his plethora of strikeouts, Leake said, "Mix and match, I guess just getting more swing and misses today than normal. A lot of teams tend to foul me off. But I guess I was kind of missing bats a little better today."
Leake looked nothing like the guy who allowed five runs and eight hits in five innings in his previous appearance against the Giants during a June 5 loss.
This time, Giants center fielder Gregor Blanco said, "He had a little bit of whip to his cutter. He mixed it with his four-seam fastball. He was getting everybody out of their timing."
The same could not be said for Giants right-hander Jean Machi. Having yielded one earned run in 31 1/3 innings spanning 33 outings this season, Machi relieved Ryan Vogelsong in the seventh inning and surrendered three consecutive hits to open the inning: Brandon Phillips' homer, Jay Bruce's ground-rule double and Ryan Ludwick's RBI single. That helped Leake skirt any late-inning pressure, especially with Aroldis Chapman lounging in the bullpen. Chapman relieved Leake in the ninth and survived Buster Posey's leadoff double to gain his 15th save.
Vogelsong (5-4) wore the evening's frustration on his face as he addressed reporters. After compiling a 7.31 ERA in his previous three starts, the right-hander limited Cincinnati to one run and five hits in six innings. But he berated himself for yielding Zack Cozart's two-out, fifth-inning RBI double.
"I hang a curveball to the eight-hole hitter, give up a double and a run scored from first base. That chaps my butt a little bit," Vogelsong said. "That put us behind and against that team, we can't do that. Not with the back end of their bullpen the way it is. That's why I'm a little upset right now."
Chris Haft is a reporter for MLB.com. Read his blog, Haft-Baked Ideas, and follow him on Twitter at @sfgiantsbeat. This story was not subject to the approval of Major League Baseball or its clubs.