Carroll struggles against Toronto in return to rotation
Right-hander allows five runs over five innings; Happ silences offense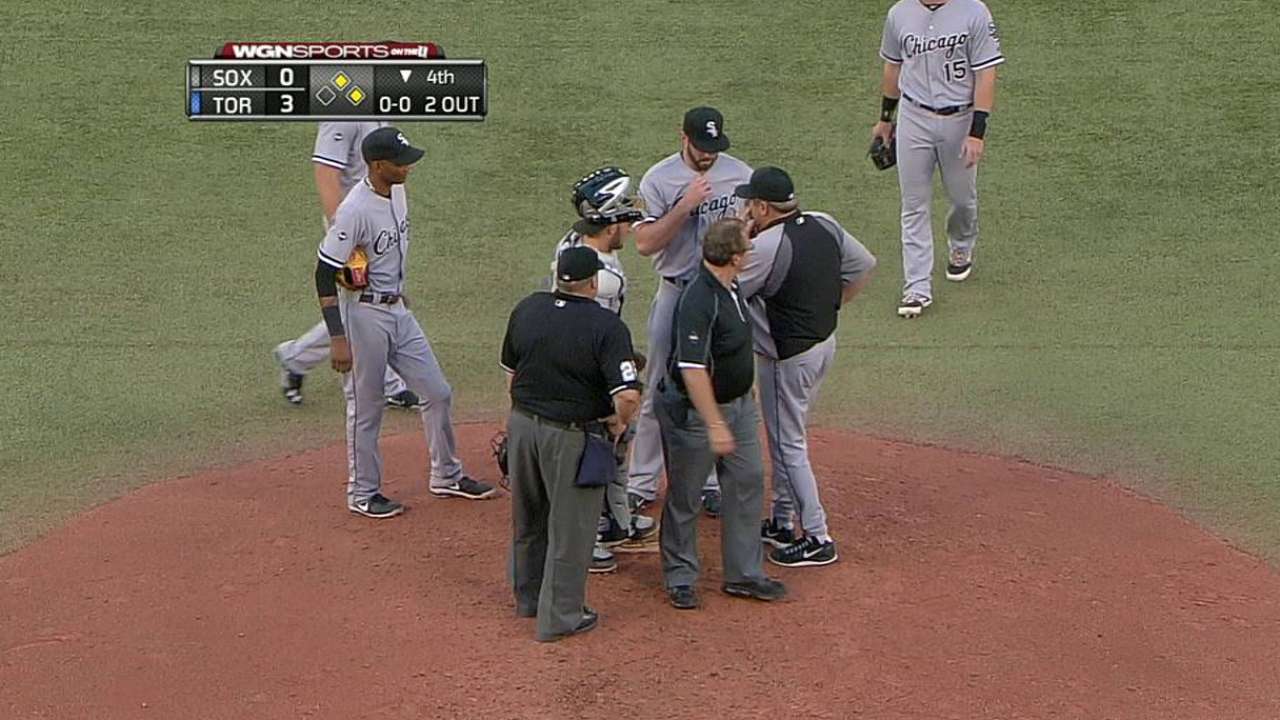 TORONTO -- The road has not been kind to the White Sox this season, and their struggles followed them north of the border as they opened a four-game series against the Blue Jays with a loss on Thursday night.
In yet another setback away from home, the White Sox were shut out, 7-0, at Rogers Centre to fall to 1-7 on their current 11-game road trip. The team has lost 10 of its last 11 away from U.S. Cellular Field, and its overall road record sits at 15-26.
Following a tough extra-inning loss in Baltimore on Wednesday night, the team didn't reach its hotel in Toronto until 5 a.m. Thursday, and the result on the field was a flat performance, said manager Robin Ventura.
"That game just smelled right from the start. We didn't play very well, didn't hit very well, didn't play defense very well and it showed," said Ventura. "I hope it looked that way because it was. Hopefully, it was just getting in late, the whole travel thing. We'll find out tomorrow."
Scott Carroll, who returned to the rotation after a stint in the bullpen, was roughed up for nine hits and five earned runs over five innings, lowering his record to 2-4. With the loss, the rookie right-hander has dropped four straight decisions. Despite the result, he said he felt good in what was his first start since May 19.
"It was a frustrating night overall because I made a lot of good pitches," said Carroll. "But looking back, I competed, I was aggressive in the zone, you know some breaks just didn't go my way, but that's the game of baseball. You just have to get back to work and try to be better next time."
The trouble started almost immediately for Carroll, who allowed back-to-back singles to leadoff man Jose Reyes and Melky Cabrera in the first. Adam Lind followed up with a double that scored Reyes, and right fielder Moises Sierra's errant throw allowed Cabrera to cross for an early 2-0 Blue Jays advantage.
"Obviously, the first inning didn't go the way you'd want it to go to start the game," said Carroll.
The Blue Jays continued to go to work on the White Sox starter, adding one in the second before loading the bases in the fifth. Carroll gave up a pair of two-out singles before walking Cabrera on eight pitches. He then fell behind, 3-1, to Lind, who swatted a two-run single to extend the Blue Jays lead to 5-0.
On the other side of the ball, there were few bright spots offensively for the visitors as Blue Jays starter J.A. Happ delivered a solid performance in earning his seventh win, going 7 2/3 shutout innings, allowing four hits and striking out eight.
"That was kind of the goal, be aggressive, force contact early, try to use all four quadrants, all four corners and just try to be aggressive," Happ said.
The lanky left-hander didn't tire as the night went on, and had his fastball touching 96 mph into the eighth inning. His eight strikeouts were the most he's thrown since 2012.
White Sox No. 2 hitter Gordon Beckham said Happ had good movement on his fastball all night.
"He was obliviously feeling it a little bit," said Beckham, who was 1-for-3 with a double. "We had a long night. That's not to take anything away from him, because he was really good, but we've had a long 24 hours. It's one of those things. He was good, we were not. Long game, long night."
Jose Abreu managed to extend his hitting streak to 11 games with a single in the sixth, but other than that, there wasn't much action from the White Sox bats.
Freshly recalled Eric Surkamp pitched 1 1/3 innings, and allowed one walk and one earned run in his White Sox debut.
Jamie Ross is an associate reporter for MLB.com. This story was not subject to the approval of Major League Baseball or its clubs.