Blue Jays cruise behind Happ, opportunistic bats
Lefty tosses 7 2/3 scoreless; Reyes (4 H), Lind (3 RBIs) key production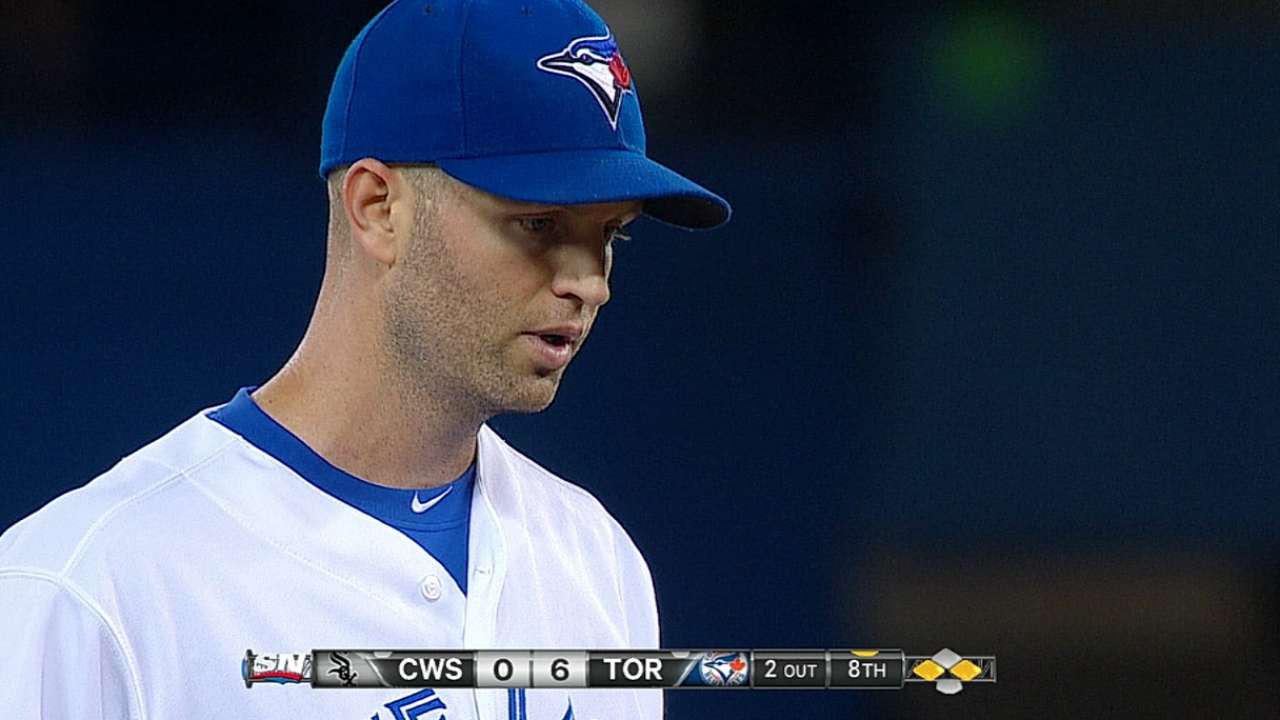 TORONTO -- J.A. Happ has been a hard pitcher for the Blue Jays to figure out this season. Every time he takes one step forward he also ends up taking one step back.
There have been moments of brilliance and times when it appeared as though he should be pulled from the starting rotation. He's never looked the same in back-to-back starts and the end result has seen him constantly alternating between good and bad outings.
The good version of Happ showed up for Thursday night's series opener against the White Sox as he put together one of his best starts this season with 7 2/3 scoreless innings, while Jose Reyes added four hits in a 7-0 victory.
"That was kind of the goal, be aggressive, force contact early, try to use all four quadrants, all four corners and just try to be aggressive," Happ said after picking up his seventh victory.
When Happ is effective, he's typically getting ahead in the count with his fastball. That allows him to finish hitters off with a breaking ball in the dirt or return to a fastball located well above the strike zone.
When Happ struggles, the fastball command almost always seems to be the first thing that eludes him. He'll frequently fall behind in the count and see his pitch count soar during the early stages of a game. A perfect example of that could be found during his last start in Cincinnati when he walked three batters in the first inning and eventually surrendered eight runs.
It became pretty clearly early during Thursday night's game that Happ had the potential for a good outing. He attacked early and pitched with the type of confidence that sometimes seems to disappear. In fact, Happ was borderline dominant as he notched a season-high eight strikeouts, allowing three hits and one walk.
"We talked before the game and we talked about just being aggressive, pounding the strike zone," Blue Jays catcher Dioner Navarro said. "We even talked about pitching backwards a little bit because, it's no secret, the White Sox are a free-swinging team and we were hoping to get ahead with some breaking stuff early in the count and after the second or third inning, we just kept going after them."
Happ's outing continues a bizarre season-long trend of alternating between good and bad starts. After making his first start on May 5 with five scoreless innings against the Phillies, Happ has been effective in his odd starts (one, three, etc) but has struggled in his even outings.
For the odd outings, Happ is a perfect 6-0 with a 1.18 ERA (5 ER, 38 IP) and five quality starts. For the even ones, he is 1-4 with a 9.53 ERA (24 ER, 22 2/3 IP) and zero quality starts.
It's difficult to find an exact reason why Happ can look so good in one outing and so bad the next. Happ doesn't even seem to have the answer, but the one thing he does know is that a lot of it comes down to the quality of his stuff on that particular day.
"I think some things are more crisp than others on different days," Happ said. "I wasn't perfect with location of the fastball, but I think it was crisp tonight, so that definitely helped. In other games, the Baltimore game, it was the changeup that helped and in Cincinnati, I was struggling with it at all.
"It's trying to get at least two pitches, ideally three, when you have four, it becomes easier, but it's tough to have command of all of those at all times. I think it's about going out and being aggressive with whatever you've got that day."
Reyes and Adam Lind led the way offensively for Toronto against White Sox starter Scott Carroll. Reyes had a season-high four hits and now has multiple hits in each of his past three games. He also has six runs scored and three RBIs over that span, which followed an 0-for-19 skid at the plate.
Lind opened the scoring in the first with an RBI double to right and later added a two-run single. He finished with three hits for his second multi-hit game since returning from a right foot injury on June 19. Almost all of Toronto's offense came against Carroll, who allowed five runs on nine hits and two walks over five innings.
"I'll have to look through some film and overall I felt good about my stuff tonight," Carroll said. "I competed, I was aggressive in the zone, you know some breaks just didn't go my way."
Toronto has won three of its past four games after returning home from a disappointing 3-8 road trip. The Blue Jays have three games remaining against Chicago before opening a two-game series against Milwaukee on Tuesday.
Gregor Chisholm is a reporter for MLB.com. Read his blog, North of the Border, and follow him on Twitter @gregorMLB. This story was not subject to the approval of Major League Baseball or its clubs.