Tigers tear through Texas, take win streak to seven
Porcello throws three-hit shutout; Miggy tosses in four-hit game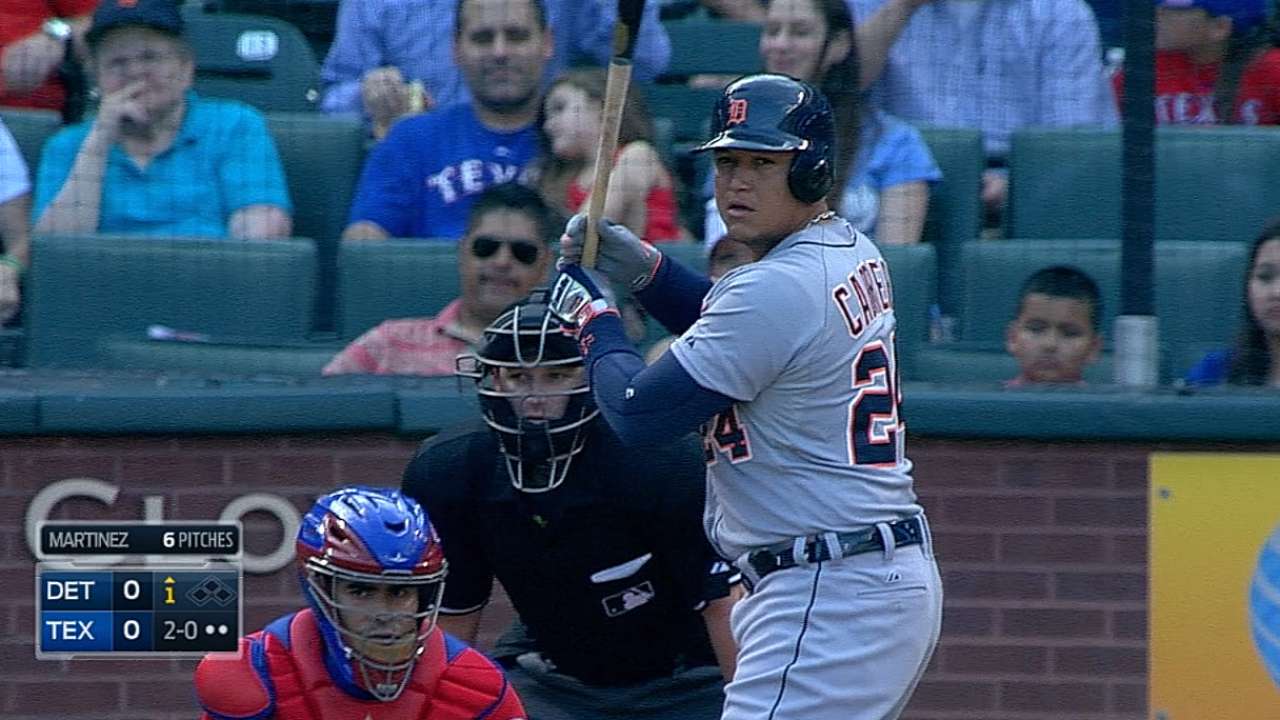 ARLINGTON -- For the first time since the Tigers got to Texas this week, there was no downpour greeting them at Globe Life Park. On the field, by contrast, the Tigers barely saw a dark cloud.
Compared with what they'd been dealing with when this road trip began, it's like a different climate.
Not only did the Tigers complete their first series sweep of the Rangers in Texas since 2001 with Thursday's 6-0 win behind Rick Porcello's three-hitter for his first Major League shutout, they finished it off without trailing in any inning all series. They haven't trailed in a game since Saturday in Cleveland, and they haven't lost since the Royals took the first three games of their division showdown last week in Detroit.
They've won seven in a row since, including the first six contests of this nine-game, three-city trip. They've gained six games on the Royals since the streak began, turning what was a 1 1/2-game deficit into a 4 1/2-game lead.
"I'm not overly concerned with how the other teams are doing," manager Brad Ausmus said. "If we do our job, then it doesn't matter. It just doesn't make a difference as long as we're winning."
That flawed, sputtering team that was searching for answers last week looks again like a team leveraging strong starting pitching and opportunistic hitting into dominant stretches. They might well face a potential trap in Houston against an Astros team loaded with young talent, but they don't have the sense of vulnerability as they head in.
"We went through the storm," Torii Hunter said, "and I think we're stronger for it."
As stunned as their manager was that their funk lasted a month, Ausmus never felt like his team wouldn't be able to get through it.
"I always felt like the team was too good to continue to play like that," Ausmus said, "and that it would turn around -- not can turn around, would. When you're going through that, it can never turn around quick enough, but I always felt like it would turn around.
"I think everyone did. I think that's why when you walked through the clubhouse, guys were still enjoying coming to the park, having fun, because I think they knew it would turn around."
Their back-to-back series sweeps on this road trip have come against two of the teams that played a prominent role in their funk. The way the Tigers outslugged the Rangers for three games, in particular, made the Texas team that took three out of four at Comerica Park in late May barely recognizable.
"It's nice to come to their place and get a sweep," Porcello said. "We didn't play very well against them the first time around. We played much better this series."
Miguel Cabrera went 4-for-5 with a double and an RBI, but the bulk of the damage came from his supporting cast. Nick Martinez, the young Rangers right-hander who needed just 91 pitches for six innings of one-run ball in Detroit on May 24, threw 69 pitches Thursday -- just 33 of them strikes -- to record seven outs. He walked five Tigers, gave up six hits and didn't record a strikeout.
"Last time we faced him, we didn't know much about him," Hunter said. "This time we kind of knew a little more about him, just waited for our pitches and tried to make him throw strikes."
Hunter's bases-loaded walk put the Tigers in front in the second inning, but the bulk of the damage came in third, including a two-run single from Austin Jackson.
Porcello (10-4), who was roughed up for eight runs in that same May 24 contest, took early run support and cruised from there to become Detroit's first 10-game winner this season. He retired the final 11 batters he faced, starting with a sixth-inning double play from Elvis Andrus that stalled a rally of back-to-back singles.
"I think it's a long season and you're going to go through peaks and valleys," Porcello said. "I think everybody in this clubhouse understood it, and nobody panicked when we weren't playing well. Obviously we were all unhappy that we weren't winning, but you understand that those things are going to happen and the important part is regrouping and coming out of that and playing well. We've been fortunate enough to get back to playing good baseball."
Jason Beck is a reporter for MLB.com. Read Beck's Blog and follow him on Twitter @beckjason. This story was not subject to the approval of Major League Baseball or its clubs.