Cosart stifles Braves as Astros show pop in finale
Righty earns eighth win as Dominguez, Springer go yard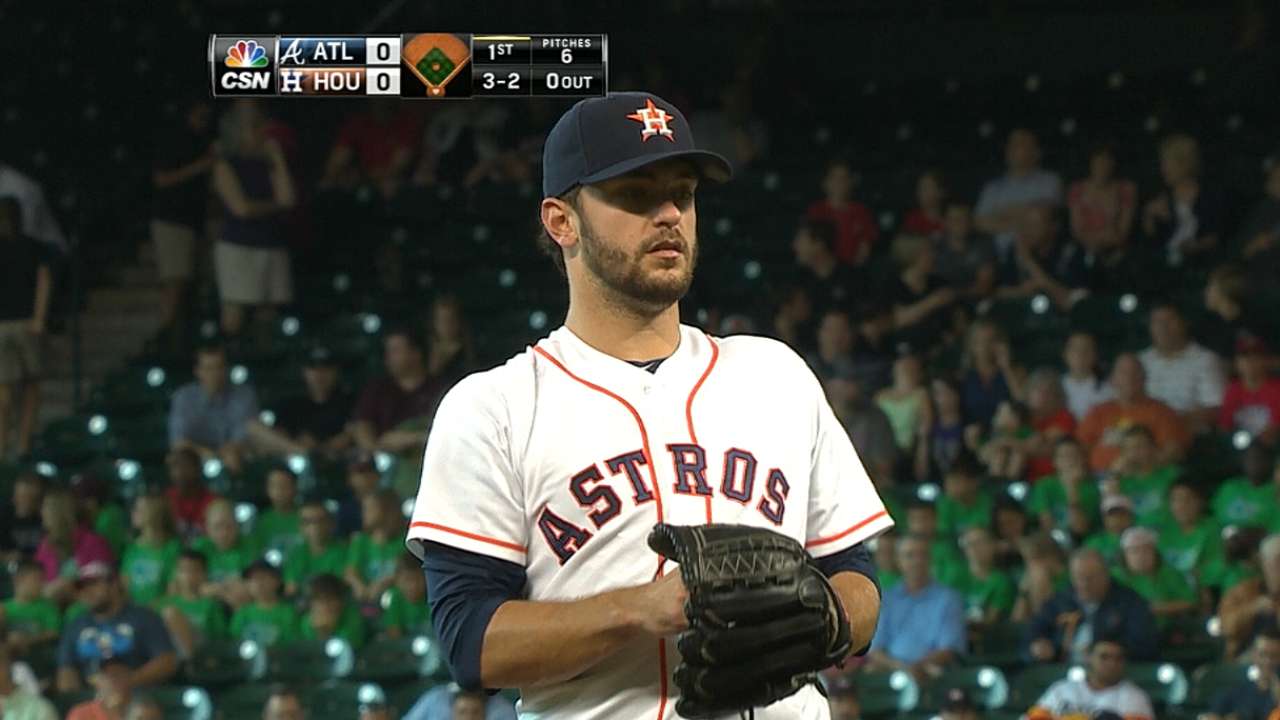 HOUSTON -- With left-hander Dallas Keuchel piling up the wins and the attention earlier this year and putting himself in All-Star consideration, right-handed teammate Jarred Cosart has come on strong lately and started to string some victories together as well.
In fact, Cosart has accounted for the Astros' only three wins in their past 12 games, including Thursday afternoon's 6-1 victory over the Braves at Minute Maid Park in which he won his fourth consecutive start by allowing one run and six hits in seven innings.
Cosart is 4-0 with a 2.25 ERA in his last four starts, allowing 26 hits and, more importantly, only six walks in 28 innings pitched in that span. He's walked two batters or fewer in his last six starts after struggling with command to start the year.
"When I'm throwing strikes I have a lot more confidence, and that's what we've been preaching," Cosart said. "With the mechanical stuff we've been doing, I have a lot more confidence throwing strikes and just being able to trust my stuff and attack the hitters. I have a really good defense behind me that's going to make a lot of plays for me."
Cosart improved to 8-5 to match All-Star candidate Keuchel, giving them 16 combined wins. That's the most prior to the All-Star break by an Astros duo since Wandy Rodriguez (9-6) and Andy Pettitte (7-9) combined for 16 wins in the first half in 2006.
Ten of Cosart's last 12 outings have been quality starts, and he's gone at least five innings while allowing no more than three runs in 12 consecutive starts, which is the longest such streak in the Major Leagues this season.
"I think it has a lot to do with command," Astros manager Bo Porter said. "I think, when you look at his stuff, a lot of the time you would think that he's a strikeout pitcher and his strikeout total should be much higher. I think, again, there's a maturation that's taking place of, 'How can I get this guy out?' Instead of, 'How can I strike this guy out?' I think that maturation is helping him command his pitches that much better."
The real test for Cosart came in the seventh. He allowed the first two batters to reach base on a double and a walk before coming back and getting three quick outs.
"Last year, in that situation, we may not have gotten the result of him finishing that inning," Porter said. "But at no moment did I think that he wasn't going to finish it, and that's a credit to the maturation that has taken place and his development and his ability to continue to make pitches, even once the inning became stressful."
Astros third baseman Matt Dominguez cranked a three-run homer to left field off Braves starter Mike Minor (2-5) in the fifth inning to break his 0-for-23 drought and put his team ahead, 6-1, but the key was what happened earlier in that inning.
Jose Altuve (2-for-4) singled with one out and swiped second and third base while George Springer drew a two-out walk, putting speed guys on the corners and perhaps buying Dominguez a fastball. Minor had Dominguez in an 0-2 hole and was one pitch from escaping the inning and keeping the Braves' deficit at 2-1 before Dominguez clubbed his 11th homer.
"I was 0-2 to Altuve and made a decent pitch up and he still hit it," Minor said. "To walk Springer ... then I made two OK pitches to Dominguez. I look back on it and a two-seamer ran back over the plate and he kind of cheated a little bit and got it good."
The Dominguez homer was the Astros' only hit with runners in scoring position. They are 3-for-38 with runners in scoring position in their last seven games.
"That's the big hit that when we were in this here funk that we were in, that's the big hit that had been eluding us, and Matty did a tremendous job of getting the fastball up and putting a good swing on it," Porter said.
Springer added a solo homer in the seventh inning, giving him 15 for the season, which is second behind Jose Abreu (23) among Major League rookies. His 15 homers prior to the All-Star break are an Astros rookie record.
"It's good to see these guys bounce back and swing the bat and pitch and play the game and come out on top," Porter said.
Brian McTaggart is a reporter for MLB.com and writes an MLBlog, Tag's Lines. Follow @brianmctaggart on Twitter. This story was not subject to the approval of Major League Baseball or its clubs.