Minor shaky as Braves fall short in finale
Atlanta can't rally after losing early lead vs. Astros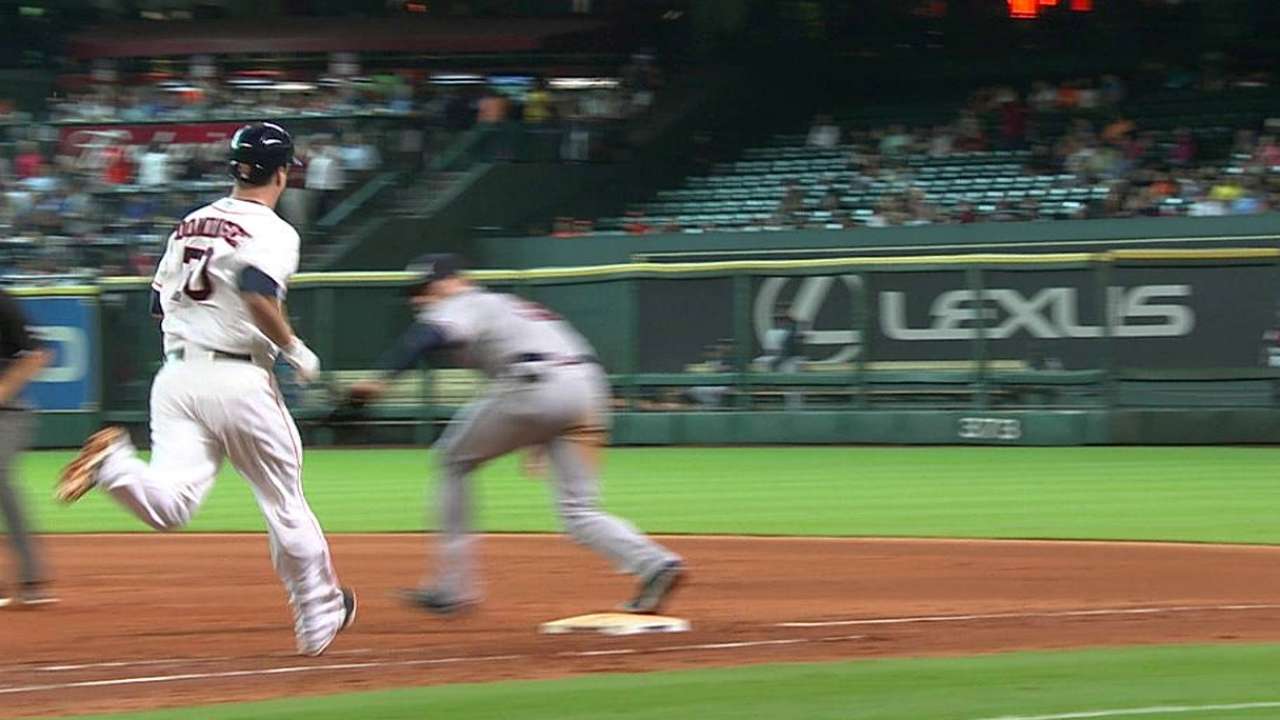 HOUSTON -- Though he has allowed home runs more frequently than any other Braves pitcher this year, Mike Minor has been comforted by the fact that most of the damage in this department has come via solo shots.
Unfortunately for the Braves, there really was not much reason for Minor to be comforted about anything that transpired during the six innings he completed in Thursday afternoon's 6-1 loss to the Astros at Minute Maid Park. He walked the tightrope with inconsistent command early on and then paid the price when he was not able to spot a pair of 0-2 pitches in the fifth inning.
"I was missing a lot of balls middle," Minor said. "I was getting lucky. They barreled a couple that were popped up. I don't know if it was just a matter of time, because I felt like I was battling pretty good."
Minor was fortunate to allow just two runs while scattering five hits among a number of loud outs through the first four innings. But his string of good fortune came to a close after Jose Altuve added to his Major League-leading hits total by slapping an 0-2 single to center. Altuve stole second and then stole third for No. 30 this season as George Springer kept the fifth inning alive by drawing a six-pitch walk with two outs.
This set the stage for Matt Dominguez, who was given the gift of seeing an 0-2 fastball come back over the heart of the plate. The Astros third baseman showed his appreciation by launching the pitch just over the left-center-field wall for a three-run home run.
"I'd like to have one pitch back, and that was the 0-2 pitch to Dominguez that was a three-run homer," Braves manager Fredi Gonzalez said. "I think he gave up another base hit with an 0-2 count. But that's the one you look back at during the course of the game and you're thinking if we keep it within a run or two, it's a little different story."
Astros starter Jarred Cosart graciously accepted the comfortable lead he gained on the way to completing seven strong innings. The only run surrendered by the right-hander came courtesy of Tommy La Stella's sacrifice fly, which accounted for the game's first out.
While allowing just two earned runs in the 22 innings completed over his past three starts, Cosart has lowered his ERA from 4.16 ERA to 3.60.
"When I'm throwing strikes I have a lot more confidence and that's what we've been preaching, and with the mechanical stuff we've been doing I have a lot more confidence throwing strikes and just being able to trust my stuff and attack the hitters," Cosart said. "I have a really good defense behind me that's going to make a lot of plays for me."
Though they did not complete a three-game sweep with a win on Thursday, the Braves did notch the two wins needed to secure just their second series victory since they completed a sweep of the Marlins on June 1. But Gonzalez said he would leave Houston with the same bitter taste that was present when he exited Washington D.C. on Sunday, dealing with the fact that consecutive losses forced his club to settle for a split in a four-game set against the Nationals.
"You shoot to win two out of three, then you win two out of three and you lose the last one and you feel terrible," Gonzalez said. "If we would have won the first, lost the second and won today, we'd have been happy. In Washington, it was the same thing, win the first two, lose the second two and then it's, 'What have you done lately for me in this game?'"
Minor allowed the Astros five earned runs and seven hits during what was his final start in a frustration-filled June. The southpaw allowed a career-high 11 hits in consecutive starts earlier this month, and he has now surrendered at least five earned runs in two of his past five outings.
In the 47 starts he made from July 5, 2012, through the end of last season, Minor allowed more than four earned runs just once. He's now done so three times within the 11 starts he has made since seeing the start of his season delayed by an internal procedure performed this past winter.
This marked the first of those three outings during which a home run accounted for a majority of the damage. Minor is now tied with Julio Teheran (who has thrown 46 fewer innings) for the most home runs (11) allowed this season by a Braves pitcher. Dominguez's homer was just the second of this bunch to be tallied with a runner on base.
"I don't think [the home runs are] a problem if I'm only giving up one or two runs a game and still going six or seven innings," Minor said. "I think it's a problem when I don't go six or seven innings and I give up more than three runs and it's not a quality start, that's when I really worry about it."
While this certainly wasn't close to being one of Minor's better outings, he would have needed to be nearly perfect to compensate for another rough day for his offensive 'mates. The Braves have now scored one run or been shut out in 22 of their first 78 games. They were limited to these totals in 30 of the 162 games played last year.
"It just didn't go our way," Justin Upton said. "For the most part, we tried to play a little small ball to account for our run-scoring struggles. We've done a pretty good job of it. Just today, it just didn't work out for us. We didn't get the big ball either. It just didn't happen for us."
Mark Bowman is a reporter for MLB.com. This story was not subject to the approval of Major League Baseball or its clubs.