MLB.com Columnist
Jim Callis
Tigers' draftee Lewicki goes out in style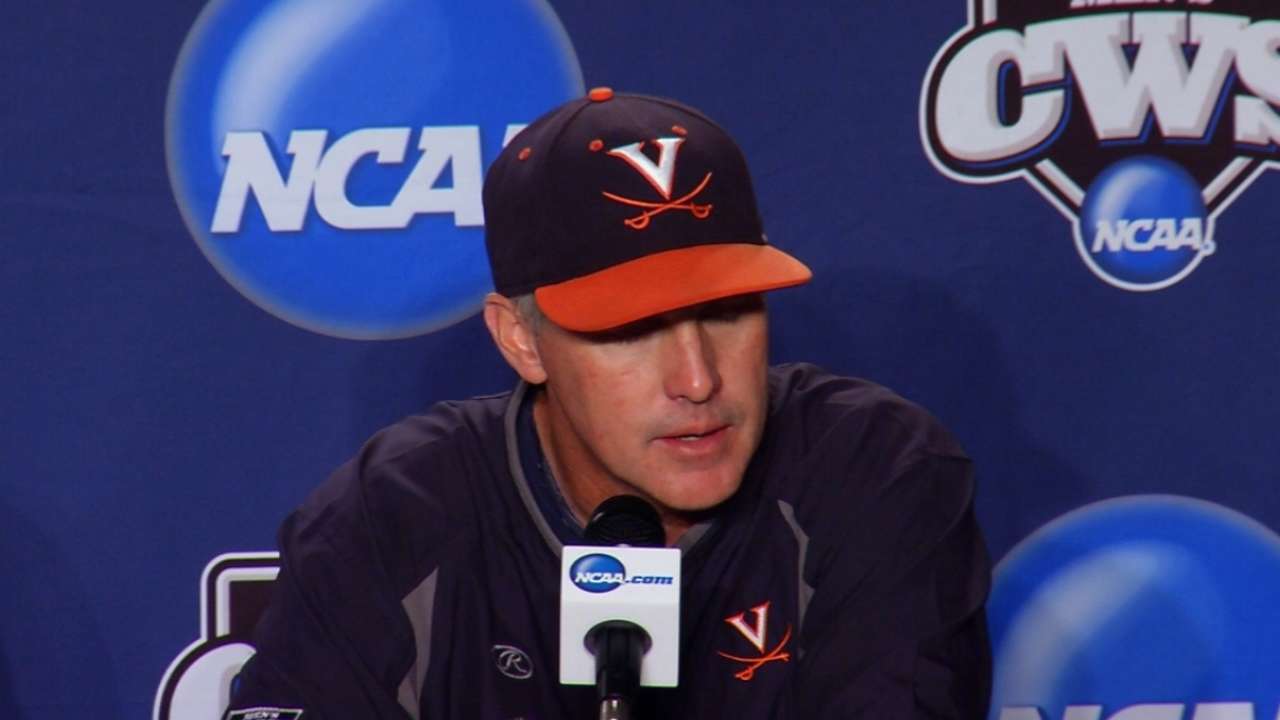 It was also a tale of two seasons for Virginia senior right-hander Artie Lewicki. He emerged as the Cavaliers' top pitcher at the end of his sophomore year in 2012, but he blew out his elbow in the New England Collegiate League that summer and had Tommy John surgery in August. He tried to come back in 2013 but wasn't fully ready, giving up four runs in just two innings.
Though an oblique injury limited Lewicki to two appearances in the first two months of the 2014 season, he finished with a flourish. He didn't allow an earned run in 23 1/3 NCAA tournament innings, shutting out Bucknell for seven innings in the regionals before moving to the bullpen and saving an elimination-game win against Maryland in the super-regionals. He won the Cavaliers' first two CWS games, twirled three shutout innings in the third and kept them in the finale with six innings of four-hit relief.
An eighth-round pick of the Tigers, Lewicki carved up hitters in Omaha with a 92-95 mph fastball and a mid-80s cutter/slider. He allowed just one earned run in 13 innings, striking out 10 while permitting just five hits and three walks. Had Virginia won the championship, he almost certainly would have won Most Outstanding Player honors.
Cavaliers coach Brian O'Connor lauded Lewicki throughout the CWS for his selflessness in accepting a move to the bullpen after the regionals. O'Connor described Lewicki as a poster man for the Cavaliers program with the way he endured all the tribulations he faced during his four years in Charlottesville.
"How he handled that process was first class and he was a winner," O'Connor said. "Then to have it come full circle this year for him to be back and just really step up through the entire season. He had an oblique injury that kept him out for five weeks and there was just no quit in this guy . . . How Artie has handled adversity in his life will make him a better person."
Jim Callis is a reporter for MLB.com and writes a blog, Callis' Corner. Follow @jimcallisMLB on Twitter. This story was not subject to the approval of Major League Baseball or its clubs.