Freeman plays day after exit from HBP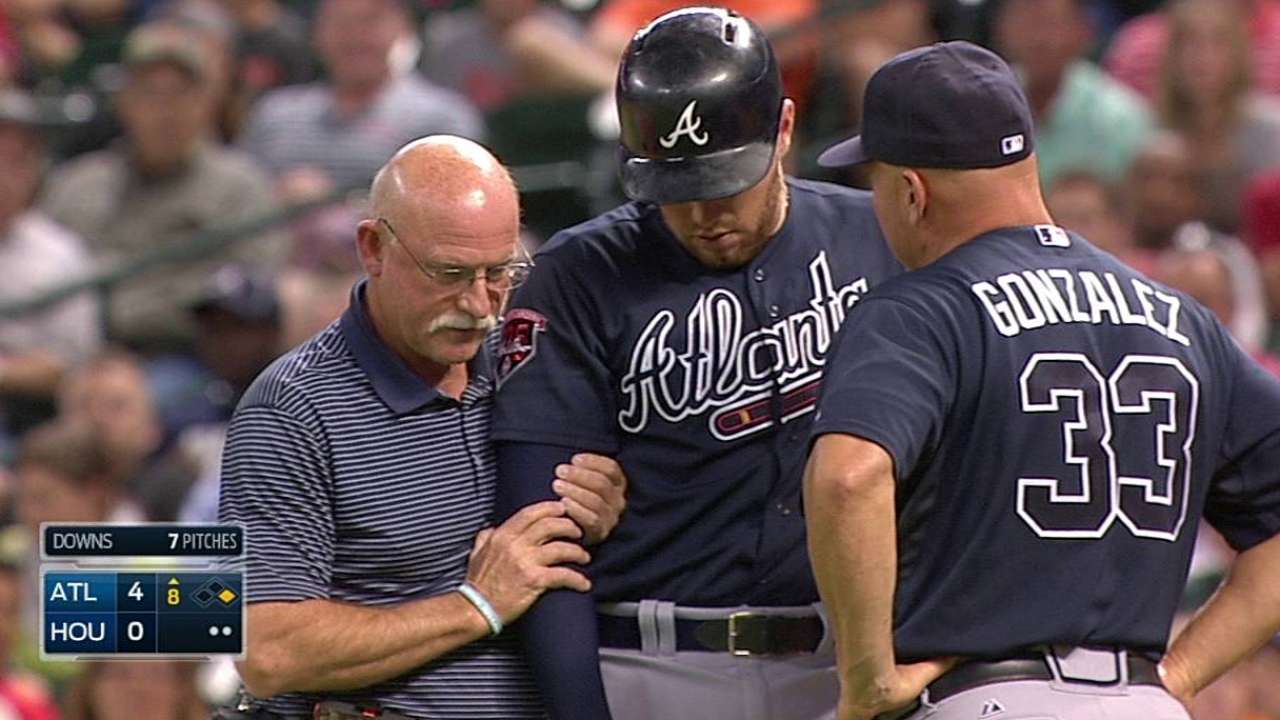 HOUSTON -- Less than 16 hours after being hit with a pitch that forced him to exit Wednesday night's game, Freddie Freeman returned to Minute Maid Park on Thursday afternoon and preserved his goal to be in the starting lineup for every game the Braves play this season.
"It's going to take a lot to keep me out of the game," Freeman said. "Unfortunately, it got me yesterday. But I like to play every game. That's why I'm here. I think I'm good enough to go today. So, we'll do that."
Freeman awoke with minimal swelling near the bottom of his right triceps muscle, the area where he was struck with Darin Downs' fastball during the eighth inning of Wednesday night's 4-0 win over the Astros. His immediate exit from the game allowed him to quickly apply ice to the bruised area.
"I think that's what saved me," Freeman said. "If I would have waited to deal with the swelling after the game, I think it would have been [more significant] and I don't think I would have been able to go today. I think that was a bright move."
Freeman's flexibility was not adversely affected when he took swings in the indoor batting cage on Thursday morning.
While he was pleased to make an immediate return to the lineup, Freeman was not excited to learn that he would need to wear a protective pad over his right elbow and triceps muscle for at least a few days.
"I've still got pain, but it's manageable," Freeman said. "I went in and swung. I wasn't swinging different, but I still had a little pain in there. It's nothing a little Advil won't take care of."
Freeman, the Cubs' Starlin Castro and the Giants' Hunter Pence were the only National League players who entered Thursday having started every game played by their respective teams this year.
Mark Bowman is a reporter for MLB.com. This story was not subject to the approval of Major League Baseball or its clubs.