MLB.com Columnist
Jim Callis
Swanson, Vanderbilt bask in College World Series title
Commodores finish off Virginia, have potential to repeat next year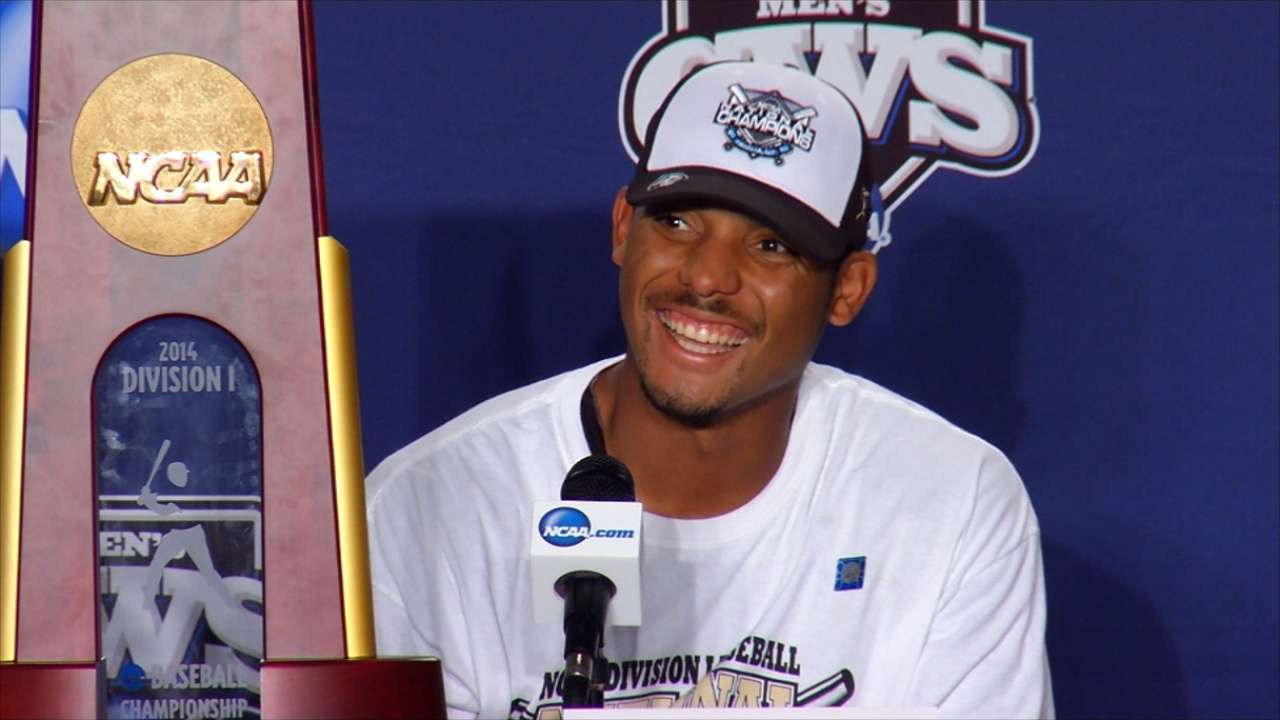 OMAHA, Neb. -- Dansby Swanson's first college season ended prematurely. A broken bone cost him six weeks of his 2013 freshman season, and he played just three more games afterward before tearing the labrum in his shoulder.
Swanson's second college season ended like every player dreams it will. His Vanderbilt team won its first College World Series -- and just the second national title in school history, after a 2007 women's bowling title -- and he was named the tournament's Most Outstanding Player.
The sophomore second baseman was much more excited about the former accomplishment than the latter.
"It's a blessing to be able to make tradition and history for this university," Swanson said. "I couldn't be happier than to do it as part of this group of guys. This university has been looking for this for a long time."
Swanson produced throughout the tournament. He drove in two runs in an opening 5-3 victory over Louisville, then had three hits including two doubles (to tie the Commodores season record with 27) in a 6-4 defeat of UC Irvine.
He had two more hits and scored the first run of the championship-deciding 3-2 win over Virginia on Wednesday, and also made a key defensive play in the sixth inning. His diving stop robbed junior second baseman Branden Cogswell of a hit and prevented the Cavaliers' lone scoring inning from getting further out of hand. Swanson batted .323 in Omaha and tied for the CWS lead with 10 hits, three doubles, five runs and four steals.
A 38th-round pick by the Rockies out of Marietta (Ga.) High in 2012, Swanson would have gone much higher in the Draft had he been signable away from his Vanderbilt commitment. A potential first-round pick in 2015, he combines hitting ability, solid pop, speed and defensive chops. He could slide over to shortstop next year if Vince Conde signs as anticipated as a ninth-round pick of the Yankees.
Jim Callis is a reporter for MLB.com and writes a blog, Callis' Corner. Follow @jimcallisMLB on Twitter. This story was not subject to the approval of Major League Baseball or its clubs.