Twins overpowered by Angels' offense in finale
Late comeback not enough; Nolasco tagged for six runs over six-plus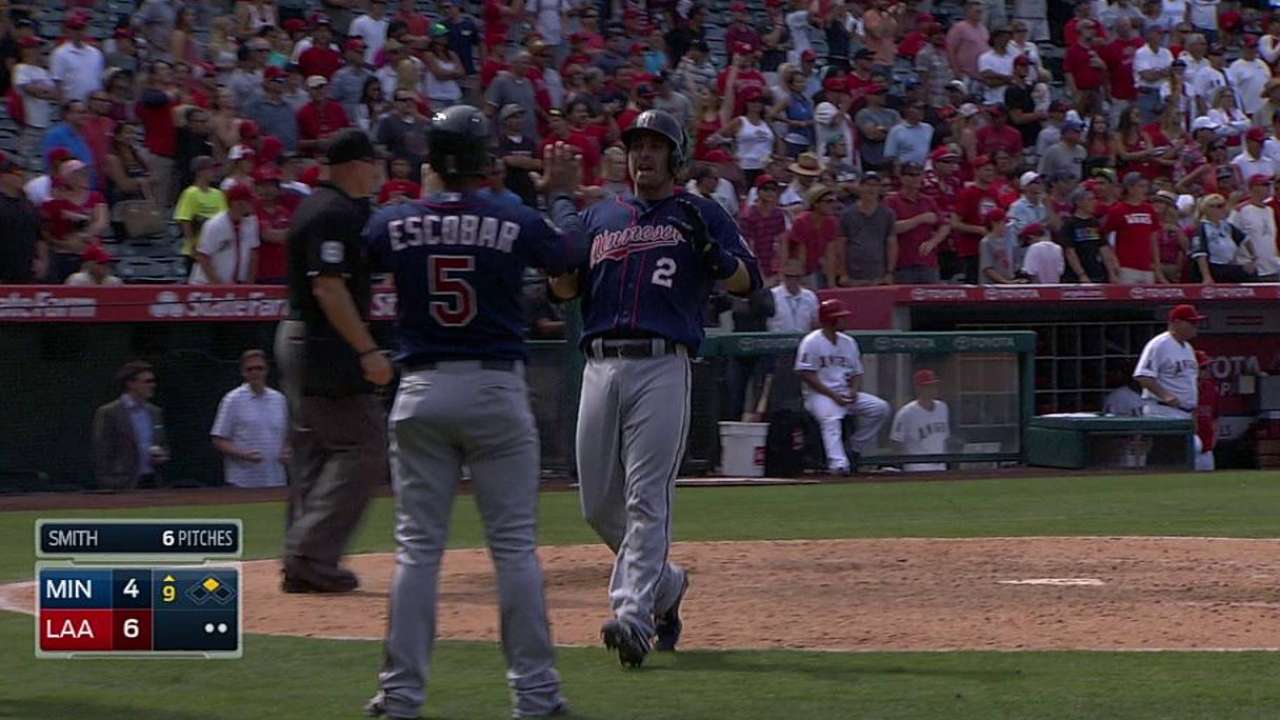 ANAHEIM -- The road has not been kind to the Twins recently.
The Twins have seemingly been away from Target Field all month with just 10 home games in June, and they had a tough road trip through Toronto, Detroit and Boston that saw them finish with five straight losses.
Their road woes continued on Thursday afternoon, as Ricky Nolasco was outpitched by Jered Weaver to hand the Twins a 6-4 loss to the Angels at Angel Stadium. It gave Los Angeles a three-game sweep and marked the eighth straight road loss for the Twins, who won four straight at home before starting their six-game trip through Anaheim and Texas.
"It's tough any time you get swept," said Nolasco, who has a 7.32 ERA in 10 road starts this year. "That's a really good team over there and they're playing well recently. So we came in here and fought really tough and came back in a few games but fell short. But all we can do is keep fighting."
Nolasco again didn't have his best stuff, giving up six runs on 11 hits and a walk over six-plus innings. He settled down after struggling early, but he ran into trouble again in the seventh. The right-hander fell to 4-6 with a 5.74 ERA this season and hasn't gone deeper than six-plus innings in four straight starts.
Nolasco surrendered two runs in a hurry, giving up an RBI single to Albert Pujols and an RBI double to Erick Aybar in the first inning. But Nolasco was hardly to blame on Aybar's bloop double, which was lost in the sun in left field by shortstop Pedro Florimon.
"Early it looked like he was fighting through it, but we missed a play dropping that fly ball," Twins manager Ron Gardenhire said. "He settled down in the middle innings and at least got us through the sixth."
The Angels scored two more runs in the third, with Pujols lacing an RBI double to right before Josh Hamilton added a single to center field to bring home Pujols. Nolasco allowed two more runs in his final inning after giving up back-to-back singles to Efren Navarro and Kole Calhoun with nobody out. Mike Trout brought home two with a double off Matt Guerrier, with both runs charged to Nolasco.
"I was able to settle down a little bit, but then I turned a decent outing into a terrible [one] that last inning," Nolasco said. "I just couldn't finish off a couple guys."
The Twins didn't get on the board against Weaver until the sixth inning after three straight singles from Joe Mauer, Kendrys Morales and Oswaldo Arcia. Weaver gave up just one run on eight hits and a walk over seven innings to get his eighth win.
"Offensively, we didn't do too much," Gardenhire said. "Weaver changes speeds really well, and at this ballpark, we know it's tough to see the ball in day games and he made it tough on us."
Minnesota threatened in the seventh with two runners on and two outs for Brian Dozier, but he popped out to the shortstop on a 3-2 fastball to end the inning. It was the final inning for Weaver, who improved to 7-0 at home against the Twins in his career.
"It was nice to come out of that unscathed there," Weaver said of his final inning. "Made some pretty good pitches to get out of it and luckily popped that last pitch out."
Minnesota scored three runs in the ninth, with Mauer doubling home all three with the bases loaded and two outs. The double came off reliever Joe Smith after Ernesto Frieri loaded the bases, including walks to Jorge Polanco, who made his Major League debut, and Dozier.
But Smith struck out Morales to end the game for the Twins, who went 2-for-10 with runners in scoring position.
"Unfortunately, we couldn't get another big hit," Gardenhire said. "Joe came up with a big one, but unfortunately we lost the ballgame."
Rhett Bollinger is a reporter for MLB.com. Read his blog, Bollinger Beat, and follow him on Twitter @RhettBollinger. This story was not subject to the approval of Major League Baseball or its clubs.