Pipeline preview: Sims, Manaea set to square off
Highly touted hurlers meet when Lynchburg faces Wilmington in Class A action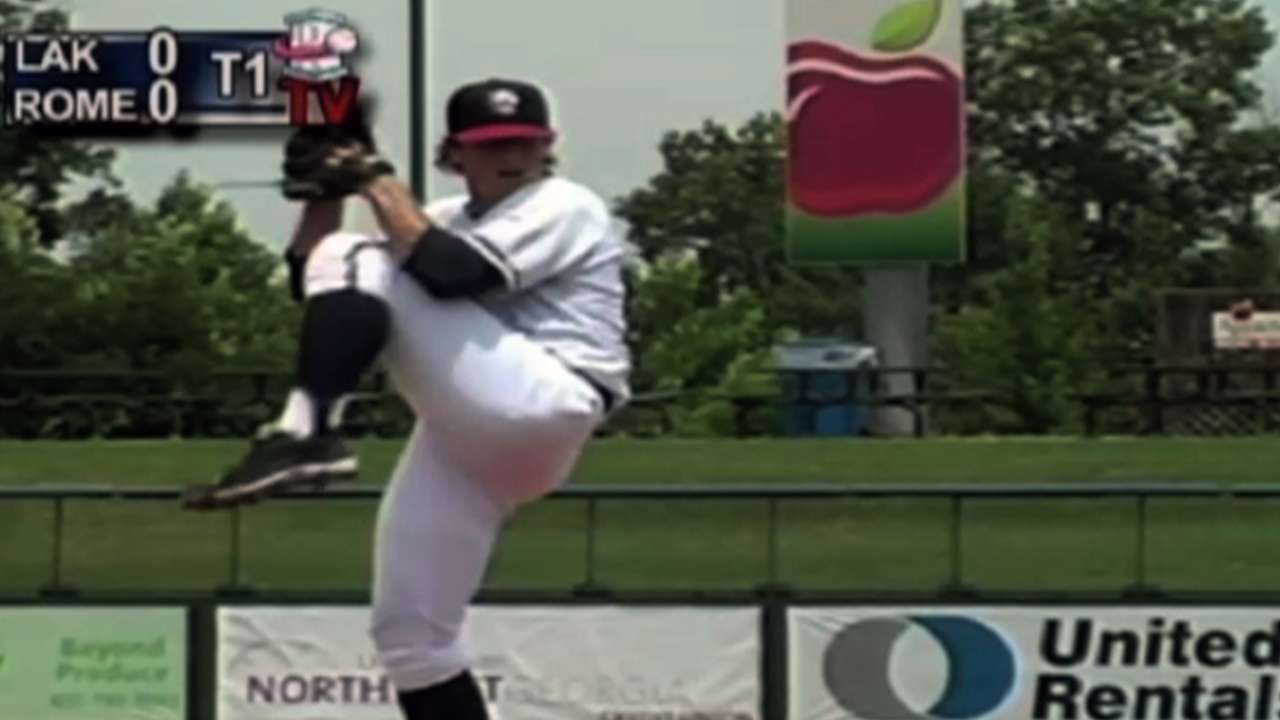 The first game of Class A Advanced Lynchburg's series at Wilmington was a slugfest, as the two teams combined on Wednesday for 18 runs and 26 hits. When the series continues on Thursday, however, runs might be a little tougher to come by.
The second game of the series features a pitching matchup of Lynchburg right-hander Lucas Sims, the Braves' No. 1 prospect, and Wilmington left-hander Sean Manaea, the Royals' No. 4 prospect. The first pitch is scheduled for 7:05 p.m. ET.
Sims, ranked No. 49 on MLBPipeline.com's Top 100 Prospects list, enters the game 5-5 with a 5.14 ERA and a 40-to-27 strikeout-to-walk ratio in 77 innings. He has especially struggled in four starts in June, as he has given up 15 runs on 21 hits and 10 walks and struck out five batters in 15 1/3 innings.
But Sims is one of the youngest players in the Carolina League. He celebrated his 20th birthday on May 10 and has the ability to flummox batters when he's at his best.
Though he is two years older than Sims, Manaea is in his first full professional season after attending Indiana State. The Royals have closely monitored his workload this year after a hip injury kept him sidelined last summer.
Manaea, ranked No. 97 on the Top 100, has stayed healthy so far this season. He is 2-6 with a 4.89 ERA and ranks fourth in the Carolina League with 73 strikeouts in 53 1/3 innings.
The game also features two prospects who grew up around the game. Wilmington shortstop Raul Mondesi, the Royals' No. 2 prospect, is the son of the former All-Star by the same name and Lynchburg outfielder Kyle Wren, the Braves' No. 16 prospect, is the son of Atlanta general manager Frank Wren.
Mondesi, ranked No. 30 on the Top 100, is hitting .230/.277/.323 in 52 games this season. He won't turn 19 for another month, making him the youngest player in the Carolina League. Wren ranks second in the league with 33 stolen bases and is hitting .300/.363/.362 in 75 games.
In addition to Sims and Manaea, several other pitchers ranked on the Top 100 are slated to start Thursday, including Noah Syndergaard (No. 10), Lucas Giolito (No. 36), Mike Foltynewicz (No. 46), Justin Nicolino (No. 64), Matt Barnes (No. 69) and Trey Ball (No. 79). Fans can watch Syndergaard, Foltynewicz and Barnes on MiLB.TV, beginning with Barnes and Triple-A Pawtucket hosting Norfolk at 7:05 p.m. ET.
Syndergaard will have a new catcher when he takes the mound for Triple-A Las Vegas at Sacramento at 10:05 p.m. ET Mets' No. 6 prospect Kevin Plawecki was promoted from Double-A Binghamton on Wednesday and is expected to make his Triple-A debut on Thursday. He hit .326/.378/.487 with six home runs in 58 games with Binghamton.
Top prospect probables
Chris Anderson (Dodgers' No. 5), Rancho Cucamonga at Inland Empire
Trey Ball (Red Sox's No. 7), Greenville at Asheville
Matt Barnes (Red Sox's No. 6), Pawtucket vs. Norfolk
Chris Beck (White Sox's No. 8), Birmingham vs. Mississippi
Tim Berry (Orioles' No. 6), Bowie at Richmond
Zachary Bird (Dodgers' No. 13), Great Lakes at South Bend
Corey Black (Cubs' No. 15), Tennessee at Jackson
Aaron Blair (D-backs' No. 3), Visalia at San Jose
Ian Clarkin (Yankees' No. 7), Charleston vs. Savannah
Chase De Jong (Blue Jays' No. 13), Lansing vs. West Michigan
Michael Feliz (Astros' No. 9), Quad Cities at Clinton
Mike Foltynewicz (Astros' No. 5), Oklahoma City vs. Omaha
Drew Gagnon (Brewers' No. 16), Huntsville vs. Montgomery
Jarlin Garcia (Marlins' No. 19), Greensboro vs. Lakewood
Lucas Giolito (Nationals' No. 1), Hagerstown vs. Lexington
Alex Gonzalez (Rangers' No. 4), Frisco vs. Arkansas
Kyle Hendricks (Cubs' No. 14), Iowa at Colorado Springs
Luis Heredia (Pirates' No. 10), West Virginia at Delmarva
Lars Huijer (Mariners' No. 20), Clinton vs. Quad Cities
Brian Johnson (Red Sox's No. 12), Portland at Reading
Mike Kickham (Giants' No. 17), Fresno vs. Salt Lake
Jorge Lopez (Brewers' No. 19), Brevard County vs. Lakeland
Michael Lorenzen (Reds' No. 4), Pensacola at Chattanooga
Sean Manaea (Royals' No. 4), Wilmington vs. Lynchburg
Trevor May (Twins' No. 12), Rochester at Lehigh Valley
Keury Mella (Giants' No. 19), Augusta vs. Rome
Bryan Mitchell (Yankees' No. 13), Scranton/Wilkes-Barre at Syracuse
Francellis Montas (White Sox's No. 16), Winston-Salem at Frederick
Justin Nicolino (Marlins' No. 3), Jacksonville at Mobile
Ariel Pena (Brewers' No. 17), Nashville vs. New Orleans
Chris Reed (Dodgers' No. 6), Chattanooga vs. Pensacola
Alex Reyes (Cardinals' No. 5), Peoria vs. Cedar Rapids
Joely Rodriguez (Pirates' No. 18), Altoona vs. Birmingham
Victor Sanchez (Mariners' No. 6), Jackson vs. Tennessee
Lucas Sims (Braves' No. 1), Lynchburg at Wilmington
Eric Surkamp (White Sox No. 20), Charlotte vs. Louisville
Noah Syndergaard (Mets' No. 1), Las Vegas at Sacramento
Jake Thompson (Tigers' No. 3), Lakeland at Brevard County
Drew VerHagen (Tigers' No. 12), Toledo at Gwinnett
Trevor Williams (Marlins' No. 9), Jupiter at Bradenton
Teddy Cahill is a reporter for MLB.com. Follow him on Twitter at @tedcahill. This story was not subject to the approval of Major League Baseball or its clubs.