Doctored ball? Drew joins 'Express Written Consent'
'Grey's Anatomy' actress breaks down her list of favorite TV medicine men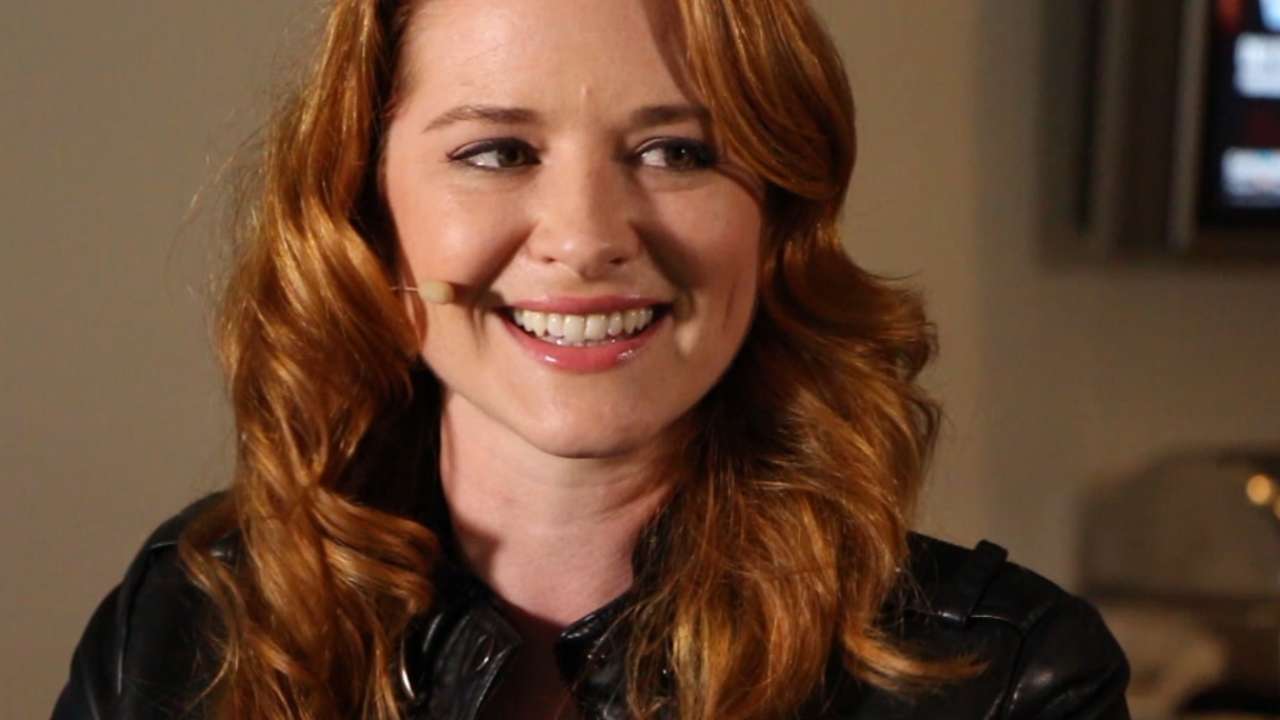 As a cast member on one of the most popular medical dramas in television history, you can count Sarah Drew as one who knows more than a few doctors.
First, there's McDreamy. And, of course, McSteamy. And, also, Quincy.
Wait. Back up.
Quincy?
"Who's Quincy?" the 33-year-old actress and "Grey's Anatomy" veteran asked.
Welcome to another edition of "Express Written Consent," MLB.com's cheeky venture, now in its third season, that gives celebs a chance to hang out at a Major League ballpark, take in a game, and chat with EWC host Jeremy Brisiel about whatever comes down the pike.
This is where we learn a little about celebrities that we wouldn't otherwise be privy to. Which is a good thing, because in what other forum would we have the opportunity to ponder life's great questions, such as, who remembers Quincy?
Oh, sure, if you're over 45-ish, or have a soft spot for forensic pathology, or count Jack Klugman as a really good actor from your era, well, then you probably are pretty familiar with Quincy.
But for a 30-something born four years after the series started and three years before it ended? Well, not so much. Really, even if Drew had caught Quincy in syndicated rerun form, she still would have been only around 10 years old when this particular drama about a Los Angeles medical examiner made its final descent to the big coroner's office in the sky.
So, back to Drew. She may not know Quincy, but she does know the more contemporary "House." That's how this whole conversation began -- J.B. asked her to rank three famous docs for "Start, Bench, Cut," and although McDreamy (Patrick Dempsey) and McSteamy (Eric Dane) are tempting for very obvious reasons, Drew's No. 1 choice to start was Dr. Gregory House, played by the endearing but mysterious Hugh Laurie.
"Because he's brilliant," Drew said. "If I get in a pickle, he's going to solve the issue. And I might have one of those, so it would be good to have him."
Drew has an eclectic acting resume, having played a doctor in one hit series and a not-so-naive wife in the 1950s drama "Mad Men." Those two wildly popular shows gave her great exposure while she ventured to the big screen, recently starring in a family-friendly comedy titled "Moms' Night Out," which hit theaters in May.
The premise: Drew's character is a stressed out mom of three. Hubby encourages her to go out for a night on the town with her friends. She does, and everything soon turns wackadoodle, both for the moms attempting to paint the town red, and for the husbands stuck at home with the kids.
"It's sort of like 'The Hangover' meets 'Adventures in Babysitting,' Drew said with a laugh.
Unlike the former, however, this is a movie you can take the kids to see.
"It's very funny and also really moving and deeply relatable," Drew said.
A mom herself to a two-year-old son, Drew seems the type to be able to take things in stride. For example, she had to almost sneak into Dodger Stadium to get to this particular taping of "EWC," thanks to a mishap that led to her having an outdated parking pass (not her fault).
And, she wore purple, forgetting that the Dodgers, her hometown team, were playing the Rockies, whose uniforms are, yes, purple.
OK, that last one is sort of her fault.
But cut Drew some slack -- she's not a regular at the ballpark. She even estimated that this game may have been the third one she's attended, ever.
But she knows how to have a good time, a quality that was evident throughout her time in the "EWC" booth.
Asked to attach a baseball term to the best description of what's in store for her in the future, Drew playfully picked the only one that truly makes sense.
"Moneyball," she said, chuckling. "Yes, please."
Alyson Footer is a national correspondent for MLB.com. Follow her on Twitter @alysonfooter. This story was not subject to the approval of Major League Baseball or its clubs.