Martinez duo powers Tigers to sixth straight win
Back-to-back homers in fifth, matching RBI doubles in first lift Detroit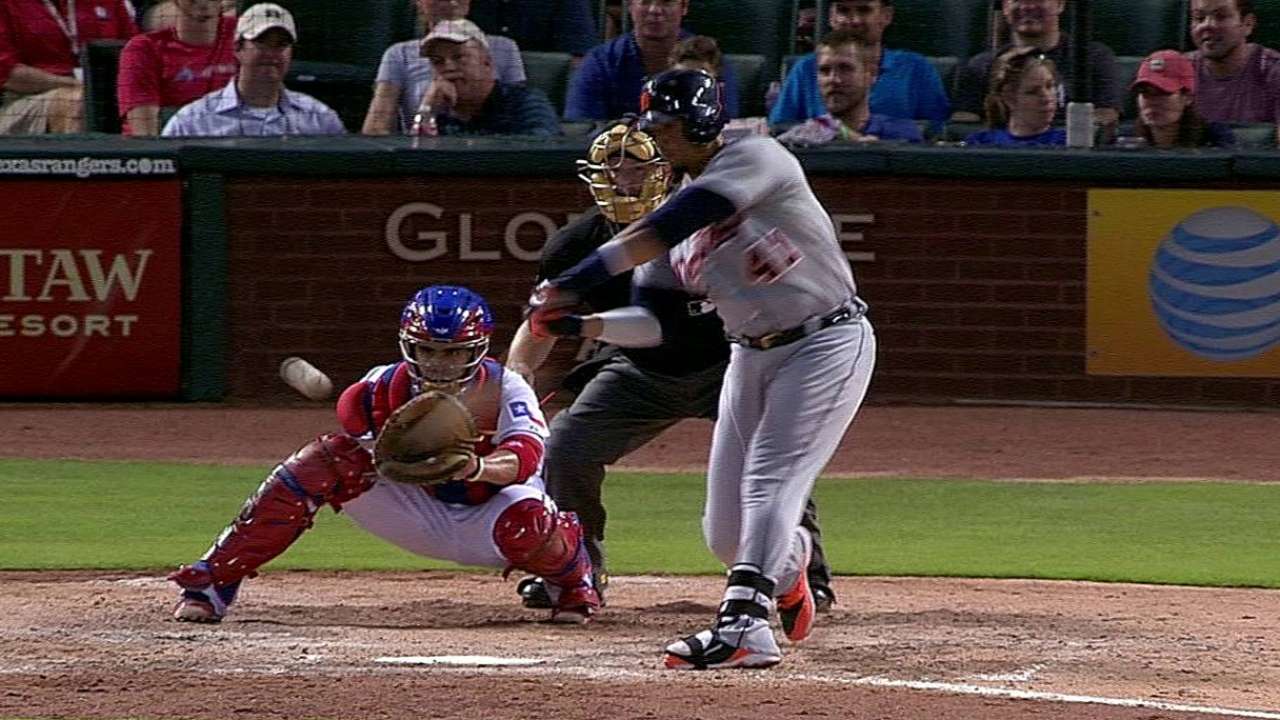 ARLINGTON -- The Tigers began the season facing the question of how Victor Martinez could protect Miguel Cabrera in their lineup with Prince Fielder off to Texas. As they continued their roll through the Rangers pitching staff Wednesday night, they've provided a new question for opponents to face further down the order: Which hot-hitting Martinez is more dangerous at this point?
"He's doing everything," Victor Martinez said of J.D. Martinez after Wednesday's 8-6 win over the Rangers. "What else can you ask from the guy?"
They've never asked him to duplicate the damage of Victor Martinez, but he did on Wednesday. After their back-to-back RBI doubles powered a three-run opening inning to put Detroit ahead, their back-to-back homers leading off the fifth inning provided the insurance runs to stay on top.
And while the return of the Tigers' strong starting pitching has been the major factor in a six-game winning streak that has restored Detroit's division lead -- now at four games after another Royals loss to the Dodgers -- the two Martinezes have lengthened the dangerous part of a center-heavy lineup for pitchers to fret.
A week ago, manager Brad Ausmus said Victor Martinez might be the one hitter who could protect Cabrera in the batting order. As long as J.D. Martinez swings like this, he's the one power threat Ausmus sees as capable of protecting Victor Martinez.
"That's what we've said all along," Ausmus said. "Because of his power, he's really the one guy that -- if he's swinging the bat well -- could hit in the five hole. He's sort of a prototypical five-hole hitter, and clearly right now, he fits that bill very well."
Eight different Tigers have hit in the fifth spot this season. J.D. Martinez's two RBIs Wednesday gave him 28 out of the spot, five more than the other seven fifth hitters combined. He has 21 RBIs in the last 30 days, matching Cabrera's total for that span and falling just two shy of Victor Martinez.
J.D. Martinez's sixth home run in nine days came one pitch -- and one pitching change -- after Victor Martinez's 20th home run of the year led off the fifth, a 408-foot drive to near-straightaway center field on the final pitch from Rangers starter Joe Saunders. Both long balls came right after three Rangers runs in the previous inning turned what looked like an easy evening for Anibal Sanchez into a 5-3 game.
"I was really just trying to throw the ball for strikes early in the game," Sanchez said. "The second time through the lineup, I know that team can make a rally. They did before, and I know I have to stop it. I don't want to get any rallies."
With the game suddenly back within reach, Rangers manager Ron Washington tried to get an extra inning out of Saunders (0-4) and paid for it. Once Washington went to his bullpen, however, J.D. Martinez greeted right-hander Shawn Tolleson with a 387-foot opposite-field drive to right, making Tolleson pay for a first-pitch fastball up and over the plate.
"Vic's been swinging the bat well all year -- right-handed, left-handed, you take your pick," Ausmus said. "J.D. has obviously been hot lately. When he's hot, the ball's going to travel."
Six of the seven Tigers hits off Saunders went for extra bases, including Rajai Davis' leadoff triple and RBI doubles from both Martinezes -- again on consecutive pitches, both hit well into the gaps. Only back-to-back deep flyouts from Torii Hunter and Nick Castellanos prevented the Tigers from building more than a 3-0 lead, though Ian Kinsler and Cabrera hit back-to-back doubles down the foul lines to set up two more runs in the third.
By contrast, Sanchez (5-2) retired the first seven batters he faced before Robinson Chirinos doubled in the third inning, and didn't allow a run until Adrian Beltre doubled in Shin-Soo Choo to start the rally in the fourth. From there, Sanchez seemingly labored through the rest of his outing, though the damage included a Castellanos error.
"His pitch count got up, especially in the fourth," Ausmus said. "I don't think he was as sharp as he was the last few outings, but he certainly pitched well enough to get us a win."
Sanchez's 5 1/3 innings marked the first time since his return from the disabled list May 18 that he didn't get through the sixth. Five Tigers relievers combined to hold down the lead, though Alex Rios' seventh-inning sacrifice fly whittled the deficit.
Jason Beck is a reporter for MLB.com. Read Beck's Blog and follow him on Twitter @beckjason. This story was not subject to the approval of Major League Baseball or its clubs.