Saunders, Rangers fall behind in first, can't rally
Texas loses its seventh straight game despite Pena's long home run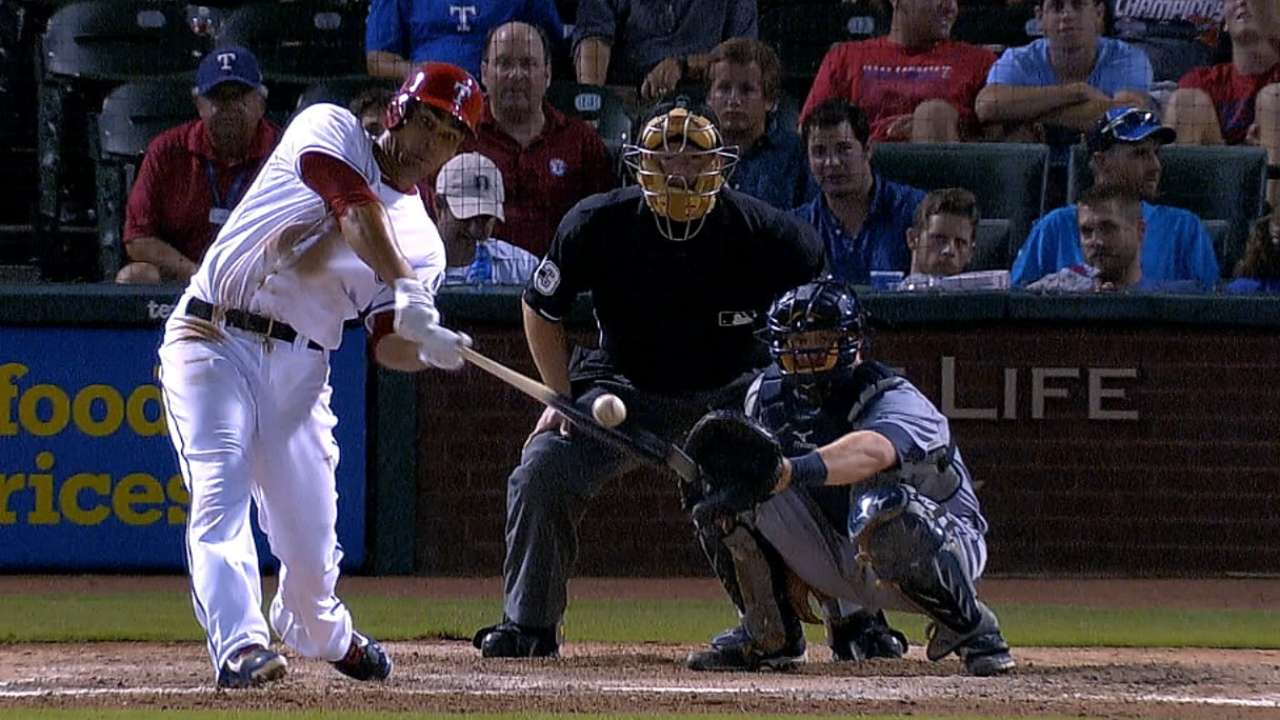 ARLINGTON -- The tone was set from just the second pitch that flew from Joe Saunders' hand Wednesday night -- before the Rangers ever got the chance to pick up a bat.
It was an 89 mph fastball that Rajai Davis connected on for a leadoff triple -- and it was only a sign of what was to come for the 33-year-old Saunders: his fourth loss of the season in an 8-6 Tigers victory, and a desperate struggle to find command.
The Rangers (35-42) have now dropped seven in a row. After walking Ian Kinsler following Davis' triple, and allowing Miguel Cabrera a sacrifice fly to score Davis, Saunders had handed the Tigers the quick lead in the first.
One run, five minutes.
But more were to come.
By the time the Rangers headed to the dugout for their first at-bat, just more than 10 minutes had passed. The Tigers were already leading 3-0.
"I pride myself on trying to get out there to a good start," Saunders said. "But tonight was just one of those things where you try to minimize the damage the best you can, show up as many innings as you can, and keep the game as close as you can, really. That's what you've got to focus on."
But the damage didn't stop after the first.
Two frames later, in the third, Saunders gave up two more for a 5-0 Tigers lead, and the Rangers were left trying to salvage a few runs out of a game that already seemed over. So they went to work. The Rangers rallied with a three-run inning of their own in the fourth to help put themselves -- and Saunders -- back in the game.
Shin-Soo Choo singled to right field, advanced to second base on a wild pitch, and scored on an Adrian Beltre double to left, 5-1.
Beltre reached third on a Carlos Pena single, and scored after Michael Choice reached base on a fielding error by Tigers third baseman Nick Castellanos to make it 5-2.
Robinson Chirinos sent a sharp single to center, and then Pena scored to cut the lead to 5-3.
For the first time all night, things were looking brighter.
"They're leaving their heart out there," Rangers manager Ron Washington said after the game. "I have no complaints about the way they're going about their business. We've just got to score some runs, and we've just got to pitch."
But the three runs in the fourth weren't enough.
Saunders retook the mound in the beginning of the fifth, relinquishing a leadoff home run to Victor Martinez for his 20th of the season, and a 6-3 Tigers lead.
The left-hander was pulled after four innings of work, seven hits, six runs -- all earned -- and five walks. He had just two strikeouts.
Seconds later, Shawn Tolleson trotted out from the bullpen as the replacement, found his spot on the mound, and began to warm up. Then he threw a first-pitch fastball to J.D. Martinez.
Another home run.
"It's not always easy to do, [but] you have to forget about it completely -- and you don't really," Tolleson said of the leadoff homer. "I made a mistake pitch, and he jumped on it."
It was the fourth time this season the Tigers had back-to-back homers, and though Pena would answer with a 347-foot homer of his own in the sixth -- his first of the season -- the Rangers still couldn't recover.
Pena's home run made it 7-4, and Elvis Andrus made it 7-5 in the seventh when he walked, advanced to third on a Beltre single, and scored on a sacrifice fly from Alex Rios.
The Tigers tacked on one more in the eighth, the Rangers one more in the ninth for the 8-6 final score.
Washington commended his team for its ability to remain positive, even in the hardest of times.
"They're coming to the ballpark every day and they're preparing," Washington said. "We've just got to get consistent in a few areas and once we start getting consistent in a few areas, we'll start putting things back together."
But as Washington left the field Wednesday night and headed back home after yet another loss, he still couldn't quite seem to wrap his head around reality.
"It's definitely hard to comprehend to a seven-game losing streak," he said. "But it is what it is."
Grace Raynor is an associate reporter for MLB.com. This story was not subject to the approval of Major League Baseball or its clubs.