Wood dominates in return to Braves' rotation
Southpaw blanks Astros in impressive seven-inning outing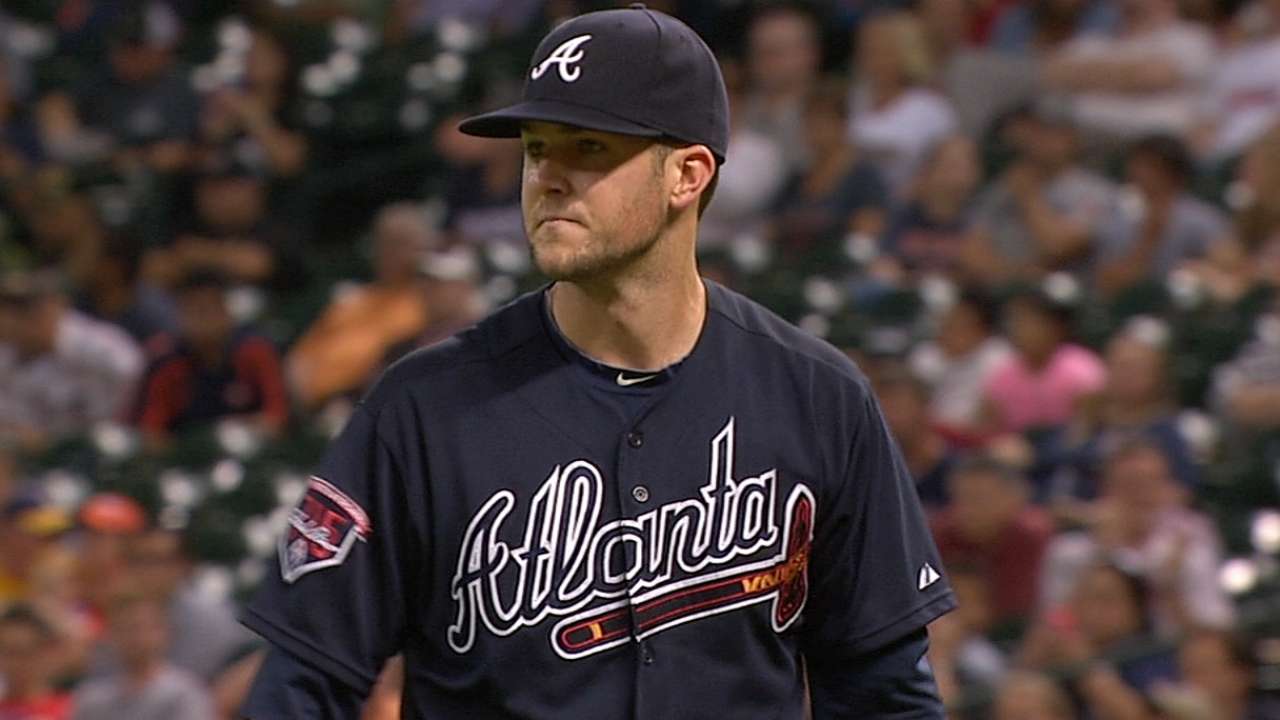 HOUSTON -- When the Braves moved Alex Wood to the bullpen seven weeks ago, they had visions of him being an integral piece of their starting rotation down the stretch this season. If they are fortunate enough to be part of another pennant race, they can only hope Wood proves as dominant as he was during Wednesday night's 4-0 win over the Astros.
This outing allowed Wood to better appreciate the opportunity he had to spend the past couple weeks stretching his arm back out, while making two starts for Triple-A Gwinnett.
"I watched every [Atlanta] game when I was [with Gwinnett]," Wood said. "It's something I really enjoy and don't take for granted at all, being a part of this clubhouse. They've done some good things and hopefully we'll continue to play well the rest of this road trip and carry it over to when we go back home."
Providing no indication that he was making his first Major League start since May 4, Wood was simply dominant as he scattered three hits and needed just 79 pitches to complete seven scoreless innings. The 23-year-old southpaw did not throw more than 12 pitches during any of the first five innings and did not allow an Astro to advance past second base until the sixth inning.
This effort was certainly more than the Braves could have asked for when they brought Wood back to the Majors a few days earlier than expected to fill the rotation vacancy created by Gavin Floyd's season-ending right elbow injury.
"Gavin was pitching well for us," Braves left fielder Justin Upton said. "To not miss a beat with Alex coming back was definitely a luxury. It was definitely a luxury to have him waiting in the wings, waiting to come back and pitch for us."
Upton supplied all of the necessary offensive support. His second-inning sacrifice fly accounted for the game's first run and his opposite-field two-run home run in the seventh inning certainly served as the evening's most impressive offensive contribution. The no-doubt blast which traveled into the Astros bullpen beyond the right-center-field fence halted the success of Collin McHugh, who limited the Braves to two hits through the first six innings.
When he hit a home run that nearly hit the train above the left-center-field wall during Tuesday's series-opening victory, Upton provided some indication that he was starting to get into one of his hot streaks.
"When he gets hot like this, it's really something to watch," Braves manager Fredi Gonzalez said. "Hopefully, this is the beginning of one of those big runs he can give us."
The Braves made the most of the few opportunities they had against McHugh, a suburban Atlanta native who notched nine strikeouts while completing seven innings against the team he loved throughout his childhood. Evan Gattis notched the first of his two doubles in the second inning, advanced to third on Jason Heyward's groundout and scored on Upton's sacrifice fly.
Gonzalez was also happy with the way the Braves manufactured an insurance run in the eighth inning. B.J. Upton doubled, advanced to third base on a balk and scored when Tommy La Stella pulled a ground ball to the infield's right side.
With Wood in the midst of just his second full professional season, the Braves were aiming to limit him to 170-180 innings this year. The young southpaw was on pace to significantly exceed that total as he surrendered two earned runs or less in six of the seven starts he made before going to the bullpen for a month. After stretching his arm out with a pair of starts for Gwinnett, Wood went through this outing without showing any signs of rust.
"The big picture, I think it was good for me to go down there and stretch out and get a feel for everything again," Wood said. "At the same time, I think no matter what the situation is when you go down for however long it is, it's one of those things when you come back you have to prove yourself all over again."
Wood pitched around Dexter Fowler's leadoff double in the first inning and Jon Singleton's two-out double in the fourth inning. Wood was staring at potential trouble when George Springer's two-out single in the sixth put runners at the corners. But he responded by striking out Singleton.
"He mixed his pitches and had a good tempo going on his side, so that definitely helped him out a little bit," Singleton said. "For the most part, when he got runners on base he made good pitches, quality pitches, so it made it tough for us."
Mark Bowman is a reporter for MLB.com. This story was not subject to the approval of Major League Baseball or its clubs.