Freeman OK after getting elbow hit by pitch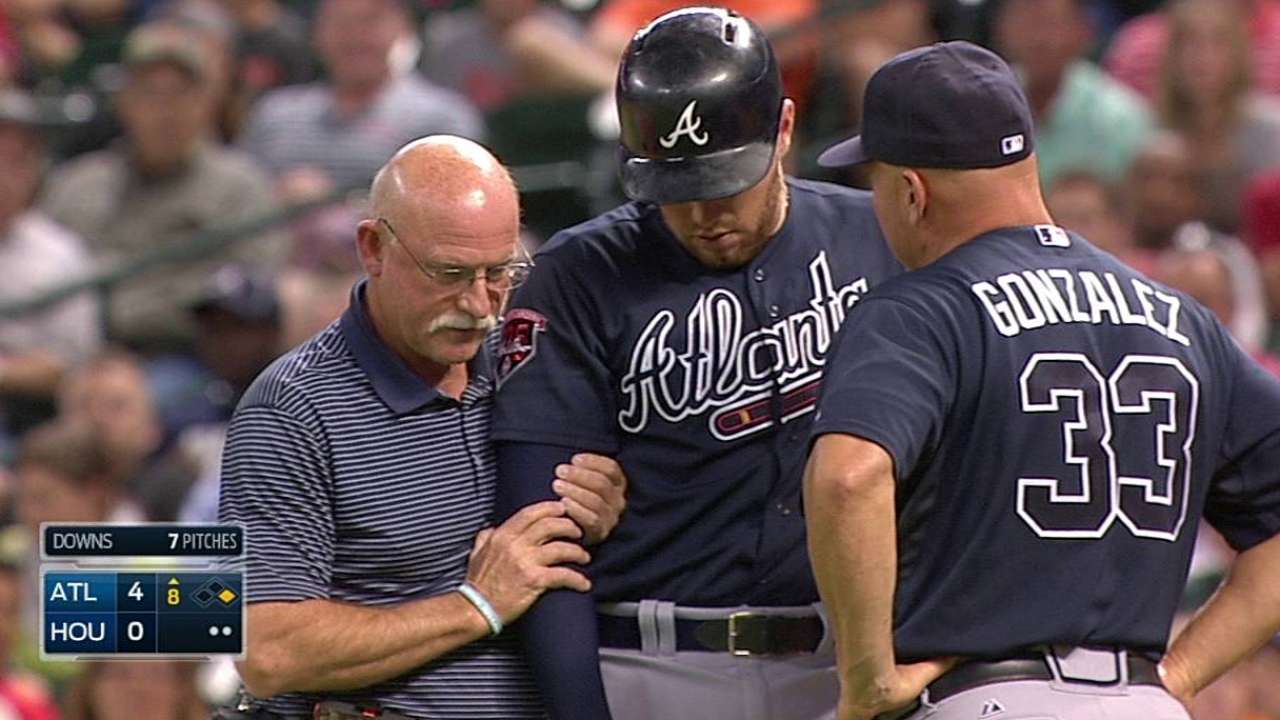 HOUSTON -- Braves first baseman Freddie Freeman breathed a sigh of relief once he learned he did not sustain a significant injury when he was hit just above the right elbow with a pitch in the eighth inning of Wednesday night's 4-0 win over the Astros.
Now, Freeman is hoping to be able to maintain his status as one of only three National League players who have started each of their team's games this season.
"Everything was smooth and the doctors have already seen me and everything is good," Freeman said. "Hopefully, it's not too swollen and too sore tomorrow to go. I'm going to try everything I can to play."
Approximately 30 minutes earlier, Freeman gained some reason to be concerned when his right hand and forearm felt tingly after he got hit just above the elbow with Darin Downs' 90-mph fastball. Freeman took a few steps toward first base before abruptly stopping. He was met moments later by Braves head athletic trainer Jeff Porter, who briefly examined the first baseman before taking him toward the clubhouse for further evaluation.
Freeman's ailment was not significant enough to warrant X-rays. But knowing Thursday's series finale was just a little more than 12 hours away, Braves manager Fredi Gonzalez wanted Freeman to get to the clubhouse to immediately ice the bruised area with the hope it would minimize the potential swelling.
"I think we dodged a bullet," Gonzalez said. "I took him out of the game because I wanted to get ice on it right away. "
The Cubs' Starlin Castro and the Giants' Hunter Pence are the only National League players who have started each of their team's games this year.
Mark Bowman is a reporter for MLB.com. This story was not subject to the approval of Major League Baseball or its clubs.