Halos to focus on deal to shore up bullpen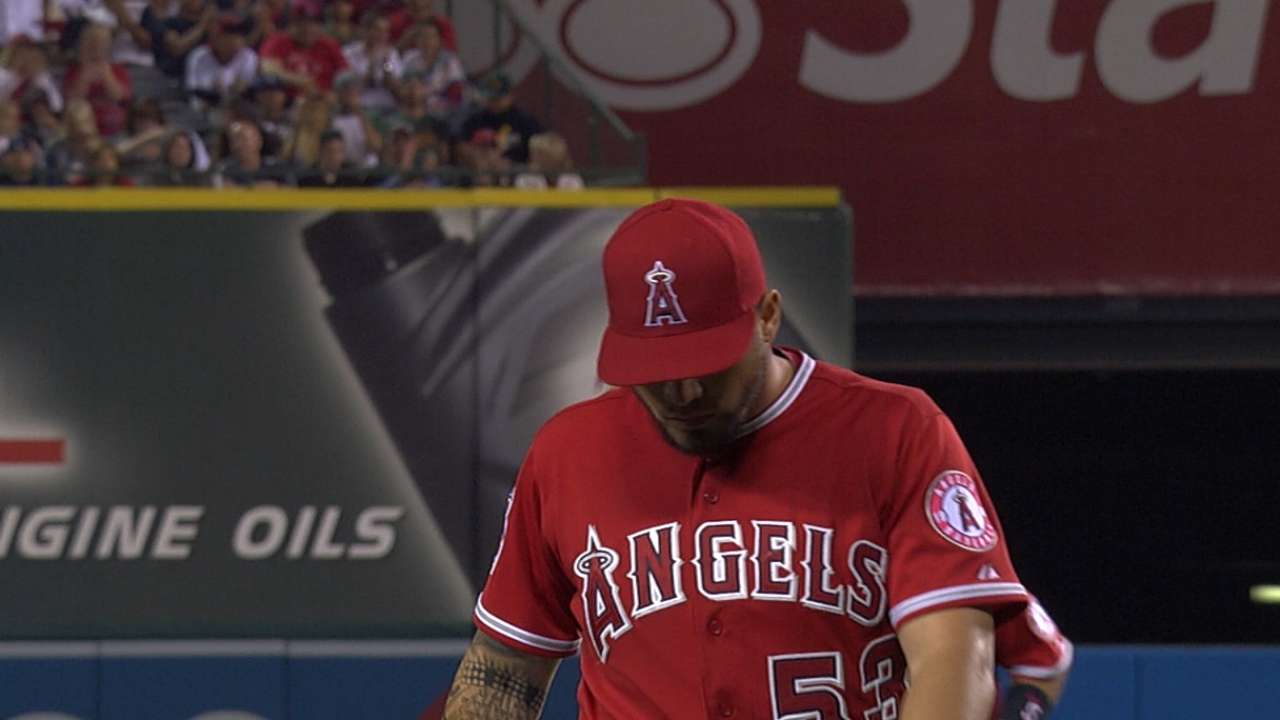 ANAHEIM -- David Price of the Rays, Cliff Lee of the Phillies and Jeff Samardzija of the Cubs are the sexy names reportedly being shopped now that the non-waiver Trade Deadline is almost five weeks away. But the Angels' focus isn't necessarily on trading for a top-of-the-rotation starter, which would cripple an already-thin farm system and eat away at their payroll flexibility.
It's on the bullpen, specifically the back end -- and ideally someone who can solidify the ninth inning.
"Our primary need is to make sure we address the bullpen," Angels general manager Jerry Dipoto said, "and a left-hander in the 'pen would be huge."
Ken Rosenthal of FOXSports.com reported Wednesday that the Angels are among the teams interested in Price, but a source familiar with Dipoto's thinking said that's highly unlikely, saying that the Angels' focus is primarily on acquiring a couple of bullpen arms that can team up with Joe Smith and bolster the last nine outs of the game.
The Angels love Price, but aren't in love with giving up another bevy of prospects -- perhaps more than they gave up for Zack Greinke in July 2012, since Price is also signed through 2015 -- or acquiring someone who would leave them with little to no flexibility to address the bullpen.
Closer Huston Street and setup man Joaquin Benoit of the Padres, closer Jonathan Papelbon and lefty Antonio Bastardo of the Phillies and former closer Jim Johnson of the A's are among the names the Angels have or will look into. They'd prefer to acquire a lefty specialist from the outside in order to maintain flexibility with southpaw Hector Santiago, who can help out of the bullpen and in the rotation.
"This is by far the most talent we've had in the bullpen since I've been here, the most depth -- we just haven't been able to figure out how to get it on a consistent roll yet," said Dipoto, who wouldn't comment on specific targets. "There are pieces here that are very functional in getting to a good bullpen, and I believe that we'll get there. But we are going to have to address some of that in July and help this group out."
The Angels rank ninth in the Majors with a 3.61 ERA from their rotation, which boasts three quality arms at the top in Jered Weaver, C.J. Wilson and Garrett Richards, a promising 22-year-old in Tyler Skaggs, Matt Shoemaker, who's 5-0 with a 3.00 ERA in seven starts, and Santiago.
Their bullpen, however, sports a 4.41 ERA (25th in the Majors), a 1.38 WHIP (23rd) and 12 blown saves (tied for second-most). And Ernesto Frieri, who has been demoted from the closer's role twice, is nursing a 5.64 ERA.
"You can't win without a good bullpen, there's no doubt about that," said Smith, who will handle the ninth inning for now. "I think we have some pieces that are coming along. We're getting there, definitely. I just think collectively, as a whole group, we need to get on a run somehow."
Dipoto's goal is to facilitate that.
Alden Gonzalez is a reporter for MLB.com. Read his blog, Gonzo and "The Show", and follow him on Twitter @Alden_Gonzalez.Matthew DeFranks is an associate reporter for MLB.com. Follow him on Twitter @MDeFranks. This story was not subject to the approval of Major League Baseball or its clubs.