Offense goes quiet as Cubs drop series to Reds
Despite lack of run support, Jackson optimistic club can get hot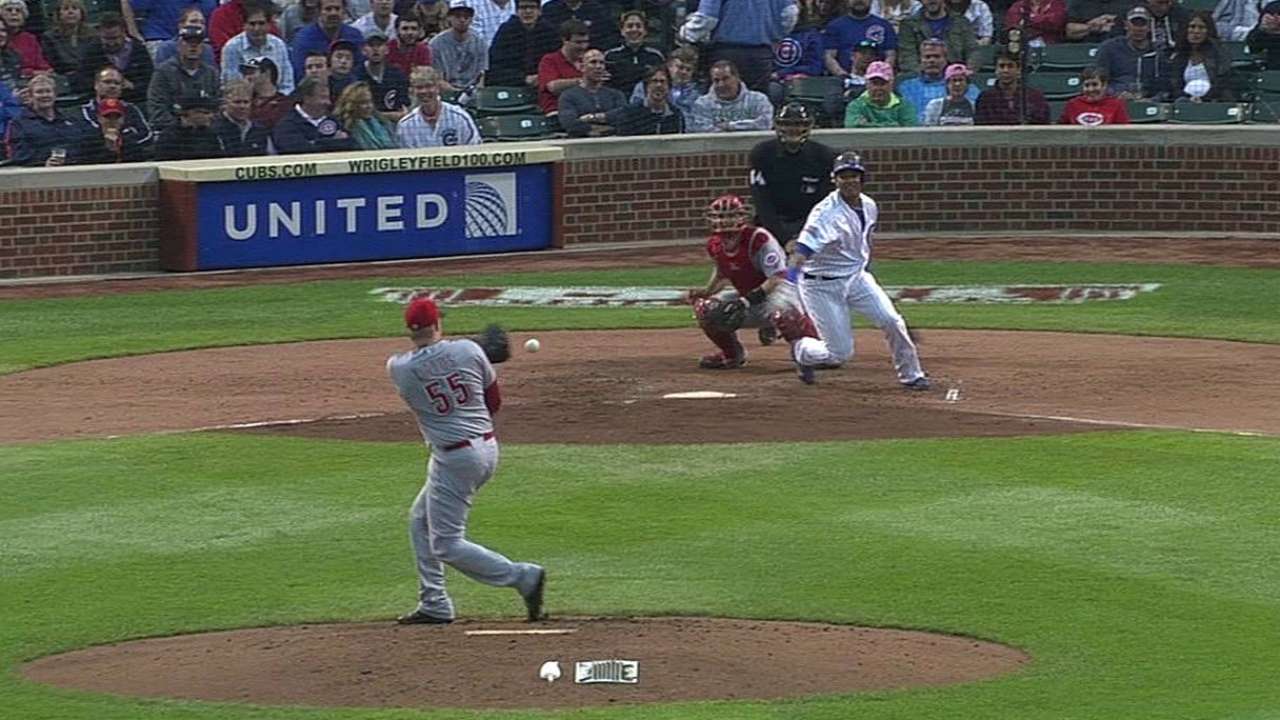 CHICAGO -- The Cubs are nearly at the halfway point of the season, and even though they've struggled against National League Central teams, Edwin Jackson remains optimistic.
Jackson took the loss Wednesday night in the Cubs' 4-1 defeat to the Reds, who got a pair of key RBI doubles by Jay Bruce.
"It's a long season and I've seen crazier things happen in baseball," Jackson said. "Teams get down and all of a sudden everyone gets hot and you get off on a streak and win seven, eight, nine ballgames in a row, and things turn around pretty fast.
"We're definitely not writing the season off, there's a lot of baseball left. We're not even halfway through. It's about everyone going out and feeling confident and playing on the same level. As far as writing the season off, we haven't come close to feeling like we've written the season off."
It would be easy for Jackson to be frustrated. On Wednesday, he and the Reds' Mat Latos were deadlocked in a 1-1 tie through five innings. Then came the sixth.
Jackson walked Todd Frazier to open the inning, and Frazier scored on Joey Votto's tie-breaking double to left. Devin Mesoraco singled, and Bruce hit a double that third baseman Luis Valbuena deflected, allowing Votto to score. One out later, Jackson was pulled for James Russell, and Skip Schumaker greeted him with a perfect suicide squeeze to score Mesoraco. It was the Reds' first sacrifice squeeze bunt of the season.
"That's the first one in my life -- college, big leagues, you name it," Schumaker said. "I saw the sign and got a little nervous when I hit a line drive to shortstop, but it worked out."
The problem as far as Jackson was concerned was the leadoff walk. That set a bad tone.
"It's a tough lineup and they'll make you work," Jackson said of the Reds. "I thought for the most part I could contain them until the sixth inning, and then they busted it open. ... You still have to get that first batter. It always jump-starts the inning when you get that leadoff guy on."
The Cubs did contain Cincinnati speedster Billy Hamilton, who was 0-for-5. But Votto and Bruce made up for it.
"When [Jackson] went out for the sixth, he was in pretty good shape," Cubs manager Rick Renteria said. "Like all things, we were hoping he could eat up one more inning for us. It just didn't work out."
The Cubs had a few highlights. Votto tried to score from first on Bruce's double but was thrown out at home on a perfect relay from Nate Schierholtz to Darwin Barney to catcher John Baker.
Chicago's only run came in the fourth when Ryan Sweeney doubled to lead off, and one out later, scored on Starlin Castro's single to tie the game. It was Castro's 45th RBI, one more than he totaled in 161 games last season. Part of the difference is that Castro has batted fourth since April 25 -- as opposed to last year, when he bounced around the lineup.
"I get a lot of guys in scoring position in that spot," Castro said. "The best thing is I'll be there every day. I'm not moving in the lineup or anything. I'll be there every day."
Latos, making his third start since coming off the disabled list, made it tough, giving up five hits over seven innings.
"We're facing some pretty good chuckers, too," Renteria said. "We just obviously weren't able to generate a whole lot of offense today."
The Cubs are 12-11 this month, but they're batting just .229 as a team. Baker said Jackson is doing his job; he just needs some support.
"The story for us is we're not giving him enough runs," Baker said. "It's frustrating for us position players, and it hurts me more than anyone else because I've struggled. My whole job is to make sure these pitchers pitch well. When a guy goes out and gives up three, four runs, you feel you should stay closer in the game."
Castro, who is having an All-Star-caliber season, is already looking ahead to the time when some of the Cubs' top prospects arrive.
"We're playing a lot better," he said. "I think we're very close. I think when they come here, we'll be a better team."
As Jackson says, it's a long season.
Carrie Muskat is a reporter for MLB.com. She writes a blog, Muskat Ramblings, and you can follow her on Twitter @CarrieMuskat. This story was not subject to the approval of Major League Baseball or its clubs.