Davis allows rare run, setting up wild ninth
Hit-by-pitch drives in reliever's first earned run since April 23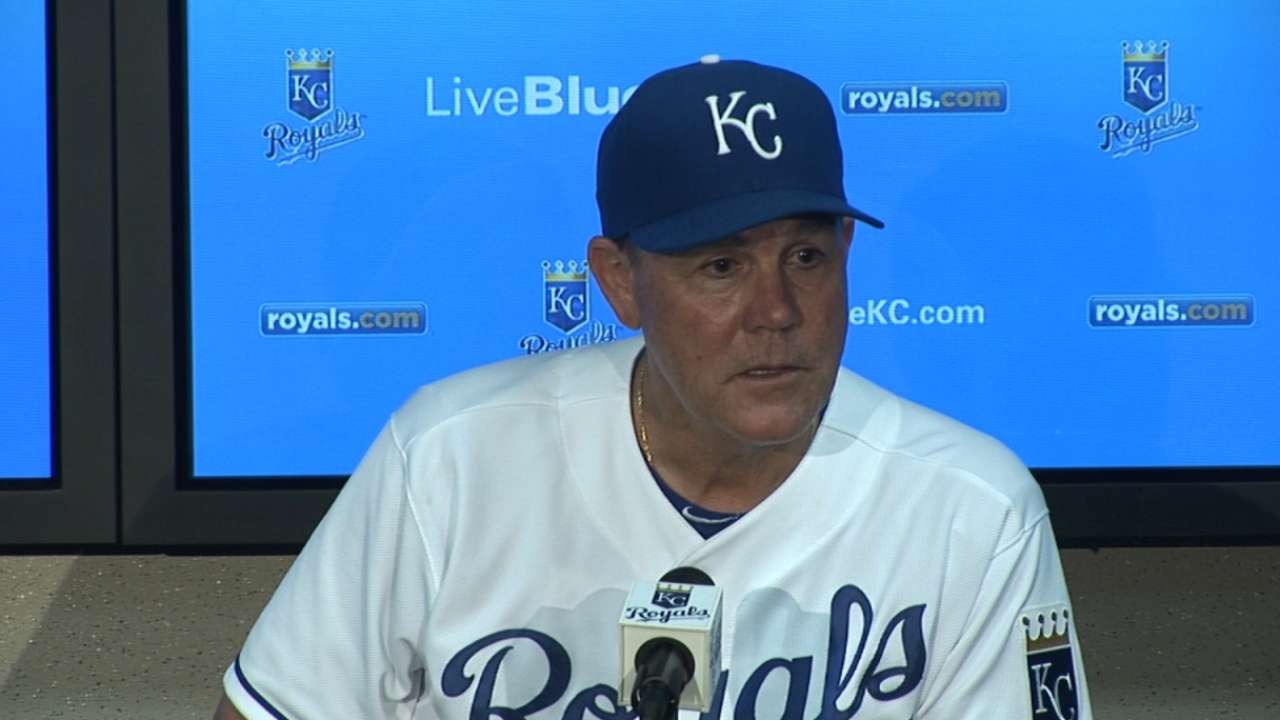 KANSAS CITY -- Wade Davis' long, strong streak was finally cracked and broken.
Davis surrendered a run for the first time in more than two months, and the Los Angeles Dodgers defeated Kansas City, 5-4, on Wednesday night at Kauffman Stadium, taking the Interleague series from the Royals, two games to one.
The Royals, after a 10-game winning streak, were in first place in the American League Central with a lead of 1 1/2 games over Detroit. Now, after losing six of their past seven, the Royals are four games behind the Tigers, who have won six straight.
And the Royals are 1-5 on their homestand with three games left against the Angels. They lost this one after coming back from a 3-1 deficit for a 4-4 tie.
"They all sting, some a little bit worse than others," manager Ned Yost said. "But they all sting."
Davis entered the game in the eighth inning with the score tied, 4-4. Adrian Gonzalez opened the inning with a single to right, and, after an out, Andre Ethier singled up the middle.
Then Davis got lucky. He stopped Justin Turner's shot with his foot, picked up the ball and tossed to catcher Brett Hayes. Hayes chased down Gonzalez, who had started in from third base, and tagged him out.
Here Davis' command went awry, and he walked Scott Van Slyke to load the bases. But he was one strike from getting out of the jam with a 1-2 count on A.J. Ellis.
"He gave up the two hits and ended up walking a guy," Yost said. "And Wade still has a way of maneuvering around trouble and getting out of it. But a cutter got away from him. I kept hoping that he'd make a pitch and strike Ellis out, but he was trying to throw a cutter, and it got away from him and hit him right in the shoulder."
Plunk. The go-ahead run was forced home.
"I tried to make a perfect pitch, and I just got away from it a little bit, and it came up and hit him," Davis said.
Davis had gone 20 straight appearances and 22 1/3 consecutive innings without giving up a run. His most recent run allowed came April 23 at Cleveland.
"We're all human, man," said James Shields, the Royals' starting pitcher. "It's going to be tough to not give up runs all year long. He's one of those guys that are so strong mentally and is such a bulldog out there, he's going to go back out in his next outing and do his job."
Shields chided himself for not doing his job. He gave up a solo homer to Matt Kemp in the second inning, then back-to-back triples to Dee Gordon and Yasiel Puig in the third inning.
Gordon trotted home when a balk was called on Shields as he threw to third base. It was a call by umpire Hunter Wendelstedt that left Yost and Shields perplexed.
"We're going to get clarification on it. It's not a balk," Yost said. "It's umpire's judgment, umpire's interpretation. I think the interpretation is wrong."
It's Yost's view that umpires are more lenient to left-handed pitchers on their moves to first base than they are with right-handers to third base.
"Honestly, I don't what else to do," Shields said. "It's a clean move to third. I did not deceive him [by moving] toward home plate. I did not deceive the runner at all."
The Royals had two loud bangs at the plate. Lorenzo Cain began the first inning against right-hander Dan Haren with a home run to left field. It was the team's first game-opening home run this season.
Jarrod Dyson led off the fifth inning by lofting a 3-2 pitch from Haren over the right-field bullpen.
"I get lucky every 1,000 at-bats," Dyson said.
Actually it was only 277 at-bats since Dyson's previous home run, just over a year ago on June 23, 2013.
"He's a strong kid," Cain said. "He's little, but he's got thump."
The Royals went on to oust Haren in that fifth inning and tied the score.
"That was Haren's first true dud outing of the year," Dodgers manager Don Mattingly said.
Even so, the Dodgers wrapped up the win when first baseman Van Slyke reached up to grab Cain's sizzling liner in the ninth and turned it into a game-ending double play.
"Our guys did a good job of fighting back today," Shields said, "and it's unfortunate we lost by a game of inches at the end there."
Dick Kaegel is a reporter for MLB.com. This story was not subject to the approval of Major League Baseball or its clubs.