Buchholz overcomes homers, gets win in his return
Papi belts two-run homer, adds RBI single as Red Sox avoid sweep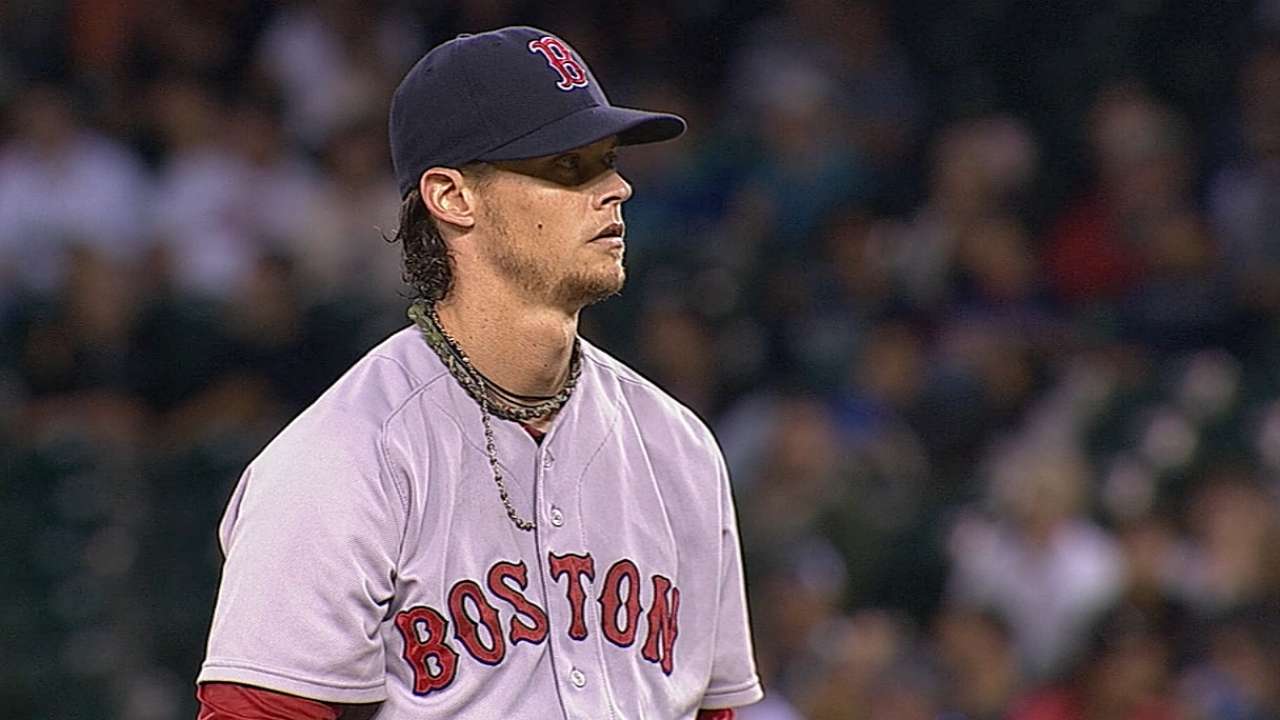 SEATTLE -- The Red Sox needed a win as much as starter Clay Buchholz needed a solid performance.
Both got what they wanted Wednesday night at Safeco Field when the Sox avoided a three-game sweep with a 5-4 victory over the Mariners.
Buchholz, who hyperextended his left knee in late May, was activated off the 15-day disabled list a few hours before first pitch. After allowing home runs to third baseman Kyle Seager and catcher Mike Zunino in the second inning, he settled down and held a hot Mariners lineup in check for 7 1/3 innings en route to his first win since May 2. He threw just 76 pitches, 55 for strikes.
"He was outstanding," manager John Farrell said. "With the exception of that three-hitter span in the second inning, he really settled in from the third inning on."
The right-hander entered the game with a 7.02 ERA, and he allowed four runs on seven hits while fanning two. He carried a 5-3 lead into the eighth inning before Mariners shortstop Brad Miller led off with a home run. Next, left fielder Jonny Gomes made a diving catch on a Stefen Romero flyball down the left-field line and Buchholz's night was done.
"They were swinging," Buchholz said of the Mariners. "They were going to earn their way on tonight. They clipped a couple balls that got out of the park, but overall, I felt good about it."
Catcher A.J. Pierzynski, who broke an 0-for-19 slump with a pair of hits in his last two at-bats, said he had to ask about midway through the game if Buchholz's pitch count was correct.
"We were in the fifth and he had like 45 pitches," Pierzynski said. "It was good. It was an encouraging outing. I'm happy for Clay that he went out and pitched the way he did."
Buchholz's defining moment came in the sixth, when he got second baseman Robinson Cano to fly out with runners on first and second and no outs before inducing Seager into an inning-ending double play.
Throughout the night, Buchholz said he relied on his changeup, a pitch he struggled with in his first 10 starts but threw well while rehabbing with Triple-A Pawtucket.
"I threw a couple of changeups in big situations tonight and got some swings and misses and weak contact," he said.
The win helped the Sox improve to 2-5 on their 10-game road trip and 36-43 on the season.
Designated hitter David Ortiz staked the Sox a 2-0 lead in the first inning with a two-run homer -- his 18th of the season and 449th of his career -- that bounced off the facade below the Hit it Here Café in right field. The blast tied Ortiz with Vladimir Guerrero and Jeff Bagwell for 37th on MLB's all-time home run list.
In the bottom of the second, the Mariners knocked Buchholz around. Seager led off with a home run to right-center field, cutting Boston's lead to 2-1. After first baseman Logan Morrison singled, Zunino lined a two-run homer off the hand-operated scoreboard down the left-field line to suddenly give Seattle a 3-2 advantage.
But back Boston came in the top of the third against Seattle starter Hisashi Iwakuma. Center fielder Jackie Bradley Jr. led off with a double and then first baseman Brock Holt eked a ground ball through the right side of the infield to put runners on first and third with nobody out. Right fielder Daniel Nava followed with an RBI single back up the middle to tie the game at 3. Nava finished 3-for-4 to lift his batting average to .227. In his last 16 games, he is hitting .391 (18-for-46).
"I thought we had a very good approach against Iwakuma, who pitches extremely well in this ballpark," Farrell said. "Just a lot of good hard contact."
After second baseman Dustin Pedroia followed with a fly out, Ortiz struck again with a long single over the head of Romero in right, as the Sox retook the lead, 4-3.
With the bases loaded and no outs in the fifth, Boston tacked on a run when Ortiz, who finished 2-for-4 with three RBIs and a run scored, grounded into a double play to make it 5-3. That ended up being the decider, as reliever Andew Miller worked a scoreless two-thirds of an inning in the eighth, and closer Koji Uehara allowed a Seager single and a Morrison walk with one out in the ninth before striking out Zunino and getting Dustin Ackley to ground out to notch his 16th save.
Adam Lewis is an associate reporter for MLB.com. This story was not subject to the approval of Major League Baseball or its clubs.