Dozier building resume worthy of All-Star spot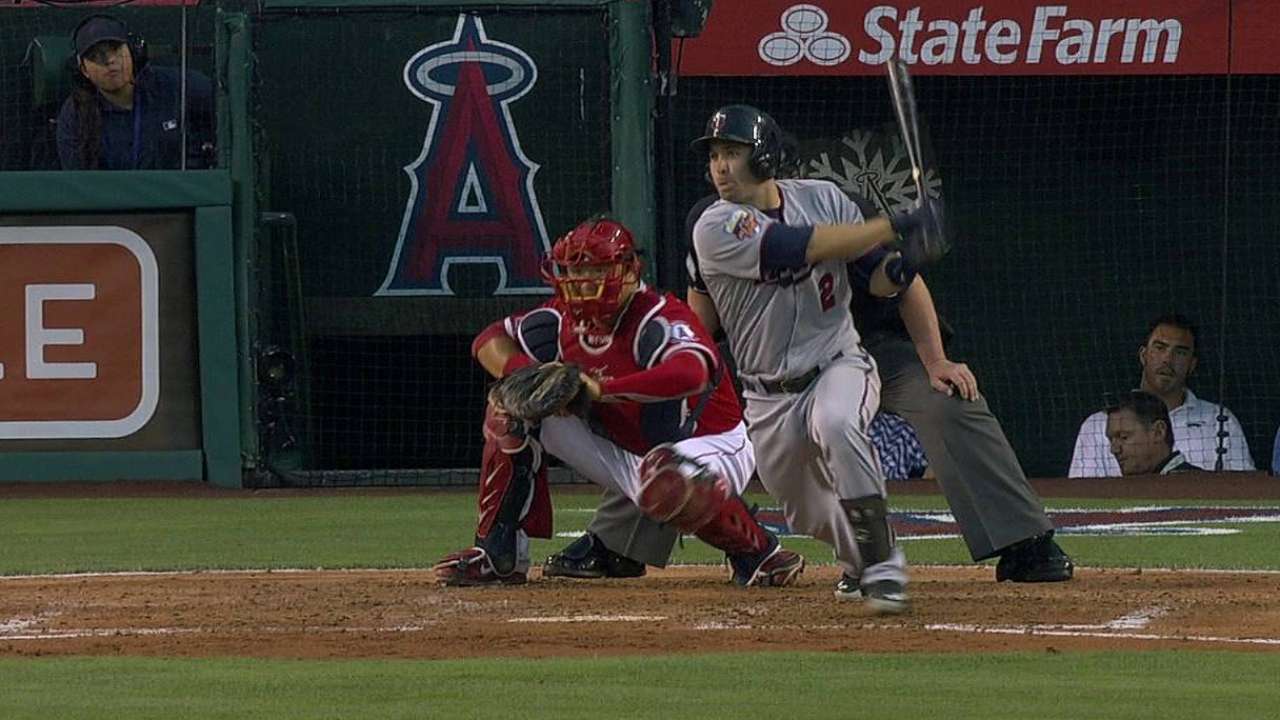 ANAHEIM -- Brian Dozier has emerged as one of baseball's top second basemen and could very well represent the Twins on their home field in the All-Star Game on July 15.
But Dozier, who currently ranks fifth among American League second basemen in the latest ballot update released Sunday, said he's trying his best not to think about it just yet.
Dozier certainly has a worthy resume, as his 3.3 WAR (Wins Above Replacement), leads all Major League second basemen and ranks just ahead of the Detroit's Ian Kinsler's 3.0 WAR, according to Fangraphs.com. Among traditional statistics, Dozier also leads all second basemen with 15 homers and 59 runs scored. He also ranks third in RBIs (43), stolen bases (15) and OPS (.826).
"It is still early but it would be cool," Dozier said. "But I don't play this game for individual goals or accomplishments. I play to win. I feel like each and every day you play that kind of stuff like the All-Star appearances take care of themselves. But at the same time, if it does happen it would be a cool accomplishment, especially this year at Target Field. It would mean a lot."
Dozier said he feels more comfortable stumping for his teammates to make the All-Star Game, including catcher Kurt Suzuki, who also ranks among the top five in his position in the balloting for the Midsummer Classic.
"I think a lot of guys are deserving and I think Suzuki is a guy I'd like behind the plate more than anyone in baseball," Dozier said. "The way he calls games and the picking he's been doing behind the plate, that stuff gets overlooked over the stuff he's been doing with the bat. He's one of the best catchers in baseball."
Fans can cast their votes for starters at MLB.com and all 30 club sites -- online or on a mobile device -- using the 2014 All-Star Game MLB.com Ballot Sponsored by Experian until Thursday, July 3, at 10:59 p.m. CT. The 2014 All-Star Game will be played at Target Field on Tuesday, July 15.
Fans may submit up to 25 online ballots, but they can also earn a one-time bonus of 10 additional online ballots. To access these additional online ballots, you must be logged into your MLB.com account when you submit any online ballot. If you do not have an MLB.com account, register on the site in accordance with the enrollment instructions for a free MLB.com account.
Fans this year once again can participate in the Home Run Derby Fan Poll. Fans will have the opportunity to select three players in each league who they would most like to see participate in the Home Run Derby. The 2014 Home Run Derby will be broadcast live on ESPN, ESPN HD, ESPN Deportes and ESPN Radio in the United States beginning at 7 p.m. CT on Monday, July 14.
The 2014 AL and National League All-Star teams will be unveiled on the 2014 MLB All-Star Game Selection Show on July 6, with further details to follow on MLB.com. Immediately following the announcement of the AL and NL All-Star rosters, fans can begin voting to select the final player for each league's 34-man roster via the 2014 All-Star Game MLB.com Final Vote Sponsored by Experian. Fans will cast their votes from a list of five players from each league over the balloting period.
And the voting doesn't end there. The final phase of All-Star Game voting will again have fans participating in the voting for the Ted Williams All-Star Game Most Valuable Player Award presented by Chevrolet. During the Midsummer Classic, fans will vote exclusively online at MLB.com via the 2014 All-Star Game MLB.com MVP Vote Sponsored by Pepsi, and their voice will represent 20 percent of the overall vote that determines the recipient of the Arch Ward Trophy.
MLB.com will provide extensive online coverage of the All-Star Week festivities.
The 85th All-Star Game will be televised nationally by FOX, in Canada by Rogers Sportsnet and RDS, and worldwide by partners in more than 200 countries via MLB International's independent feed. ESPN Radio and ESPN Radio Deportes will provide national radio coverage of the All-Star Game. MLB Network and SiriusXM will also provide comprehensive All-Star Week coverage. For more information, please visit allstargame.com.
Rhett Bollinger is a reporter for MLB.com. Read his blog, Bollinger Beat, and follow him on Twitter @RhettBollinger. This story was not subject to the approval of Major League Baseball or its clubs.