Marlins win on another ace-like effort by Alvarez
Seventh straight allowing two runs or fewer; Salty's big hit caps fourth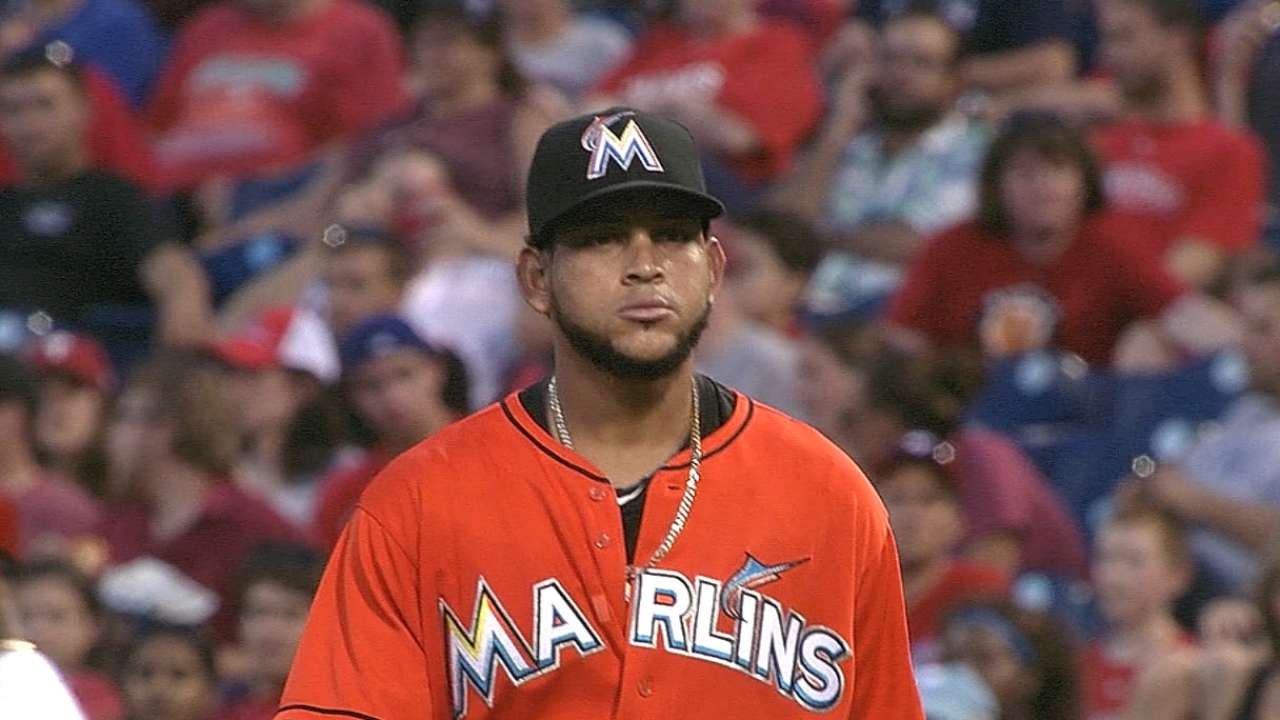 PHILADELPHIA -- Before Wednesday night's game against the Phillies, Marlins manager Mike Redmond was asked if he was most confident about his team's chances when Henderson Alvarez took the mound.
"I would say that's fair," Redmond responded.
All the numbers support Redmond's statement about Alvarez, who powered the Marlins to a 3-2 victory over the Phillies at Citizens Bank Park with 6 2/3 sharp innings and saw his ERA shrink for the seventh consecutive start. He has a 0.78 ERA (four earned runs in 46 1/3 innings pitched) over that span, which is the lowest in the Majors since May 22.
After a 5-6 record and 57 strikeouts in his first season with the Marlins last year, Alvarez wasn't pegged to emerge as Miami's ace in 2014. But after picking up his fifth win and dropping his ERA to 2.32 on Wednesday night, it appears that's exactly what the budding 24-year-old has become.
"He's risen to the occasion so far this year," Redmond said. "He's really improved and has pitched very consistent, and that's exactly what we need."
Miami won for the eighth straight time with Alvarez on the mound, and the righty didn't need much support. The Marlins did all of their scoring in the fourth inning. After Giancarlo Stanton and Casey McGehee set the table with consecutive one-out singles, Marcell Ozuna lined a scorcher off A.J. Burnett to left field. It was a catchable ball for Domonic Brown, but the left fielder badly misread it off the bat, and his leap came up short as the ball sailed over his head, scoring Stanton.
"It was a low liner. He hit it hard, I took a step in and it was too late," Brown said. "I'm definitely upset at myself ... it changed the whole [darn] ballgame."
Jarrod Saltalamacchia followed with a double to center to drive in two more. The catcher entered the at-bat 1-for-15 lifetime against Burnett.
"He was due," Redmond quipped.
Just as important for Saltalamacchia's confidence, though, was his performance behind the plate. After Marlins pitchers threw four wild pitches with Saltalamacchia back there in Tuesday night's loss, the 29-year-old catcher came back to turn in a solid defensive performance on Wednesday.
"He did great," Redmond said. "Definitely, as a former catcher, coming off a tough night as a catcher, it's really important to get that guy back in there and let him have a great night. And he was able to do that tonight."
The Phillies scraped together a single run in the fifth and sixth, but they couldn't inflict more damage against Alvarez. Miami's starter allowed two runs (one earned) on seven hits and two walks while striking out three.
Alvarez, who attributed his recent dominance to "just working hard and being able to maintain my pitches down in the zone," induced a pair of double plays.
"It helped me a lot to keep my pitch count down," Alvarez said.
Miami played better fundamental baseball than it did in Tuesday night's contest, but still committed its fair share of mistakes in the field. Philly's run in the fifth scored after a throwing error by second baseman Derek Dietrich that put Ben Revere on base to lead off the inning. In the seventh, a botched grounder to shortstop Ed Lucas allowed runners to reach first and third with two outs.
But in both those instances, the Marlins did well to limit the damage -- Alvarez got Ryan Howard and Chase Utley to fly out to hold Philly to one run in the fifth, and left-handed reliever Mike Dunn got Howard out on a grounder to end the threat in the seventh.
"That's part of the character of this ballclub, is we pick each other up and we keep going," Redmond said. "We make mistakes, but we're able to turn the page and get the outs."
While the double plays helped limit the number of pitches Alvarez tossed, the Marlins' sloppiness in the field did the opposite.
"He had a couple of defensive miscues there that cost him some pitches that in those middle innings where, had we made those plays, he might have been able to finish that game," Redmond said. "That cost him about 15 or 20 pitches."
After Kevin Gregg pitched a 1-2-3 eighth, closer Steve Cishek struck out the side in the ninth for his 18th save.
The win pulled Miami back to .500 and within 2 1/2 games of first place in the National League East.
Said Redmond of Alvarez: "I think you're watching a guy who's starting to understand what he can and can't do. What he can become, they type of pitcher he can become. He's still a young guy. I think that's the beauty of having young starters, is when they start to realize how good they can be."
Erik Bacharach is an associate reporter for MLB.com. This story was not subject to the approval of Major League Baseball or its clubs.