Misplay costs Burnett, Phillies in one bad frame
Brown misjudges ball, sparking 3-run fourth; Philly scuffles in clutch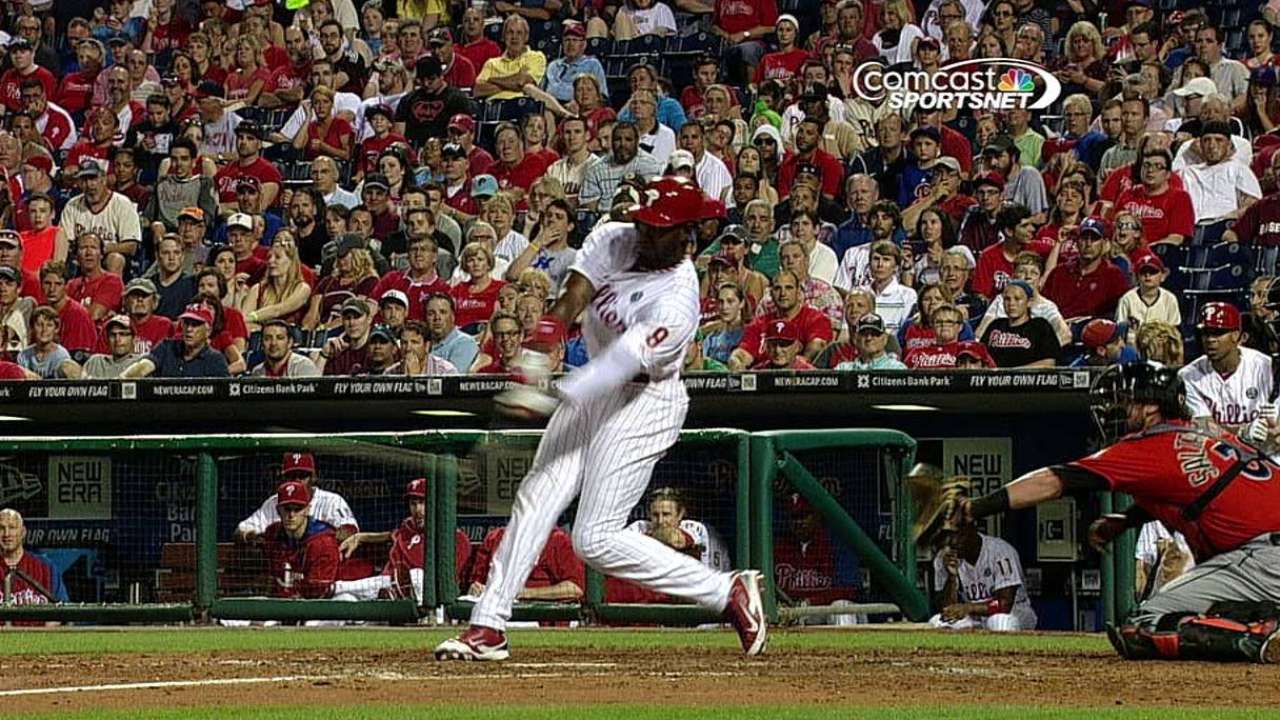 PHILADELPHIA -- Domonic Brown quickly found A.J. Burnett in the Phillies' dugout following the top of the fourth inning on Wednesday night at Citizens Bank Park.
He had to apologize.
"It's a play I've got to make for my team," Brown said about his critical defensive miscue in a 3-2 loss to the Marlins. "That changed the whole game. That play has to be made. That definitely was a big mistake."
The Marlins had runners on first and second with two outs in a scoreless tie in the fourth when Marcell Ozuna ripped a line drive to left field. It was a catchable ball, hit directly at Brown. It looked like the third out of the inning.
But Brown, whose defensive struggles have matched his offensive ones this season, took a few steps in, only to realize the ball had a little extra carry on it. He futilely backpedaled and raised his glove and leapt into the air at the last moment, but the ball sailed over his head to allow Giancarlo Stanton to score to make it 1-0.
Jarrod Saltalamacchia followed with a double to left-center field to score Casey McGehee and Ozuna to make it 3-0.
They showed up as three earned runs against Burnett, but the inning rested on Brown's shoulders.
"I'm definitely upset at myself," Brown said. "But you've got to take it every day, man. Take it a step at a time and you know, like I keep saying, it changed the whole [darn] ballgame. I'm definitely [upset] about it."
Burnett, who is a 16-year veteran, shifted the blame to himself, despite the fact his night was wasted. He allowed five hits, three runs, three walks and struck out eight in seven innings. He has a 2.59 ERA in his last four starts.
"I felt like I should have picked him up the next at-bat," the righty said. "That's what we do. You pick each other up. The pitch is a little bit lower to Salty, then you pick him up. [Brown] plays hard. He comes in every day and prepares and he goes about his business. It ain't like he's trying to miss balls out there."
In the offseason, the Phillies emphasized being better at catching the ball. But while they entered Wednesday tied for the fifth-fewest errors in baseball, they have had their share of miscues that, while not officially ruled errors, have hurt them.
The Brown ball was one of those plays. It was not ruled an error, but it was a defensive mistake.
Brown heard boos following the play and more when he grounded out with a runner on third with two outs in the bottom of the inning. Brown entered the night with a .594 OPS, which ranked 162nd out of 167 qualified players in baseball. His .601 OPS as a left fielder is last among 25 qualified left fielders, and he is on pace to have the lowest OPS of any left fielder in baseball since Chuck Knoblauch posted a .582 OPS as Kansas City's left fielder in 2002.
"It's just been a frustrating year for myself," Brown said. "I mean, we still have three months to go, but [darn]. I've got to pick it up for sure."
The Phillies signed outfielder Grady Sizemore to a Minor League contract on Tuesday. He hit just .215 with 10 doubles, two triples, two home runs, 15 RBIs and a .612 OPS in 52 games before the Red Sox released him last week. But if the Phillies like what they see from him in Triple-A Lehigh Valley, where he reports Thursday, he will join the big club in the near future.
Sizemore could take playing time from Brown.
"I'd like to have more production in the outfield," Phillies general manager Ruben Amaro Jr. said Tuesday about Sizemore's signing. "It's pretty simple."
Asked what more he can do about Brown's play in left field, Phillies manager Ryne Sandberg said, "Go to tomorrow and figure out a lineup."
Asked if he feels limited in his options in left field, Sandberg only said, "Well, Domonic is our left fielder, as we speak. He's capable of swinging the bat. Every time he goes up there, I have confidence it might be the time he pops one and he drives in two or three runs."
The Phillies tried to come back. They scored a run in both the fifth and sixth to cut the Marlins' lead to 3-2. Jimmy Rollins hit a one-out double in the seventh, but he could not score as the Phillies finished the night just 2-for-11 with runners in scoring position.
But this loss fell to Brown.
"If you feel good offensively, definitely you feel good the other way around," he said. "But you can't take your at-bats to the field. Bottom line, point blank. And I've been doing a great job, I thought, of handling that situation well until tonight. So I just have to take it one game at a time and get back right."
Todd Zolecki is a reporter for MLB.com. This story was not subject to the approval of Major League Baseball or its clubs.