Five-game winning streak ends as Iwakuma struggles
Seager, Zunino, Miller go yard, but Mariners miss chance to sweep Sox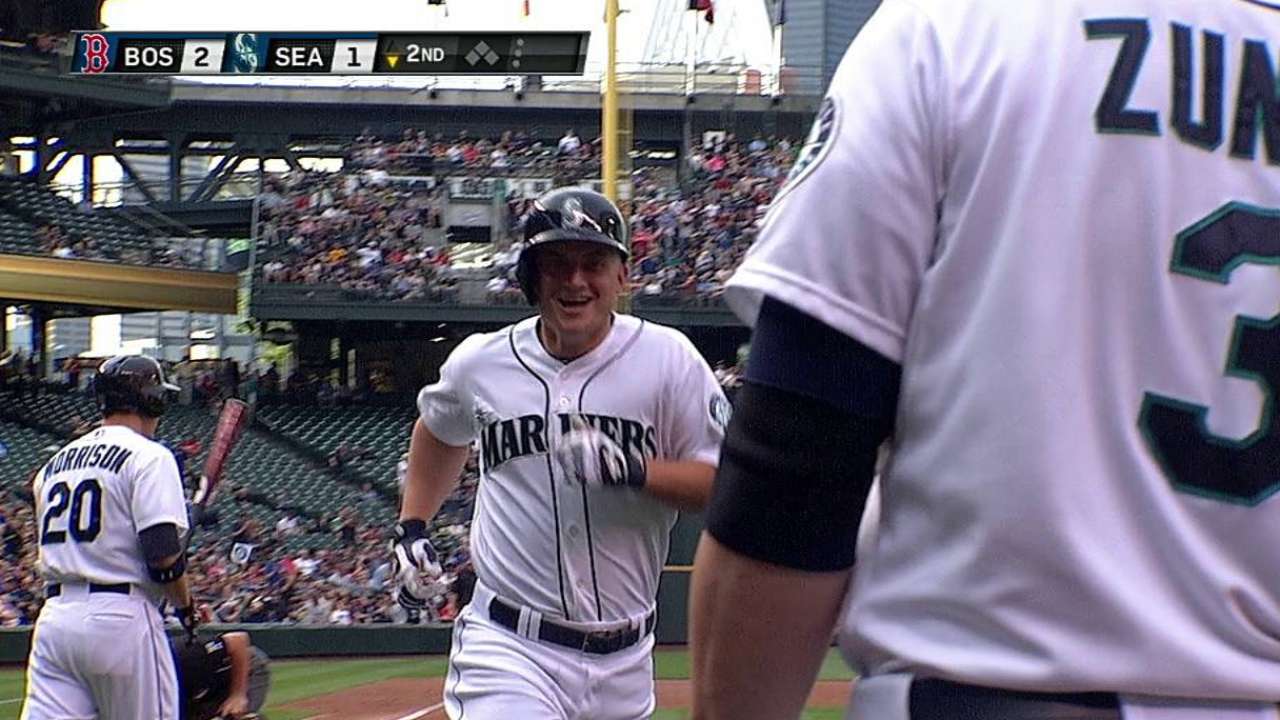 SEATTLE -- The Mariners continued playing long ball with three home runs on Wednesday, but this time the Red Sox countered with some of their own power against right-hander Hisashi Iwakuma as Seattle saw its five-game win streak snapped in a 5-4 loss at Safeco Field.
Kyle Seager maintained his recent tear with a 3-for-4 night that included his 12th home run of the season, while Mike Zunino crunched a two-run blast as that duo went deep in the same inning for a second straight night.
Shortstop Brad Miller got into the act with a solo shot off Red Sox starter Clay Buchholz in the eighth that pulled Seattle within a run, but Boston closer Koji Uehara wiggled out of a jam in the ninth by stranding Seager and Logan Morrison to end the comeback bid.
Boston avoided a series sweep by taking advantage of a rare rough start by Iwakuma, who lasted just four-plus innings while allowing five runs on eight hits before being relieved after throwing 80 pitches.
Iwakuma has been bothered by a sore neck for the last two weeks and said he still felt some stiffness there, but insisted that wasn't the issue.
"I couldn't get first-pitch strikes, which cost me a couple at-bats," Iwakuma said through translator Antony Suzuki. "They took advantage of that. Just not being able to throw strike one kind of got to me overall."
It was Iwakuma's shortest start since July 9 of last season when he survived just three innings in an 11-8 loss, also to the Red Sox at Safeco. He's had just one other start of four innings or less in his three seasons in Seattle, with a 3 2/3-inning outing against the A's in his first season.
Iwakuma, who missed the first month of this season with a torn finger tendon, fell to 5-4 with a 3.48 ERA. The 2013 All-Star also struggled late is his prior start, giving up nine hits and five runs in five innings in a no-decision at Kansas City, but manager Lloyd McClendon also insisted there is no health issue or lingering problem with his neck.
"It wasn't Kuma's night," McClendon said. "It was a tough night. I told him, and I mean this, 'As a warrior you don't win all the battles, but you win the war.' Tonight was just a tough night for him. He'll move on and get ready for his next start. He's a competitor, he's my guy, I believe in him and he'll be back out there."
The Japanese standout is 0-1 with an 8.53 ERA in three career starts against the Red Sox and has given up two home runs to David Ortiz, who belted a two-run shot in the first inning Wednesday and added an RBI single in the third.
"Everyone in general puts up good at-bats," Iwakuma said of Boston's attack. "You look at their Nos. 3 and 4 hitters, those are tough outs. You make a mistake and that will cost you. That's their way of playing the game and they kind of took advantage of that tonight."
The Mariners briefly regained a 3-2 lead in the second on Seager and Zunino's blasts off Buchholz, but they couldn't hold on as their record dipped to 42-37 heading into Thursday's off-day. Boston won for just the second time in its past seven games to improve to 36-43.
After Iwakuma's departure, Tom Wilhelmsen kept the Red Sox in check with three scoreless innings and newly recalled Brandon Maurer showed off a 99-mph fastball while striking out four in the final two shutout frames.
"Tom Wilhelmsen was absolutely tremendous," McClendon said. "He saved our bullpen and gave us an opportunity to win a ballgame. As well as Maurer, he threw the ball tremendously tonight. We just came up a little short, but I don't want those guys to get overshadowed."
Wilhelmsen tied a career high with his three-inning stint, lowering his ERA to 2.63 while striking out three.
"Wilhelmsen has been flourishing for quite a while," McClendon said. "He's done a tremendous job for this team and he's saved us time and time again. That's why we are where we are now, because of what he's done."
Maurer also shined in his first return since being switched to a relief role, striking out the side in the eighth and engaging in a brief glaring match with Ortiz during a quick three-pitch whiff.
"I was fairly amped up tonight, I would say," Maurer said. "Getting called back up and getting right back in there. It's just attack, get back in the dugout and let our hitters put up some runs."
The Mariners have done more of that recently, putting up 24 in three games against the Red Sox. They've now hit two or more home runs in each of their last five games at Safeco Field, their longest multiple-homer stretch since the ballpark opened in 1999.
Seager has been scorching for the past two weeks, batting .417 (20-for-48) with four home runs and 16 RBIs in his last 13 games. The 25-year-old third baseman has hit 11 of his team-leading 12 home runs this year at Safeco, including three in the last five games, while racking up 37 of his team-high 54 RBIs in 38 home games as well.
Zunino has homered in four of his last five games to hike his own long ball total to 11, the most of any American League catcher. Miller's bomb was his seventh of the season.
Greg Johns is a reporter for MLB.com. Follow him on Twitter @GregJohnsMLB as well as his Mariners Musings blog. This story was not subject to the approval of Major League Baseball or its clubs.