Reds continue dominance at Wrigley behind Latos
Righty earns first win; Cincinnati 19-3 in last 22 games on North Side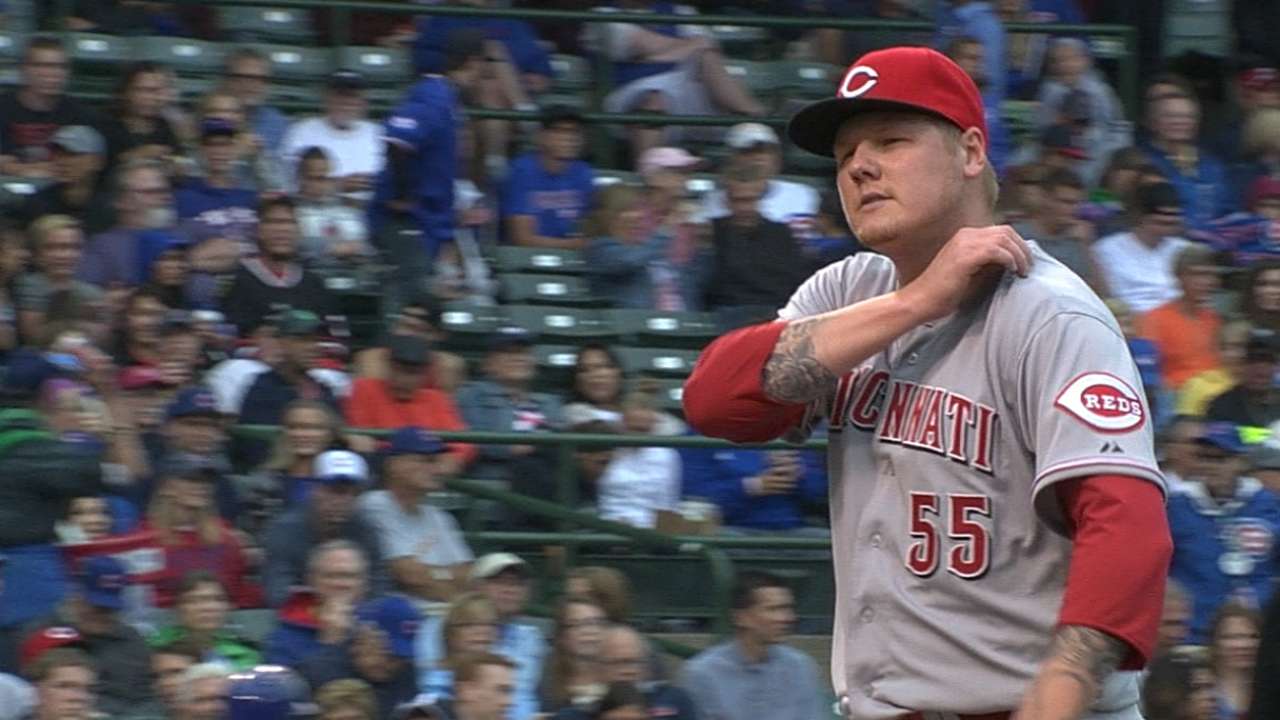 CHICAGO -- Mat Latos isn't "back," but he'll take it.
Latos' velocity on Wednesday stayed between 90-92 mph, below the mid-90s heaters he's capable of hurling. No matter, as the right-hander got his first win of 2014 in his third start of the season as the Reds used a three-run sixth inning to vault past the Cubs, 4-1, and earn a series victory at chilly Wrigley Field.
The Reds, who have won 19 of their last 22 games on the North Side, captured their fourth consecutive series overall and haven't lost any of their last six. Cincinnati moved above the .500 mark at 39-38.
Latos, who allowed just one earned run on five hits in seven innings, continues to build up his arm strength after right elbow surgery in April eliminated the first 10 weeks of his season. But his stuff was more than good enough Wednesday night.
"Midseason form, I'm a ways off from that. I'm healthy -- that's the main thing," said Latos, who struck out five and didn't issue a walk. "I know what I need to do. My stuff's good enough, [and] when it's on, I can help the ballclub out.
"I wanted to be 100 percent. I didn't want to be [in] midseason form, because it's not gonna happen. Yes, it is midseason, but midseason form, hopefully that comes around toward September or August when I can really pick it up."
The first four Reds hitters reached base against Edwin Jackson to open the sixth, highlighted by RBI doubles from Joey Votto and Jay Bruce, his second of the game. Two batters later, Skip Schumaker executed a suicide squeeze that scored Devin Mesoraco to give the Reds a 4-1 lead.
"That's the first one in my life -- college, big leagues, you name it," Schumaker said. "I saw the sign and got a little nervous when I hit a line drive to shortstop, but it worked out."
Latos took care of the rest, retiring 11 of the final 12 he faced.
"He really attacked the strike zone and he had the full arsenal working," Reds manager Bryan Price said. "He had the fastball location. He got in on the left-handers. They stacked the lineup with a left-handed group, and he was really able to really start to establish the inside of the plate.
The Cubs fielded five lefties in their starting lineup, and one as a pinch-hitter. Latos held them to a 2-for-18 (.111) mark.
Cincinnati got on the board in the first when Todd Frazier singled with one out, stole second and scored on Bruce's first RBI double. The trail runner on the play, Votto, was thrown out trying to score from first.
Latos retired the first seven he faced until Darwin Barney singled with one out in the third. The Cubs then evened things the following inning on Ryan Sweeney's leadoff double and Starlin Castro's RBI single one batter later. Luis Valbuena followed with a base hit, but Latos retired the next two on popouts to prevent further damage.
Latos also had to battle the elements. It was 59 degrees at first pitch with an 11-mph wind, and the temperature dropped significantly through the game. That caused Latos to stiffen up, a byproduct of the scar tissue remaining from the surgery. He still managed to pitch effectively.
"First off, hats off to Latos. He's just really good," Cubs catcher John Baker said. "Their guy seems to get better when guys get on base. He seems to execute his pitches really well."
The Reds as a whole have been executing of late, and one big reason for their 16-9 record since May 30 is a resurgent offense that's averaged 4.8 runs per game. The other factor is the starting pitching has remained rock solid.
Bruce likened getting Latos back in June to acquiring a top-flight starter via trade, and Schumaker also saw it as a significant addition to an already strong group.
"I'm happy that he's back. We needed him back, and in my opinion our rotation is as good as anybody's in the National League," Schumaker said. "If our offense gets going, we'll be OK. Our offense was good this series, and hopefully it continues."
Joe Popely is an associate reporter for MLB.com. This story was not subject to the approval of Major League Baseball or its clubs.