Richards turns in solid start in Angels' fifth straight
Surging offense packs a punch with small ball in support of starter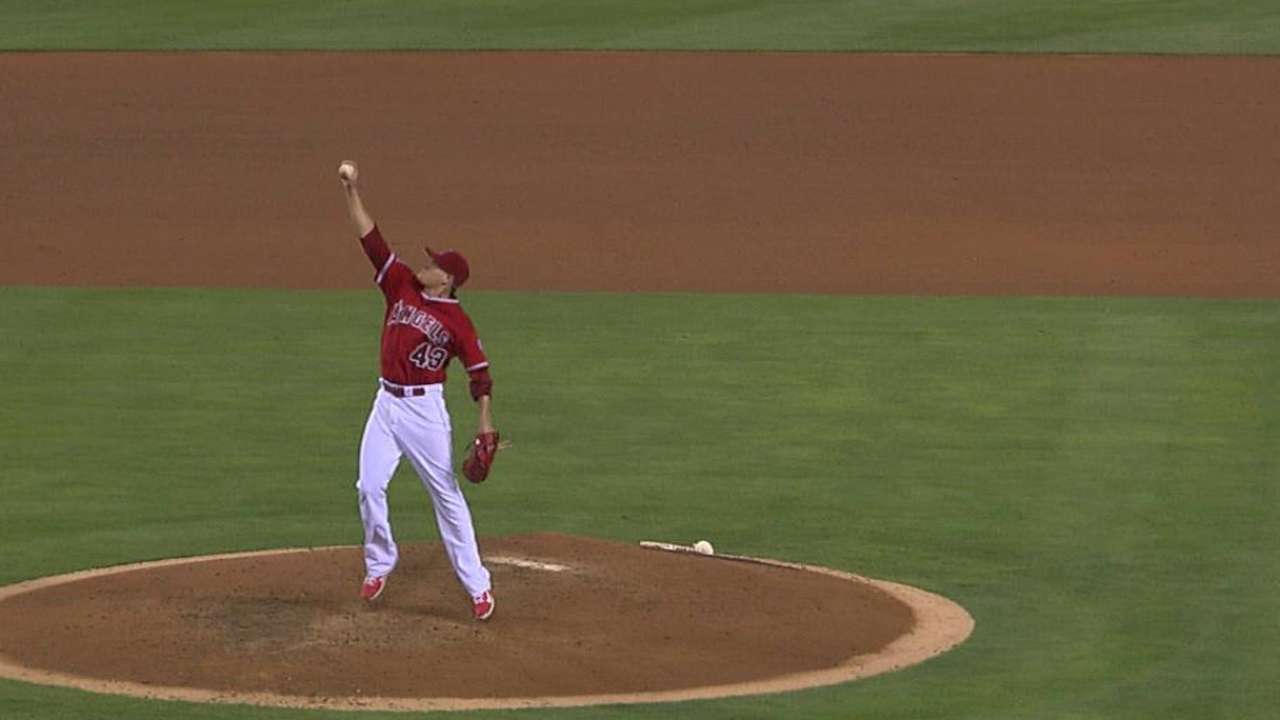 ANAHEIM - Garrett Richards took a beating in Oakland 26 days ago; a beating he hates talking about and would rather you not even bring up. But he came out of that start with his head held high, and just before the night would end and the questions would stop, the 26-year-old right-hander made a vow.
"I've had a [heck] of a year so far," Richards said after that May 30 outing, "and I can't let one outing ruin my progress."
Instead, that one outing has looked a lot more like a defining moment.
Richards was charged with two runs in 7 1/3 innings on Wednesday night, yet another stellar outing that led the Angels to a 6-2 victory that gave them five straight wins and put them a season-high 10 games over .500. In five starts since giving up five runs and recording two outs against the A's at O.co Coliseum, Richards has a 0.79 ERA, giving up four runs in 34 1/3 innings while walking 11 batters, striking out 35 and going 4-0.
"After that Oakland start, it didn't take him but maybe 24 hours to regroup and get on a mission," Angels manager Mike Scioscia said. "Leading up to his next start after that game, there was no doubt about what he wanted to go out there and prove and show what he can do. And he did. That's definitely a good sign with any pitcher, particularly for a guy without a lot of experience. But it's tough not to go out there with confidence with good stuff."
Richards was hitting 98 mph from the start, threw his fastball 22 times in 24 pitches during the first two innings, started mixing in his wipeout curveball and slider more frequently the second time through the order and worked around a season-high-tying five walks to give up only an Oswaldo Arcia solo homer in the first seven innings.
"It was a tough night for us offensively," said Twins manager Ron Gardenhire, whose team's only other run came on Kendrys Morales' eighth-inning single after Kevin Jepsen came on in relief. "Richards has a great fastball and a really sharp breaking ball. He misfires just enough to keep you from digging in."
And he's throwing just good enough to almost force his way into the All-Star Game.
Richards now ranks eighth among American League starters in ERA (2.76), tied for seventh in wins (eight), seventh in WHIP (1.12), eighth in strikeouts (99) and 16th in innings (101). He's thrown at least six innings while allowing no more than two runs and four hits in each of his last five starts, the longest streak in Angels history. And he's thrown at least seven full innings in 10 of his 16 starts.
Surprised?
"Not at all," Richards said. "This is something I've been working for."
All-Star worthy?
"I would love to be there, but that's out of my control," Richards said. "There have been guys who have put up good numbers and haven't made the All-Star team. I'm not really swallowed up in it. There's still another half of baseball to play after the All-Star Game, so that's kind of what I'm worried about."
The Angels -- now 43-33, and 10 wins better than last year's pace -- manufactured runs in a way they hardly have all year on Wednesday. In the third, they scored three off Yohan Pino thanks to a sacrifice fly by Grant Green and a two-out, two-run double by Kole Calhoun. In the fourth, they tacked on two more on a sacrifice fly from Erick Aybar and an RBI single from Howie Kendrick. And in the eighth, they added an important insurance run when Aybar singled, stole two bases and scored on C.J. Cron's single.
Asked what has been key to the Angels plating 14 runs in the last two games, Scioscia smiled and said: "Don Baylor."
The key for Richards since that Oakland start: Strikes.
Richards' stuff is so good that it doesn't really take much else.
"You saw it tonight," Angels catcher Chris Iannetta said. "When he was ahead with strike one, he continued to pound the zone and he did really well. When he fell behind, those were the innings where he started getting baserunners on and his pitch count went up."
Richards hasn't dealt with many baserunners lately, while giving up one less run in 34 1/3 innings of June than he did in two-thirds of an inning during his last start of May.
"I don't even remember that game, man," Richards said.
Asked if he's proud of the way he overcame what was perhaps the worst start of his life, Richards scoffed.
"Yeah, but that was a month ago," he said. "This is five starts past that."
It seems like so much longer than that.
Alden Gonzalez is a reporter for MLB.com. Read his blog, Gonzo and "The Show", and follow him on Twitter @Alden_Gonzalez. This story was not subject to the approval of Major League Baseball or its clubs.