Pino can't match success of first career start
Rookie gives up five runs and exits after just three innings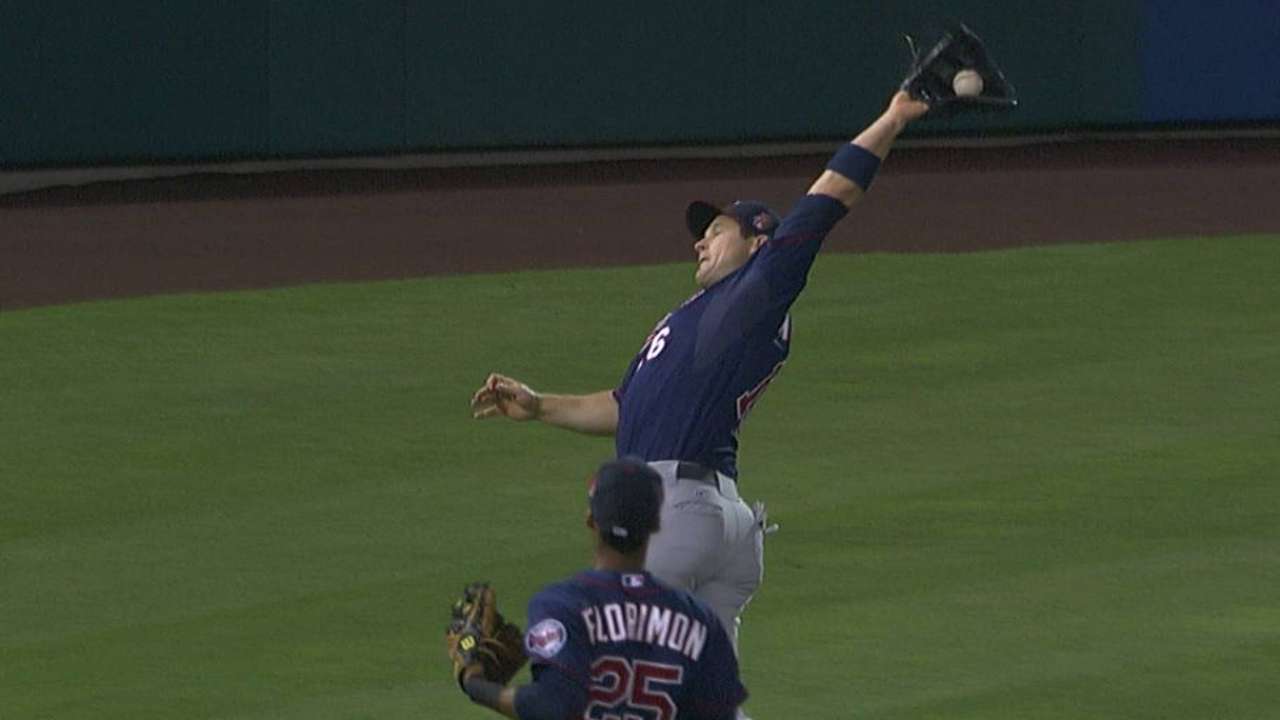 ANAHEIM -- Yohan Pino waited 10 years to make his first big league start, and after a subpar showing against the Angels in his second career outing on Wednesday night, he'll have to keep waiting for his first win.
Pino couldn't replicate the success of his first big league outing, and lasted just three innings to hand the Twins a 6-2 loss to the Angels at Angel Stadium.
Pino, who tossed seven strong innings against the White Sox in his Major League debut Thursday after pitching in the Minors for a decade, struggled in his second career start. The soft-tossing right-hander was hurt by a three-run second inning and a two-run third, and was outpitched by Angels right-hander Garrett Richards.
"It was a tough night for us offensively," Twins manager Ron Gardenhire said. "Richards has a great fastball and a really sharp breaking ball. He misfires just enough to keep you from digging in. And our guy, I think you saw he didn't really have an easy inning out there. They fouled off an awful lot of pitches. That's a good hitting team over there."
Pino was hurt by those foul balls, as he needed 74 pitches to get through three innings and had trouble putting away hitters. He didn't give up many hard hits but still surrendered five runs on seven hits and a walk with two strikeouts.
Grant Green brought home the first run for the Angels with a sacrifice fly to right field before Kole Calhoun added a two-run double with two outs in the second.
The Angels scored two more runs in the third with Erick Aybar bringing home a run on a sacrifice-fly to center field before Howie Kendrick plated a run with an RBI single to left field.
"I just missed a couple pitches with two strikes and that was my problem," said Pino, who had a 1.89 ERA at Triple-A Rochester. "They have good hitters and I left a couple pitches up in the zone and they got hits. My changeup wasn't every good today. I just have to keep working. I have another start and hopefully I do better."
After just three innings, the Twins went to their bullpen, bringing in long reliever Anthony Swarzak, who tossed three scoreless frames. It was the second straight night the Twins had to go to their bullpen early, as right-hander Kyle Gibson lasted just two innings in Tuesday's 8-6 loss. The bullpen fared well, as the Angels didn't score again until the eighth on a RBI single from C.J. Cron off reliever Jared Burton.
Richards received plenty of offense, as he gave up two runs on four hits and five walks over 7 1/3 innings to pick up his eighth win of the year.
"You saw tonight when he was ahead with strike one, he continued to pound the zone and he did really well," Angels catcher Chris Iannetta said. "When he fell behind, those were the innings where he started getting baserunners on there and his pitch-count went up."
The hard-throwing right-hander gave up his first run in the second on a solo shot from Oswaldo Arcia. It snapped a career-worst 0-for-31 skid from Arcia, who also hadn't homered since June 5. The Twins didn't score again until the eighth on an RBI single from Kendrys Morales off reliever Kevin Jepsen that was charged to Richards.
But it wasn't enough offense for the Twins, who also received a blow with shortstop Danny Santana leaving the game in the third inning with left knee soreness. Santana is still day to day but the Twins remain hopeful their leadoff hitter will return soon, as the initial tests came back with encouraging results.
He's kind of our catalyst," Gardenhire said. "I think we all saw it when he was running to second that he felt something in his knee. He tried to stretch it and run again so they took him out of there and checked his knee out thoroughly. So we'll see how he is the morning."
Rhett Bollinger is a reporter for MLB.com. Read his blog, Bollinger Beat, and follow him on Twitter @RhettBollinger. This story was not subject to the approval of Major League Baseball or its clubs.