Kluber halts D-backs, returns to win column with gem
Brantley, Gomes homer as righty fans eight in first victory since May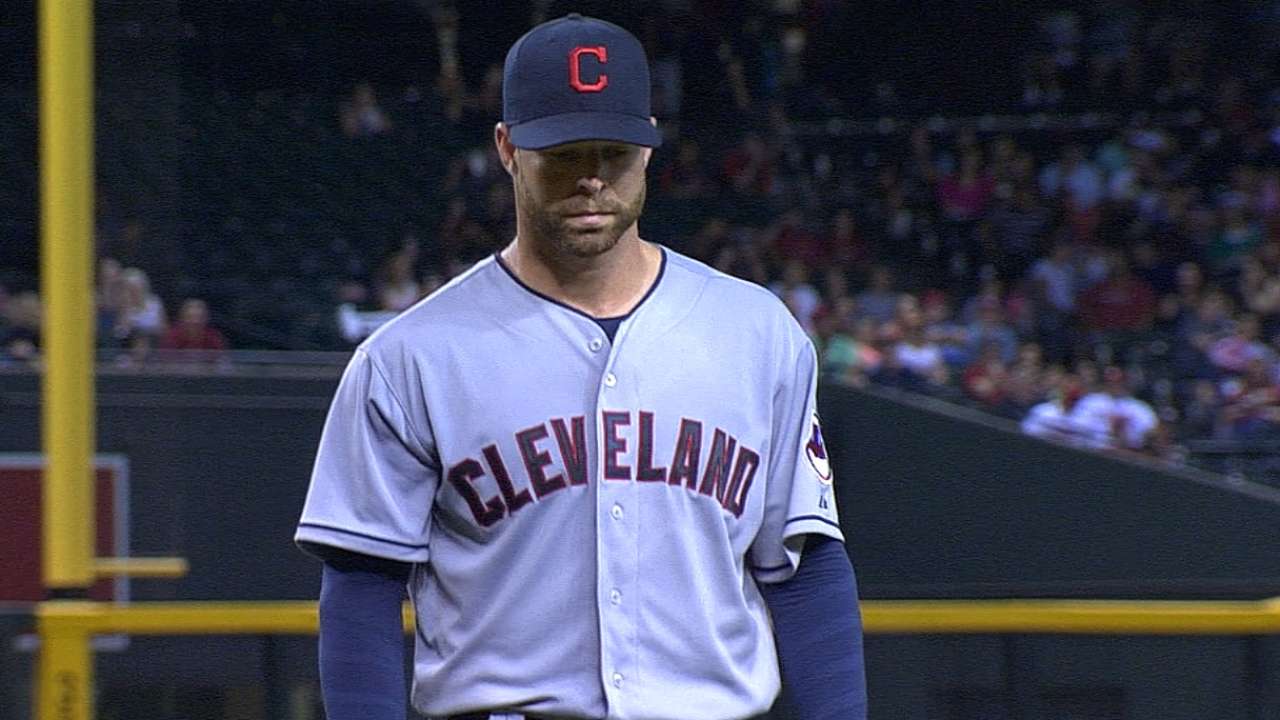 PHOENIX -- Corey Kluber on Wednesday was approaching the month mark since his last win.
The Indians right-hander gave up two runs in each of his previous two starts, but took a no-decision against Boston and a loss against Detroit. Kluber made sure he didn't suffer a similar fate vs. the D-backs.
Kluber allowed just four hits in seven shutout innings against Arizona and gave the Cleveland bullpen some needed relief in a 6-1 win at Chase Field.
Kluber worked out of a dicey situation in the first inning and wasn't threatened the rest of the way to win for the first time since May 30.
"When you put up all zeros, I think that speaks volumes right there," Indians manager Terry Francona said. "I thought he was really good."
Kluber gave up back-to-back singles to start the first inning, but struck out Paul Goldschmidt and got Miguel Montero to ground into a double play and cruised against a D-backs team that tallied 19 hits the night before.
After he gave up a leadoff single to Aaron Hill in the second, Kluber faced the minimum through the seventh, after which he was pulled for a pinch-hitter. The only blemishes during that span were a double to Ender Inciarte in the third and a leadoff walk to Martin Prado in the fifth, but both were erased on the bases.
It was Kluber's best outing since he threw eight innings of one-run ball on May 4 against the White Sox. Kluber also had a complete-game four-hitter against the Royals on April 24.
"I don't think there's been much of a difference in the way I've pitched [from month to month]," said Kluber, who struck out eight and improved to 6-0 with a 2.28 ERA in six career Interleague starts. "It's been a pitch here or there, but it's about being consistent."
Kluber (7-5) couldn't explain his success against the National League, but ventured opposing hitters' unfamiliarity with him as a possible reason. In the case of Wednesday, D-backs manager Kirk Gibson seemed to agree.
"Kluber's pretty good. We haven't seen him," Gibson said. "He's got really good stuff, real live arm. He's got some deception in his delivery."
Kluber's performance was welcomed on multiple levels inside the Indians' clubhouse. Not only did it help end a four-game losing streak, but it also limited the workload Francona asked of his bullpen that pitched 9 1/3 innings in Tuesday's 14-inning marathon and 20 of the 41 1/3 innings the previous four games.
"Obviously, we played a long game last night, but I don't think I put any more pressure on myself to go deep in the game as I normally would," Kluber said. "That's what I'm trying to do every game, go as deep as I can."
Francona liked that his pitcher wasn't just trying to go deep in the game for the sake of the bullpen.
"We're trying to win," Francona said. "We're not just trying to finish a game; we're trying to win."
Kluber also contributed offensively. He picked up his first career hit with a two-out single to left field in the fourth inning. The 28-year-old had just three at-bats before Wednesday.
"That just shocks me how guys can do that," Francona said. "I don't know how pitchers, even if they're hitting [regularly], but guys who haven't hit for a long time to throw a line drive out there, that amazes me."
The rest of the Indians' lineup provided plenty of support as well.
Michael Bourn had three hits and tripled in each of his first two at-bats against D-backs starter Chase Anderson, who suffered his third straight loss. Michael Brantley and Yan Gomes each homered and Jason Kipnis posted his second straight multi-hit game with a pair of doubles.
"We didn't score in bunches, but scored one and then we scored two," Francona said. "We kept after it. I thought we had good at-bats throughout the lineup."
Gomes homered to left in second, his eighth of the season, and Brantley hit his 12th home run in the fifth, an opposite-field blast to right.
Kluber was grateful for the early run support.
"It's much appreciated, run support," he said. "You can pitch a little bit different and had a little different mindset out there."
Chris Gabel is a contributor to MLB.com. This story was not subject to the approval of Major League Baseball or its clubs.