Mets make room for Lagares by optioning Flores
With shortstop sent down, New York has six outfielders on active roster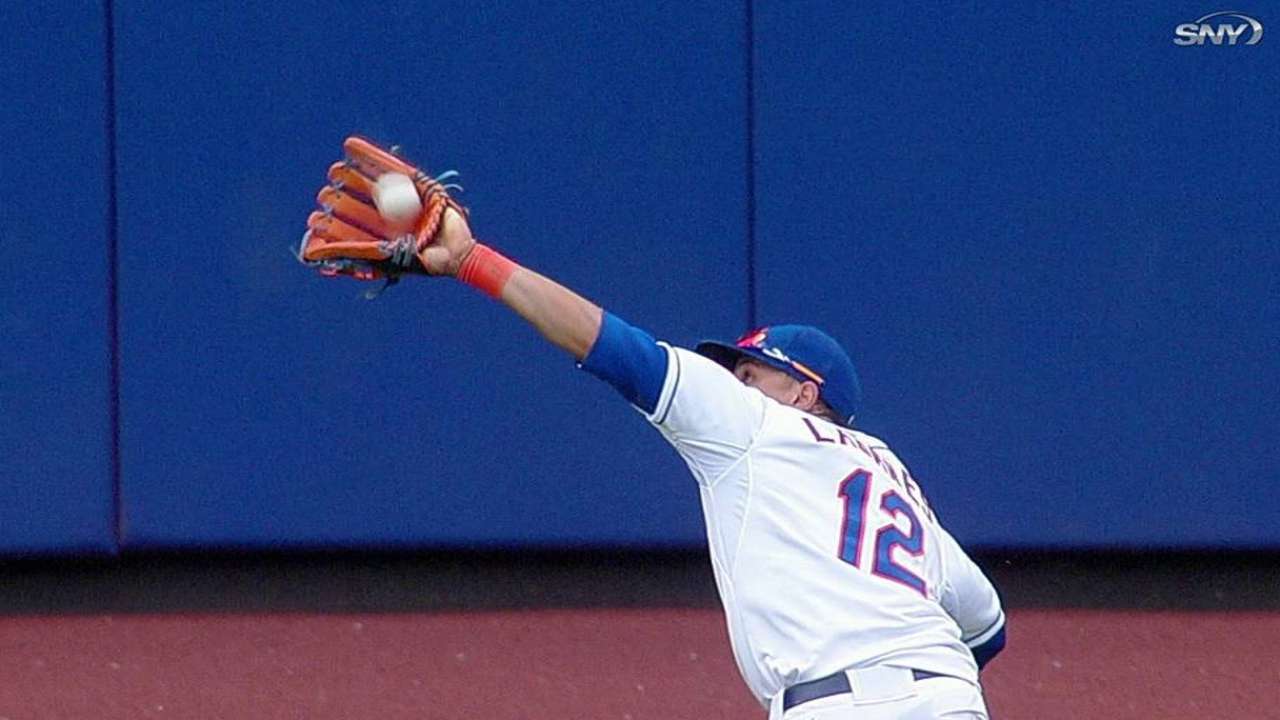 NEW YORK -- Center fielder Juan Lagares is returning to the Mets from the disabled list on Thursday, so the crowded New York outfield is about to be even more so. Manager Terry Collins doesn't yet know how he'll manage the club's latest balancing act: six outfielders for three spots.
"I don't have an answer to that, but I'm going to try to do the best we can to make sure those at-bats are divvied about," Collins said Wednesday afternoon, before the Mets optioned shortstop Wilmer Flores to activate Lagares. "As long as we start to play more consistently, those are easier to do, to be able to spread those at-bats out. But right now I don't have an answer as to how we're going to do it."
It won't be simple. The Mets -- unless they make another move -- have just one natural shortstop in Ruben Tejada. Eric Campbell, who has seen time at the corner outfield and infield positions, is the backup shortstop and could be considered a seventh outfielder.
Sending Flores to Triple-A Las Vegas makes sense considering his status as a prospect who would be better off seeing regular playing time as opposed to sitting on the Major League bench. Known for his bat more than his glove, Flores hit .228/.256/.304 in 24 big league games.
In the outfield, Lagares will likely resume full-time center-field duties, while Curtis Granderson should continue to be a mainstay in right, save for the occasional day off.
That leaves Chris Young, Eric Young Jr., Bobby Abreu and Kirk Nieuwenhuis looking for playing time. Abreu is hitting .281/.359/.416 and has been especially good against right-handers (.289/.378/.447), while Collins likes what Eric Young can do with his speed when he gets on base. Even Chris Young, for all his struggles this season, has shown signs of life with three homers in two games against the A's.
Spared, for now, by the creative roster construction is Nieuwenhuis. He was an obvious option to head back to Vegas when Lagares was ready, and he's still a prime candidate should the club choose to alleviate the outfield logjam. If the Mets indeed had sent him back down, it would have been his fifth return to the Minors since he made his Major League debut in April 2012.
"You really have to have a good attitude about it, otherwise it'll eat you alive," Nieuwenhuis said. "As a rookie, as a zero to three [years-of-experience] guy as they like to say, there's not a ton that you can control, other than on the field."
He's done a pretty good job of that this time around, which is one potential reason the Mets have kept him on. Since getting called up last week, Nieuwenhuis is 3-for-7 with three doubles and an RBI.
It's not easy, Nieuwenhuis said, to go from getting sporadic playing time in the Majors to being a regular again upon the latest demotion. The last time around, upon returning to Vegas in early May, a combination of rain and a minor injury meant it had been a while since he last saw regular at-bats. He hit .176/.276/.353 with five extra-base hits his first three weeks back in the Minors before coming back with a .310/.333/.667 slash line and 16 extra-base hits the next three and a half weeks.
"I kind of let that get to me instead of getting back into a routine," Nieuwenhuis said.
The mental hurdle of returning to the Minor Leagues is one Nieuwenhuis has grown accustomed to clearing.
"I think you have to tell yourself you know where you belong or you know where you should be, and you can't let those tough games down in Triple-A get to you," Nieuwenhuis said. "But I'll tell you what, when you go 0-for-4 in the PCL, the big leagues seem far away."
They aren't right now, though.
Tim Healey is an associate reporter for MLB.com. This story was not subject to the approval of Major League Baseball or its clubs.