Bullpen scrambles Noesi's stellar start
Guerra allows grand slam, Webb throws wild pitch; Abreu hits 23rd HR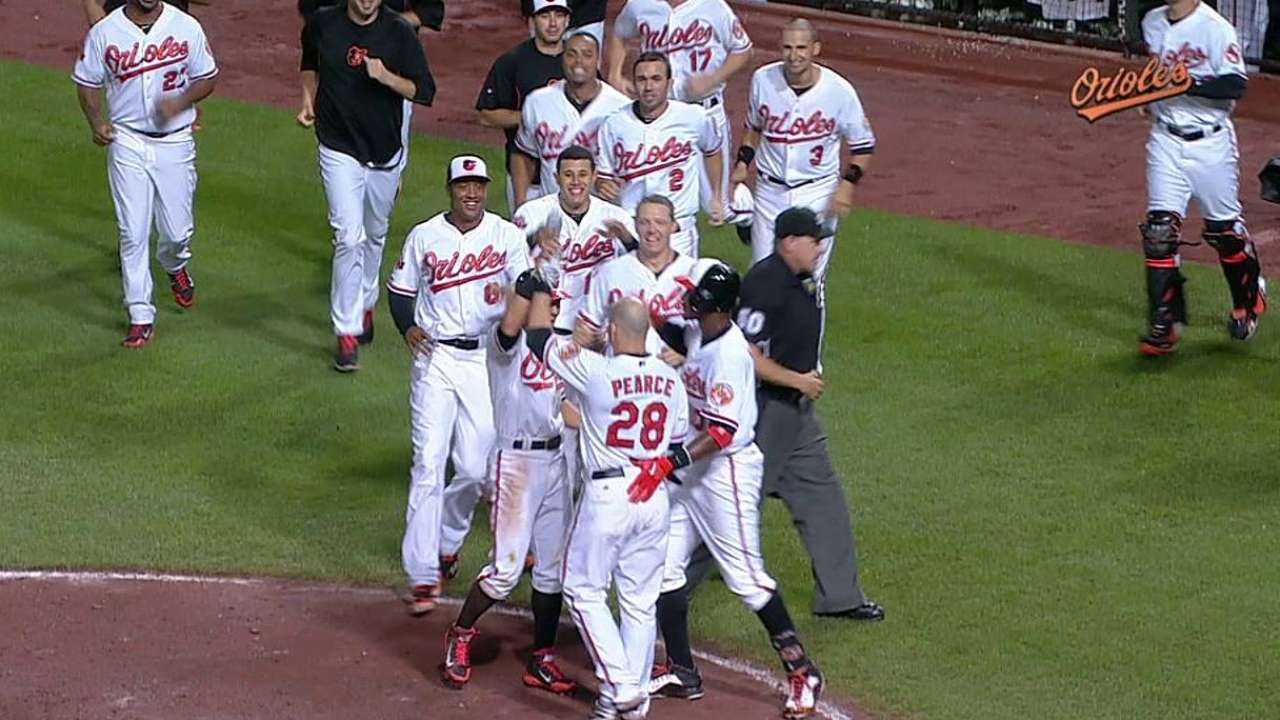 BALTIMORE -- The bullpen had already wasted a golden opportunity for the White Sox to pick up a series win against the Orioles and that's why Chicago and the O's were still tangling after midnight in the 12th inning.
It wasn't entirely Daniel Webb's fault that the Orioles had the winning runner on third in the 12th inning. But it was his wild pitch that let David Lough scamper 90 feet to home and hand the White Sox a crushing 5-4 defeat at Oriole Park at Camden Yards
"It's not a good start to the long road trip like this," Webb said after Chicago experienced its sixth loss in seven games. "We lost some tough ones in Minnesota and then losing the way we did tonight and the first night is tough to swallow, but it's part of the game. You're not going to have it your way every night."
Relief pitcher Javy Guerra tried to take all the blame for the loss after surrendering the game-tying grand slam to Nelson Cruz in the eighth inning, but it was a collective effort that dropped the White Sox to 1-6 on their current road trip, with all six losses coming by two runs or fewer. Two nights after relief pitcher Ronald Belisario unraveled in the ninth inning of a walk-off loss, it was the entire bullpen that let a strong start from Hector Noesi go to waste.
Noesi cruised through the first seven innings without allowing even an extra-base hit, but after he let the first two reach in the eighth, manager Robin Ventura turned to his bullpen.
Zach Putnam got the only two batters he faced and lefty specialist Scott Downs let Chris Davis -- the only batter he faced -- aboard for the second straight night. Then came Guerra to face Cruz.
Earlier in the night, Jose Abreu belted his 23rd home run to tie Cruz for second in the Majors. With the bases loaded, Cruz broke that tie and gave Baltimore life.
"I had the chance to do some damage in a couple of at-bats before then, but I grounded into a double play twice," the outfielder said. "It feels good to get the home run to tie the game."
For the second time in three nights, the White Sox coughed up a winnable game, so they came away with just one win during a series they could have just as easily swept.
"The way we played, we should have, but the baseball gods must be upset with us in some way, shape or form," outfielder Adam Eaton, who went 4-for-5, said. "They kind of had it out for us for probably about a week."
Guerra regrouped to make it through the ninth unscathed. But two innings -- and a one-hour and nine-minute rain delay -- later, the bullpen committed its greatest foible.
Webb entered for the 12th inning and immediately gave catcher Nick Hundley a free pass to first base. The O's replaced him with the speedy Lough, who did just what the O's brought him in to do.
Lough dashed from first to third on a long single by outfielder Nick Markakis. Lough may have scored, but after stumbling around third, he returned to the bag -- perhaps with some help from Orioles third-base coach Bobby Dickerson.
Ventura came out to argue after seeing the Orioles third-base coach put his hand on Lough during the play.
"And then you knew it from reviewing it, too," Ventura said.
But umpires can't take a second look at that sort of play. The next pitch was in the dirt, and the outfielder headed home as the game's winning run.
"Once you see it go by, with my speed, I felt I was capable of getting to the plate," Lough said, "and I was able to."
The White Sox got quality starts from all three of their starting pitchers in Baltimore, and twice their efforts were rendered irrelevant.
On Monday, it was Cy Young contender Chris Sale who took the no-decision because of Davis' walk-off homer. Wednesday was Noesi's turn. He allowed just two runs in seven-plus innings. But the bullpen felled Chicago again and left a disappointed clubhouse packing up for a trip to Toronto.
"Hector threw a great game and we just couldn't hold on to it," Ventura said. "We've got to be able to be better in the end.
"It's always tough when you've got that big of a lead and you can't hold it."
David Wilson is an associate reporter for MLB.com. This story was not subject to the approval of Major League Baseball or its clubs.