Moss, Crisp homer as A's get payback against Mets
Mills spins quality start as bats deliver payback in New York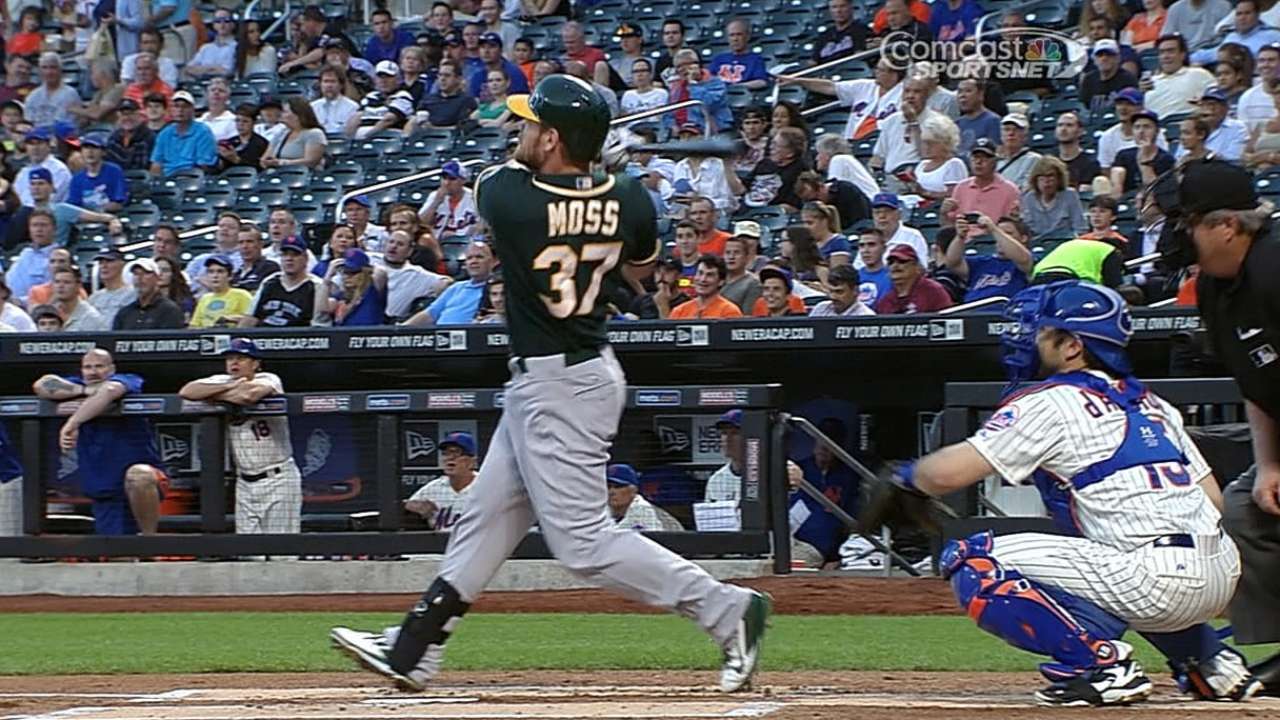 NEW YORK -- This was payback at its finest.
After being blown out in the first game of this quick two-game Interleague set at Citi Field, the A's rung up an eight-run lead over the Mets on Wednesday and ultimately came away with an 8-5 victory to split the series.
The A's, now off to Miami following an off-day Thursday, not only improved to a Major League-best 48-30 with the win but also secured their 13th consecutive winning month, matching the longest streak in Oakland history.
The last Major League team with 13 straight winning months is the Red Sox, who strung them together from July 2004 to July 2006. The A's record is 15, achieved July 1928 to September 1930.
This club's success is largely traced to their depth, boosted just a week ago with the $1 acquisition of hurler Brad Mills, who shook off a mediocre four-inning A's debut and gave the club 6 1/3 innings his second time out, limiting the Mets to three runs on a night the A's controlled from the early going.
The A's tagged Mets righty Zack Wheeler for six runs on six hits in just two innings, including a towering two-run shot to right field off the bat of Brandon Moss -- his 18th -- in the first inning and a three-run double from Yoenis Cespedes in the second.
"I'm pretty sure they had my signs when they were on second," said Wheeler, who tossed a shutout in Miami just six days ago. "That's my fault for not picking that up earlier."
Coco Crisp contributed to the four-run second frame with an RBI knock, and he would later line his sixth homer of the season to left field off southpaw Dana Eveland in the fourth, finishing the night with three of the A's 11 hits.
"Coco's our igniter," said manager Bob Melvin. "Usually when we're playing well he's playing well. He's seeing the ball well. His average has crept up."
It's true. After his first game in June, Crisp was batting just .257. He exited Wednesday with a .290 average.
Cespedes has kept pace, putting together a 10-game hitting streak with a .359 average in that span, all while upping his season mark to .269. The Cuban slugger, one of three A's players with 50-plus RBIs, has taken a liking to the three-hole, hitting .386 in 11 starts from that spot.
"He's been so hot," said Moss. "He's on base a lot, having big at-bats and driving in runs. I think he's usually taken a bit longer to warm up and get hot as a hitter. But with him knowing the pitchers a bit better this time and being more comfortable with who he is ... last year there were a lot of things he had to deal with. People can put a lot of expectations on you, and sometimes it can kind of have a negative effect, and when you don't get off to the start you want, you're constantly disappointed in yourself.
"This year, he's rolled with it and knew he'd eventually heat up and the hits would come. He looks really good right now."
"The past few weeks or so, not only big hits and lots of them, but RBIs," added Melvin, "and he's been pretty comfortable in the three-hole here recently, too. He's doing a little bit of everything. Just quality at-bats all the time."
Mills, who walked four in as many innings last week, didn't issue a single free pass Wednesday. The lefty struck out four and scattered nine hits, his only mistake resulting in Lucas Duda's pinch-hit, three-run homer in the seventh.
"He hung the cutter-slider thing that he throws, and he knows it," said catcher John Jaso. "Duda knows it too.
"But [Mills] came in ready to compete. It seemed like he was getting pretty amped before the game. He was throwing a lot, and he was killing my shoulder out there warming up. He was definitely amped up, it was cool. He went deep in the game, and that really bodes well for us in a National League game."
It was Mills' first victory since July 8, 2012 while with the Angels. Sean Doolittle recorded the save by striking out the side in the ninth, improving his strikeout-to-walk ratio to 53:1.
"I'm not even comfortable talking about Sean Doolittle," said the always superstitious Melvin, smiling. "He's been very good."
Jane Lee is a reporter for MLB.com. This story was not subject to the approval of Major League Baseball or its clubs.