Wheeler off his game as Mets fall to A's
Right-hander gives up six runs over just two innings in rocky outing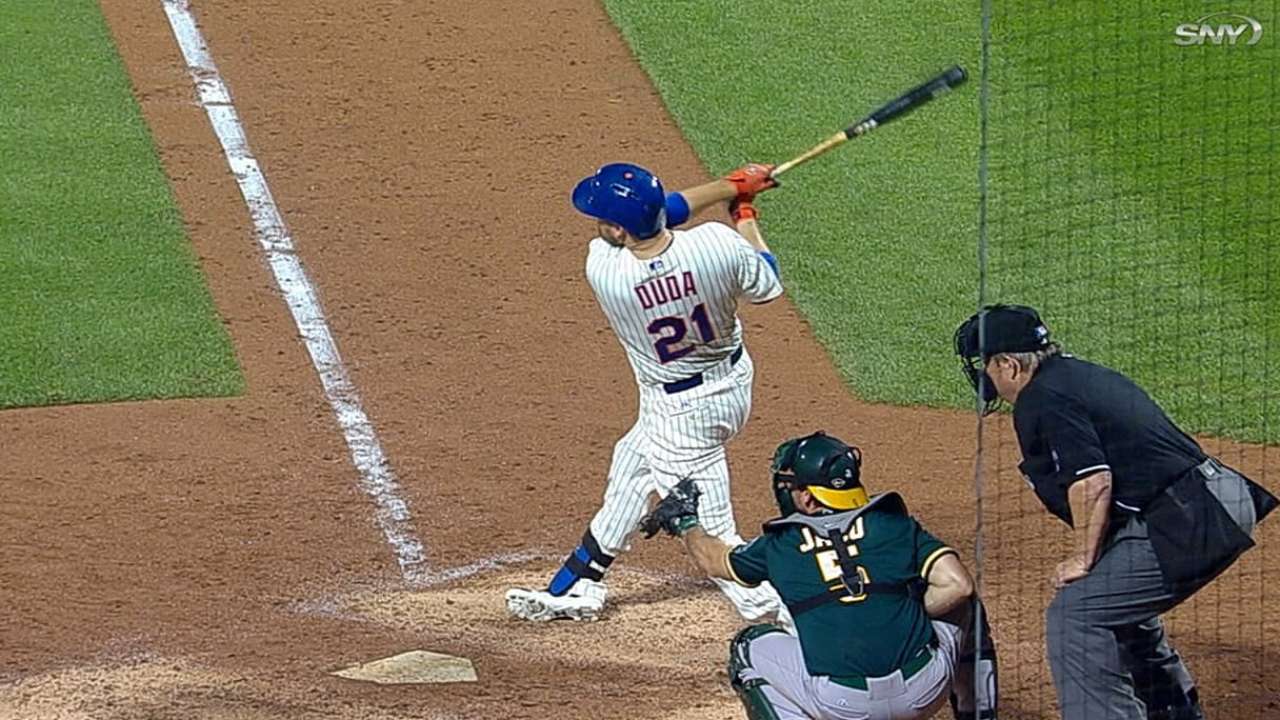 NEW YORK -- So much of what the Mets did right in Tuesday's dismantling of the best team in baseball, they did wrong one night later at Citi Field. The Mets did not receive quality starting pitching, did not find their offense until the end, and as a result snapped their three-game winning streak in an 8-5 loss to the A's.
"We put ourselves in some positions to where we could have put a couple more runs on the board early in the game, but we weren't able to get the hits in those situations," outfielder Chris Young said. "We made it tough on ourselves."
Seeking to win four in a row for the first time this season, the Mets instead tumbled into an early hole from which -- despite a spirited comeback effort -- they could not escape. Starting pitcher Zack Wheeler gave up Brandon Moss' two-run homer in the first inning and Yoenis Cespedes' three-run triple in the second, and by the third was sitting on the bench. Coming off his first career shutout in Miami, Wheeler recorded only a half-dozen outs in this one, allowing six runs on six hits and two walks.
"I did so well last time and I know I have it," Wheeler said. "I don't even know what to say, to be honest. It was a bad outing. I really didn't give us a chance to win out of the chute."
Though he admitted that many of his pitches lacked their normal crispness, Wheeler said he also suspected the A's of stealing some of catcher Travis d'Arnaud's signs. Still, while that may have explained Cespedes' double with a man on second base, it did not account for Moss' homer, which nearly cleared the second deck in right field.
"That one went a long way," A's manager Bob Melvin said. "I didn't see where it landed. He did mention that that one felt pretty good."
Though New York's bullpen pitched well enough after that, the deficit proved too great to overcome. Lucas Duda's pinch-hit, three run homer in the seventh inning -- his first extra-base hit off a left-handed pitcher in 41 plate appearances this season -- and Young's two-run blast in the eighth brought the Mets close, but not close enough.
Their only early threat against A's starter Brad Mills came in the second, when their first two batters of the inning both singled. But Young and d'Arnaud popped up in succession and, after Ruben Tejada also singled to load the bases, pinch-hitter Wilmer Flores lined out to left.
Mills dominated throughout the middle innings, retiring 11 of 12 before pitching out of a jam in the sixth. The Mets finally snapped free from his spell an inning later, when Duda blasted his three-run homer over the center-field wall, and Young later jumped on reliever Luke Gregerson for his third homer in two games. But the top third of New York's order did next to nothing, with Eric Young, Daniel Murphy and David Wright finishing a combined 1-for-11. Despite recording the only hit of that group, Wright finished without an RBI for the first time in eight games.
For the Mets, the comeback was a mixed blessing. While a win would have been nice, drawing them ever closer to the middle of a jumbled NL East, the comeback itself provided reason for optimism. The Mets have now scored 21 runs over their last three games, plating at least five in three straight games for the first time in six weeks. Despite settling into an eight-run deficit Wednesday, they forced the A's to turn to closer Sean Doolittle in the ninth.
"We tell them every time we get together as a group, 'Play nine innings,'" manager Terry Collins said of a team that received another lift after the game, when outfielder Juan Lagares officially returned from the disabled list. "You never know. We came back and made it a ballgame where they had to bring their closer in, when it was 8-0, they have to get to their closer to save the game. We have to do that each and every night -- and if you do that, you have a chance to win a lot of games."
Anthony DiComo is a reporter for MLB.com. Follow him on Twitter @AnthonyDicomo. This story was not subject to the approval of Major League Baseball or its clubs.