Gennett's slam off Stras keys Crew's rout
Rookie plates five to back Estrada; Davis contributes 14th homer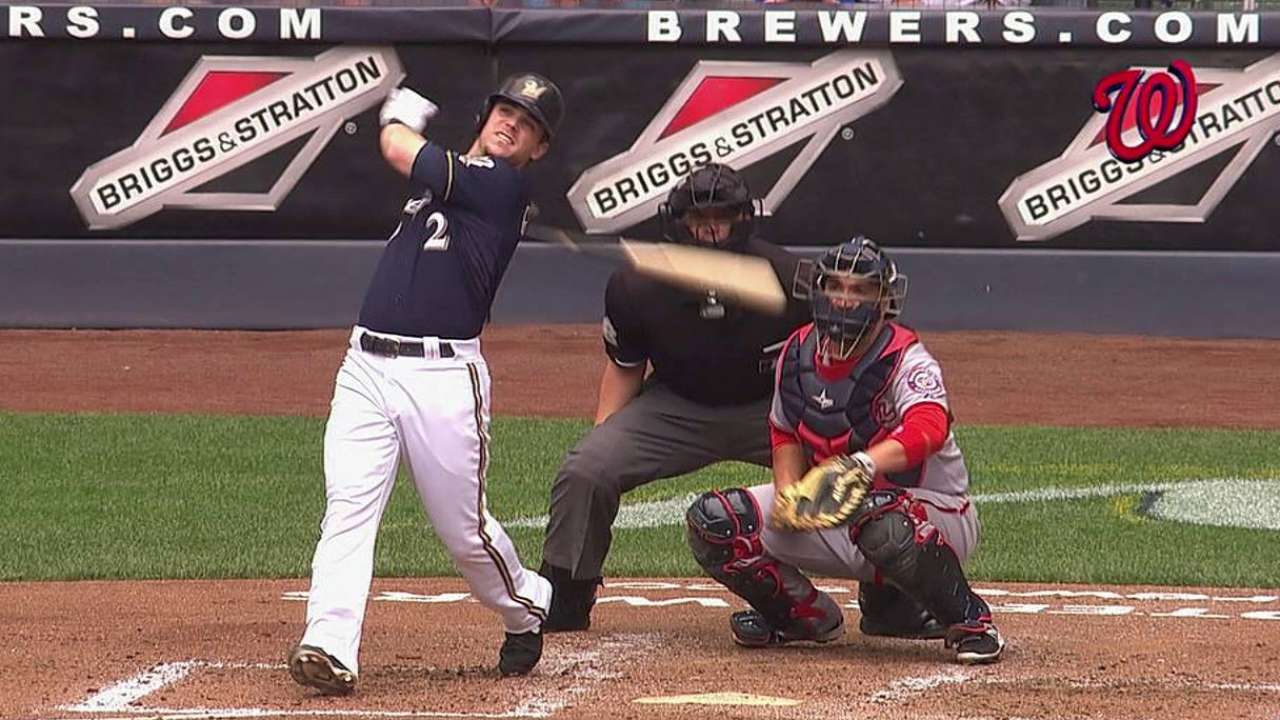 MILWAUKEE -- It's hard to decide which was more encouraging for the Brewers in Wednesday's 9-2 win over the Nationals at Miller Park: the offense breaking out for seven runs against ace Stephen Strasburg after slumbering through the first two games of the series, or right-hander Marco Estrada holding an opponent homerless for only the second time all season and putting in his best performance in more than a month.
The combination of the two produced a Brewers blowout victory in a game that began barely 12 hours after a grueling 4-2, 16-inning loss on Tuesday night. Despite several starters getting days off, the Brewers handed Strasburg one of his worst outings of the season, chasing him from the game after 4 2/3 innings.
"Definitely a big bounce-back day, especially with that quick turnaround," said Brewers outfielder Khris Davis. "Guys are tired. It's just nice to pull it together and grind it out today and have a big win. Every win counts."
After Gio Gonzalez, Jordan Zimmermann and the Nationals' bullpen cruised through the Brewers' lineup in the first two games of the series, Wednesday's pitching matchup wasn't promising for Milwaukee, given that Estrada had an 8.74 ERA in four June starts. But Estrada has insisted that his confidence hasn't wavered, and that was reflected in his line in the series finale, as he gave up two runs on two hits over 6 1/3 innings.
"I didn't care what the score was -- obviously, you want to win -- but after a night like last night, you just want to give the team innings," Estrada said. "I'm glad with the way things went today. The guys came out with a lot of energy, they swung the bat really well and scored a lot of runs, and it just made my job just a little bit easier. I went out and was trying to throw as many strikes as I could and get early contact so I could stay in the game as I long as I could."
With Ryan Braun, Aramis Ramirez and Jonathan Lucroy resting, Estrada found plenty of run support from Scooter Gennett and Davis, both in their first full year in the Major Leagues. The two combined for eight RBIs and two home runs to sink Washington's bid for a sweep.
Gennett turned a 95-mph fastball from Strasburg into a two-out grand slam in the second inning and immediately doubled Milwaukee's run total from the first 26 innings of this series. It was only the 10th extra-base hit that Strasburg had allowed to a left-handed batter all year.
"Scooter, huge at-bat," said Brewers manager Ron Roenicke. "Before that, those were all really good at-bats to load the bases up. You get out of that, and it's a different ballgame. I mean, who knows? Maybe Strasburg shuts us down the rest of the way. Huge at-bat."
Instead, the home run opened the floodgates. Davis hit his team-leading 14th home run of the year to lead off the fourth, marking the first time all season Strasburg has allowed more than one home run in a start. After Strasburg retired the first two batters in the fifth, Carlos Gomez tripled, the next two batters walked and Davis hit a two-run single that chased the right-hander from the game.
"He's got good stuff, got a good fastball and a good changeup," Davis said of Strasburg. "I faced him before in college, so I kind of had an idea of what his stuff looked like. He had good stuff. We just put together some good at-bats off him and put some pressure on him."
The Brewers tacked on two more in the sixth, and it would be more than enough for Estrada, who exited the game to a standing ovation from the home fans.
"It was really nice to hear the crowd behind me," Estrada said. "It's been a tough month and a half or whatever it's been, but to come out of the game and see the fans are still behind me -- not just me, but the way the game was going, I'm sure everyone was really excited about it -- but to get some cheers in that game, it made me feel really good."
The 9-2 win spared the Brewers from being swept for the first time all season. Perhaps more importantly for the team's playoff hopes, it validated the faith that management has shown in Estrada through his recent rough patch.
"You can't continually go out there and give up runs all the time," Roenicke said. "If you see a guy going in the wrong direction, it's huge for us, looking at a guy who hasn't pitched the way we thought he was going to. It's important for him to get back in that mode that we know he can do. So for him, I think, a real important outing."
Caitlin Swieca is an associate reporter for MLB.com. This story was not subject to the approval of Major League Baseball or its clubs.