Early slam off Stras sets wrong tone for Nats
Win streak snapped at four; ace, chased in fifth, allows seven runs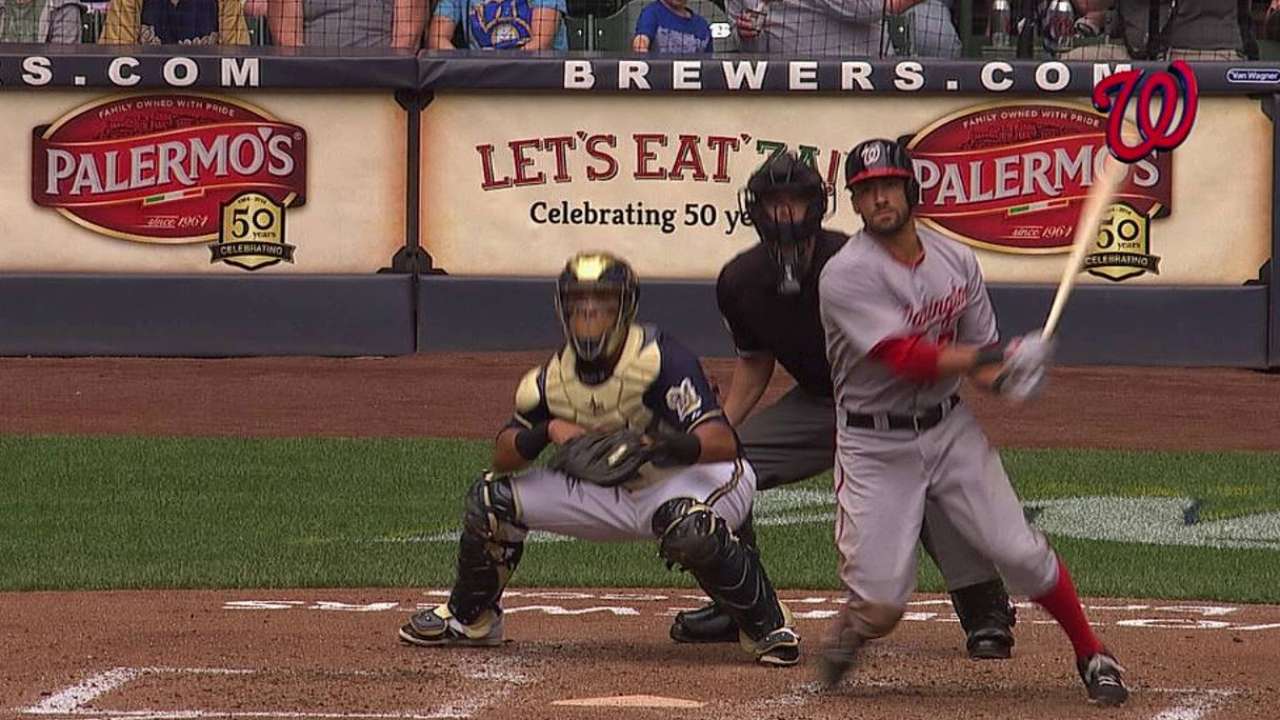 MILWAUKEE -- The Nationals really needed right-hander Stephen Strasburg to step up in Wednesday afternoon's series finale at Miller Park because the bullpen was overworked after the prior night's 16-inning win, but Strasburg was hit hard in the Nationals' 9-2 loss to the Brewers.
What made the loss even worse was that regulars such as Ryan Braun, Jonathan Lucroy and Aramis Ramirez were not in the lineup for Milwaukee.
Strasburg was chased in the fifth, completing 4 2/3 innings and allowing seven runs on eight hits. It didn't help that his changeup wasn't working at all. The Brewers were able to get to Strasburg in the second inning, as Scooter Gennett highlighted the scoring with a grand slam to give Milwaukee a 4-1 lead.
"We still had a good lineup out there, but when you think about the guys we didn't have in the lineup, you don't really expect to score however many runs we scored today," Gennett said. "It's nice. Everybody stepped up and contributed in some way."
Gennett's home run proved to be the decisive drive, and it was enough for Brewers right-hander Marco Estrada to pick up his seventh victory of the season. The right-hander lasted 6 1/3 innings and allowed two runs on two hits. Ian Desmond had the biggest hit of the day off Estrada, a fourth-inning double that drove in Ryan Zimmerman.
After that, the Brewers would have their way with Strasburg. Khris Davis hit Strasburg's first pitch of the bottom of the fourth for his 14th home run of the season, and the following inning, Davis was at it again, hitting a bases-loaded single to score Carlos Gomez and Lyle Overbay.
"I'm not right mechanically," Strasburg said. "I think it's causing [hitters] to see the ball a lot better. It happens to everybody. I just have to keep working hard."
Nationals pitching coach Steve McCatty believes Strasburg will straighten things out by his next start.
"He has to get the ball down; he has to focus on getting pitches down," McCatty said. "The pitches that were hit were up. It's one of those things. He has done pretty well."
On the day he was called up from Triple-A Syracuse, right-hander Taylor Hill made his Major League debut and didn't fare much better than Strasburg, allowing two runs in 3 1/3 innings. Gennett and Gomez each hit an RBI single against the right-hander.
"I was OK; I wasn't as [crisp] as I would like to be," Hill said. "I wasn't able to locate my fastball as well as I hoped. That happens. You have to figure out how to get through it."
But Hill said it was a day he will never forget. His parents flew in from Nashville to see their son perform on the mound. They will also travel to Chicago to watch the Nats' upcoming four-game series against the Cubs.
"It was awesome; just pitching in front of that crowd, just being able to do that was something special," Hill said. "I will never forget it."
Hill found himself involved in controversy in the bottom of the eighth inning. He hit Gomez with a pitch on the left arm, and Overbay, the next hitter, hit into a double play.
But as the Nationals were turning two, Gomez slid hard into second base and almost knocked out Kevin Frandsen. Desmond didn't like what he saw and confronted Gomez.
Desmond explained to Gomez that Hill was making his Major League debut and was not trying to hurt Gomez. It was obvious that Hill was anxious on the mound. As Desmond and Gomez confronted each other, both benches emptied, but the scene didn't escalate beyond that point. Gomez told Desmond his slide was clean, but Desmond disagreed.
"I told Gomez that I didn't agree with how he slid into second base with a seven-run lead," Desmond said. "I was defending that guy with a lot of clubhouse arguments. I respect the way he plays the game, but I have no respect for that. If he thinks he got drilled on purpose by a pitcher making his Major League debut -- and to take it out on a guy who has grinded his butt off to make a Major League career in Kevin Frandsen -- I have no respect for you if you defend that."
Bill Ladson is a reporter for MLB.com and writes an MLBlog, All Nats All the Time. He also can be found on Twitter @WashingNats. This story was not subject to the approval of Major League Baseball or its clubs.