Price in rarefied air with strikeout streak
Rays ace joins seven other pitchers with double-digit K's in five straight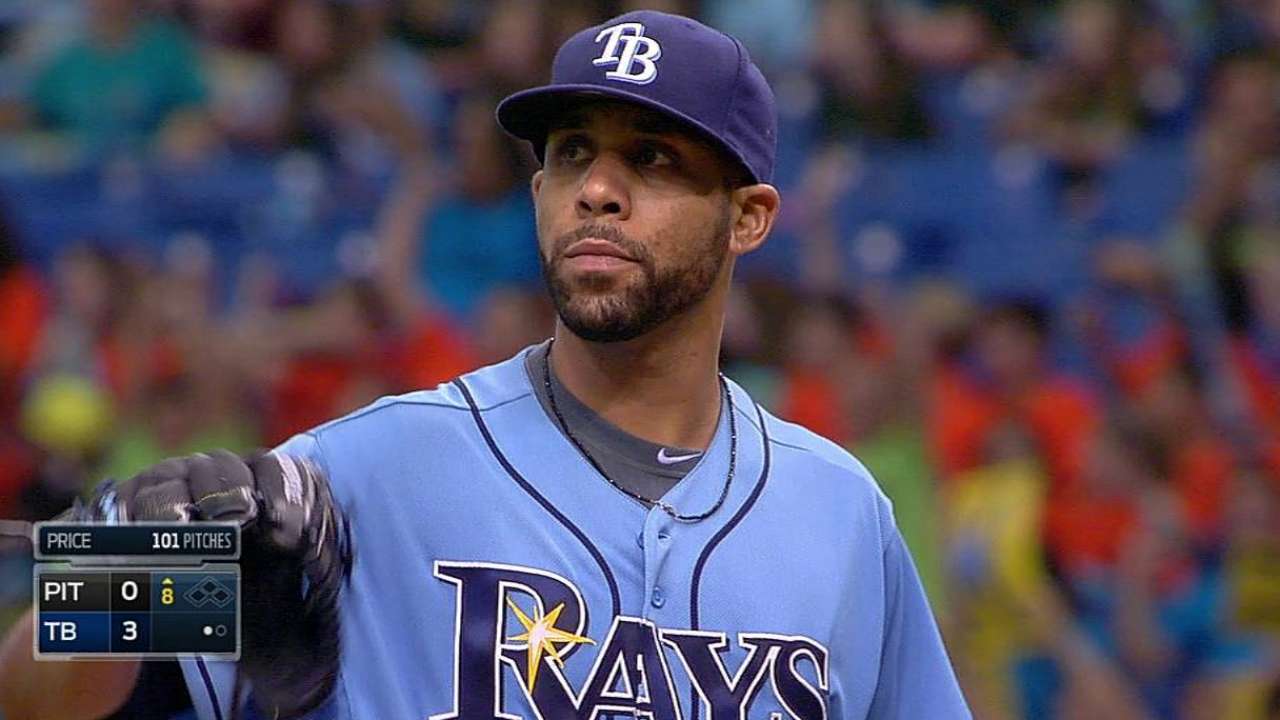 David Price is on a roll that very few pitchers can even comprehend. Tampa Bay's southpaw ace struck out at least 10 batters for the fifth consecutive start on Wednesday, a run of dominance that has been equalled by just seven other pitchers over the past 100 years.
A five-start streak with at least 10 strikeouts has been achieved 22 times in 100 years, but a few pitchers have done it multiple times. Noted strikeout artists Nolan Ryan (three times), Randy Johnson (eight times) and Pedro Martinez (six times) are the only pitchers to do it more than once.
But don't be mistaken by that group's casual dominance: This feat doesn't happen all that often. Before Price's current streak, the most recent big league starter to go five starts in a row with at least 10 strikeouts was Johan Santana, and he did it en route to the 2004 Cy Young Award.
Select company
With his fifth consecutive double-digit strikeout game, David Price is the eighth pitcher to have a strikeout streak of five games or more. And he's one game shy of joining a select group who've completed the feat over six-plus games.

| Pitcher | Team | Start | End | Games |
| --- | --- | --- | --- | --- |
| Pedro Martinez | BOS | 8/19/99 | 9/27/99 | 8 |
| Randy Johnson | ARI | 4/13/01 | 5/1301 | 7 |
| Pedro Martinez | BOS | 4/15/99 | 5/18/99 | 7 |
| Nolan Ryan | CAL | 5/19/77 | 6/16/77 | 7 |
| Randy Johnson | ARI | 7/31/02 | 8/25/02 | 6 |
| Randy Johnson | ARI | 4/25/00 | 5/21/00 | 6 |
| Randy Johnson | ARI | 7/20/99 | 8/16/99 | 6 |
| Randy Johnson | SEA | 6/19/98 | 7/16/98 | 6 |
| Pedro Martinez | MON | 6/3/97 | 6/30/97 | 6 |
| Nolan Ryan | CAL | 9/25/72 | 4/18/73 | 6 |
Price, who worked into the ninth inning of Wednesday's 5-1 win over Pittsburgh, has won just two times in his five-start stretch, losing three times despite dominant statistics. Price has a 2.27 ERA in his past five starts, and he's struck out 54 batters -- a team record for most in a month -- while allowing just 32 hits.
The left-hander started the streak by striking out 11 Marlins in a 5-4 loss to Miami, and five days later, he struck out 10 Mariners in a 3-0 shutout loss. Price faced the Astros twice in a row -- striking out 10 and 12 batters -- before whiffing 11 Pirates in Wednesday's victory.
The Major League record in this category is eight straight starts with at least 10 strikeouts, and just one person has done that. Martinez went eight straight outings for Boston with 10 or more whiffs in 1999, and he had a separate seven-game streak in that same Cy Young Award season. Martinez managed a six-game streak in 1997, and he had three other streaks of at least five 10-strikeout outings.
Almost all of those seasons came at the right-hander's peak of dominance. Martinez won the Cy Young Award three times, and five of his six strikeout streaks came during those campaigns.
A similar trend can be observed for Johnson: Five of his eight strikeout streaks came in seasons where he won the Cy Young Award. Johnson is second in all-time strikeouts (4,875), and he has five of the league's 10 longest all-time streaks of at least six starts with 10 or more strikeouts. All five of those streaks came between 1998 and 2002, when Johnson won four Cy Young Awards in a five-year stretch.
And if you expected to see Ryan in this category, you won't be disappointed. Ryan struck out a record 5,714 batters over his epic 27-year career, but he matched Price's feat just three times. Amazingly, two of those streaks happened 17 years apart. Ryan went five straight starts with 10 strikeouts for the first time in 1972, and the Hall of Famer was able to do it again at the age of 42 in 1989.
The other pitchers in this category -- Santana, Curt Schilling, Dwight Gooden and J.R. Richard -- all had their own signature runs of dominance. Gooden's unhittable stretch came in 1984 when he was just 19 years old, and he parlayed his 17-9 record and 2.60 ERA into a Rookie of the Year Award.
Schilling went 17-11 with a 2.97 ERA in 1997, the year he put together his strikeout streak, and Richard cobbled his together over two seasons. The right-hander started his strikeout streak at the end of the 1979 season, and he kept it going into 1980. Richard had an All-Star season and a 1.90 ERA through 17 starts in 1980, but his standout career was halted due to an emergency medical condition.
Gooden and Richard both managed to strike out more than 60 batters during their five-start streaks. Gooden went 4-1 with a 1.26 ERA and 65 strikeouts in his dominant stretch in 1984, and Richard posted a 3-1 record and an incredible 1.05 ERA during his five-start streak in 1979-80.
If Price manages to extend his streak for one more start, he would join Martinez, Johnson and Ryan as the only pitchers in that club. All three of those pitchers also have a seven-start streak on their resume.
Spencer Fordin is a reporter for MLB.com. This story was not subject to the approval of Major League Baseball or its clubs.