Rasmus appreciates convenient home location
Blue Jays center fielder has short walk to work from Toronto high-rise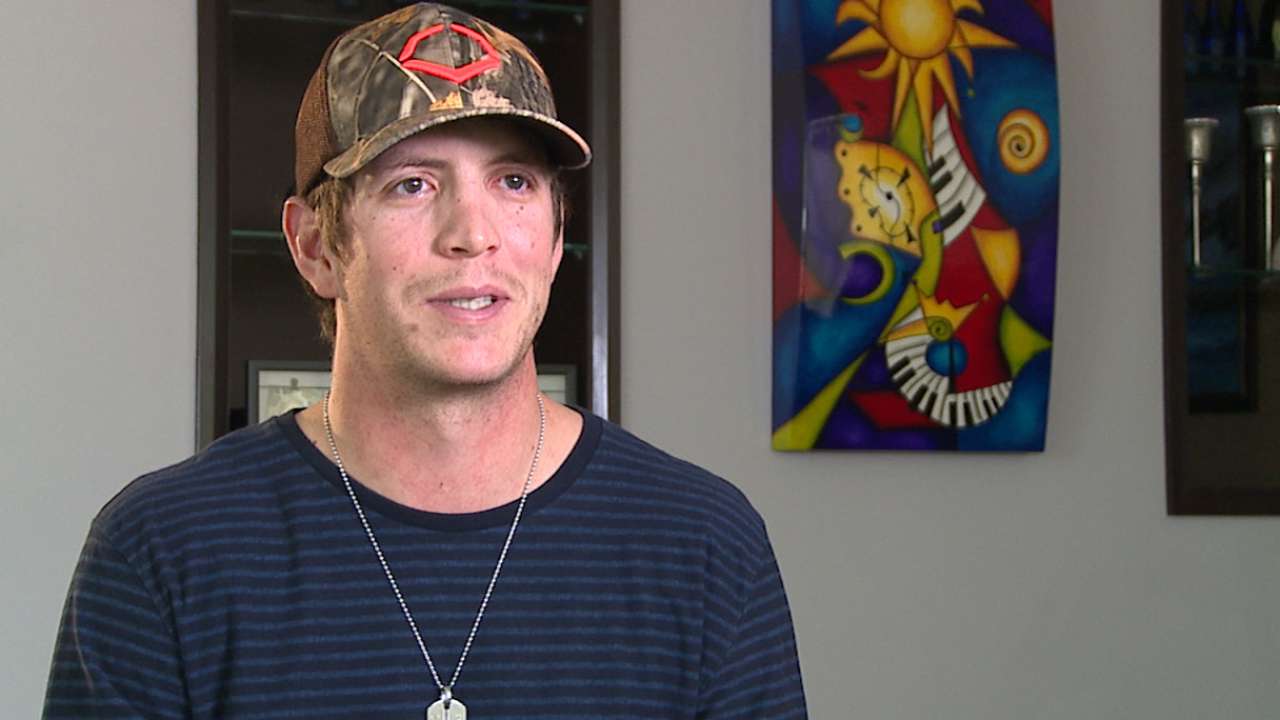 Colby Rasmus peers down from the 39th floor over the terrace of his glassy condo looking out over Lake Ontario and other waterfront high-rises. Immediately to his left are two Toronto icons, the CN Tower and Rogers Centre. Rasmus sort of breathes it all in, eyeing the familiar white retractable roof next door, where he will go to work that night, and then he heads for the elevator.
The Blue Jays' center fielder exits his building and then -- wearing long sleeves, a backpack and a cap -- makes the short walk, pausing for the occasional autograph request. Then he stops at a food cart on the plaza and wolfs down a hot dog with mustard. Five years after breaking into the Majors with St. Louis, Rasmus now looks up at the outside of Rogers Centre, appreciating the moment, having just returned from a Triple-A rehab assignment to rejoin the American League East leaders.
Then Rasmus winds his way around to Gate 9, where a club official is waiting to escort him inside the door, a routine in the life of a ballplayer from down-home Alabama. It is a world away from what he used to know. And as you can see in the latest video in the MLB.com series Home Field Advantage presented by Coldwell Banker, it is a study in modern convenience, as close as he could be to his job short of living in one of those hotel rooms above and behind him atop center field.
"Living in a high-rise is definitely something we're not used to," Rasmus said during the virtual tour of his home and path to the ballpark. "Right here, you can just look down. We're 39 floors up, you look down, just right off your kitchen -- it's kind of a weird thing to be able to do that. But we love the place. The convenience is a lot easier for [his wife], with our little girl, she's 4 years old.
"Being able to just walk over to the stadium is a lot easier. You just hop on the elevator and go down and a nice little walk to the stadium. The city is beautiful. It's a little walk, but it's fun. You see some interesting people on the sidewalk. I can grab me a chicken hot dog on the way, which is cool."
Rasmus grew up in Phenix City, Ala. (population 36,185), where his family all resides, and he calls it "a strong place in my heart." He was selected in the first round (28th overall) of the 2005 First-Year Player Draft by the Cardinals out of Russell County High in Seale, Ala.
"Nothing is ever going to be like home," Rasmus said. "I've been traveling, living out of a suitcase since I was 17 and I got drafted. Always on the road and always gone. It's really hard to do that, but now that I've gotten a little older, I have a family, and that's what brings me peace, my daughter and my wife. To have them come with me, that's pretty much all I need."
Canada's largest city is quite a change from both Phenix City and St. Louis. As a cosmopolitan hub, this is a melting pot of people from all walks of life. No one in the Majors out-Southerns this ballplayer when it comes to an out-of-town accent, and that has been a bit of an adjustment, but one he handles with aplomb.
"Coming up to Toronto, and just seeing all these big buildings and Rogers Centre right in the middle, it's pretty cool to see all that," Rasmus said. "The diverse culture that's here -- a lot of different people that's here.
"I've learned to get used to it and just kind of go with the flow. As far as talking to people, because I talk with a little bit of a Southern accent, so sometimes it's hard to communicate what I'm trying to say to some people. But that's a part of it."
As the Blue Jays' key recent additions have made an impact in 2014, Rasmus is one they also would like to see reach his projected potential.
Rasmus missed about a month with his injury, and since returning to the lineup on June 18, he is 9-for-28 (.321) with two doubles, a homer and six RBIs. His two-run single in the fifth inning helped Toronto build its 6-0 lead against the Yankees on Tuesday, on the way to an eventual 7-6 walk-off win.
Getting to the ballpark will always be much less of an adventure, at least this year, as Rasmus is eligible for free agency in 2015. For now, he lives the life on a 39th floor, far from Phenix City, and walks to work.
"It's pretty easy," Rasmus said. "Everything's fairly close. It's always busy, traffic, all those sorts of things. It's taken us a while to just take those deep breaths and just relax and know that everyone is trying to find their way and make their way in the city. You just gotta deal with it."
Mark Newman is enterprise editor of MLB.com. Read and join other baseball fans on his MLB.com community blog. This story was not subject to the approval of Major League Baseball or its clubs.