Dominant Price's double-digit K streak to five
First time since Santana in 2004; Longo, Jennings make nifty grabs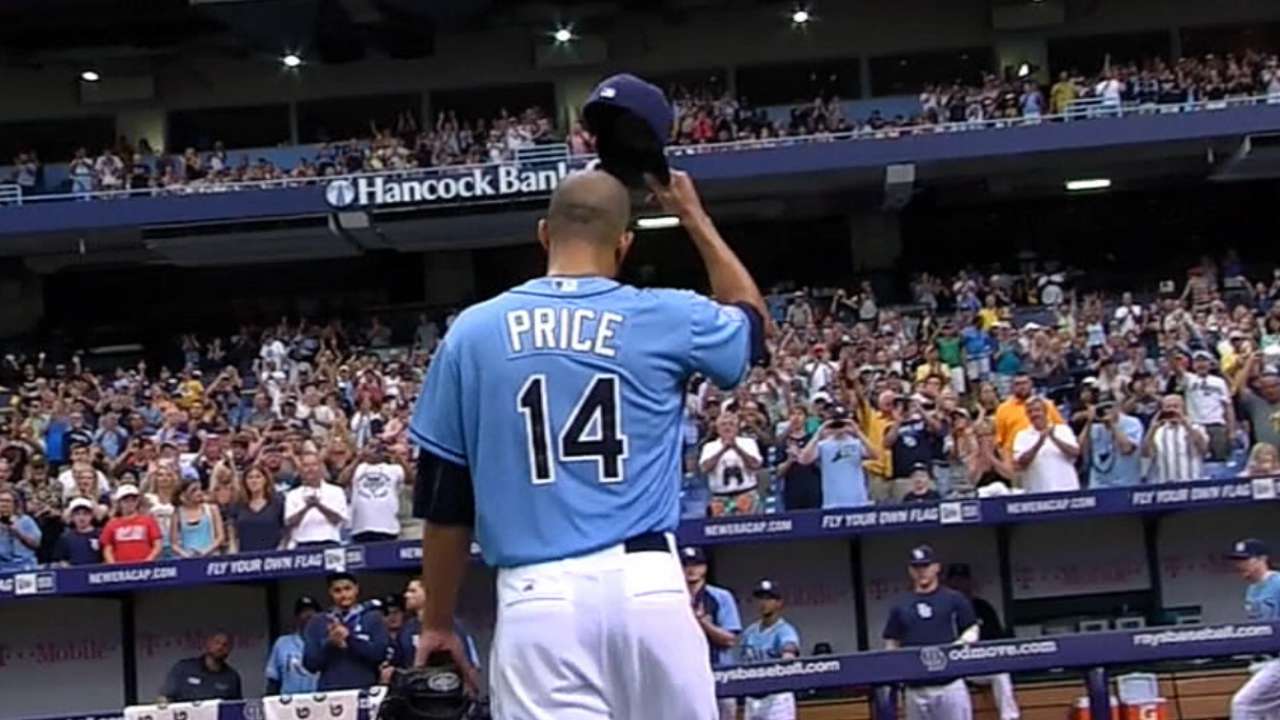 ST. PETERSBURG -- If David Price in fact made his last start at Tropicana Field on Wednesday afternoon, he made it a good one.
A large collection of scouts sat behind home plate to watch Price pitch against the Pirates, while the trade rumors swirling in the background suggested he might not be a member of the Rays much longer. Despite the distraction, the southpaw looked dominant in a 5-1 Rays win.
"I always talk about the pitching driving the engine. David was really, really, really good today," Rays manager Joe Maddon said. "Overall, he kept the ball off the fat part of the bat. ... He was outstanding."
Price pitched 8 1/3 innings, struck out 11 and allowed just one run on a homer by Andrew McCutchen in the ninth. The blast by the Pittsburgh slugger came on Price's 120th pitch, leading to his exit from the game.
Price, who leads the Major Leagues in strikeouts with 144, set the team record for strikeouts in a month with 54, surpassing Scott Kazmir's mark of 50 set in August 2007. He also became just the eighth pitcher to notch double-digit strikeouts in five consecutive games, and the first since Johan Santana in 2004.
"I've never been as good as I am right now, period," Price said. "Not in 2012 [when Price won the American League Cy Young Award], not in college, not in high school. This is the best pitcher I've ever been. I feel in complete control on the mound at all times, with all my pitches on both sides of the plate, and that's tough to do."
A nice ovation followed Price to the dugout, while Bachman-Turner Overdrive's "Taking Care of Business" played. He tipped his hat to the fans and waved before ducking into the dugout.
Price said after the game that it was his way of thanking the crowd.
"These fans are awesome," Price said. "We love them. They support us very well. If this is my last game here, thanks."
Price (6-7) has 144 strikeouts and 14 walks; only two pitchers in Major League Baseball history have finished a season with 10-1 K/BB ratio.
"[Price has] been one of the best for a while: the accolades, mainstay of the staff, all those things," Pirates manager Clint Hurdle said. "You can also see that the record today sometimes doesn't play as good as a pitcher can be."
It's pretty heady stuff, considering all the external factors Price has to block out when he pitches.
"It doesn't surprise me," said Maddon, regarding how mentally tough Price has been. "He's a very driven young man. He has his personal and professional goals. It honestly does not surprise me."
After two losses to the Pirates, the Rays (32-48) won the final game of a seven-game homestand before taking off on an 11-game road trip to Baltimore, New York and Detroit.
The Rays got busy early when Desmond Jennings singled to left to lead off the first. Ben Zobrist followed with an RBI triple, and he scored one out later when shortstop Jordy Mercer could not handle Evan Longoria's grounder.
James Loney kept the rally going with a single, before Brandon Guyer got hit by a pitch from Pirates starter Charlie Morton. That loaded the bases for Kevin Kiermaier, who came through with a sacrifice fly to give the Rays a 3-0 lead.
The three-run outburst was just the third time this season Tampa Bay has scored at least three runs in the first inning.
Loney added an RBI single in the eighth inning, and Kiermaier's bunt single pushed the Rays' lead to 5-0.
Longoria made a superb over-the-shoulder catch in the third inning, and Jennings made a potentially run-saving catch in deep center field in the seventh.
"I had a ton of defensve plays behind me," Price said. "Longo making that catch down the left-field line, jumping over the wall, Zobrist with that double play in the second. ... Those are all huge plays. Desmond in [the seventh inning]. Those are game-changers.
"I felt good on the mound, and we were able to put up some runs in the first inning. That always makes things easier."
Maddon said he missed the symbolism reporters found in Price's every move. Longoria added that he didn't think anything about the possibility of Price's start being his last as a Ray until he heard from his father.
"My dad texted me after the game, and I read his text, and that was the first time I had even thought anything of it -- just because he's David Price and he's a Ray, and I just assume that he'd be here for the rest of the year," Longoria said. "Hopefully I don't have to go through that emotional roller-coaster with everything else that we've had going on as a group, but if it is, in the end, I will always wish him the best in his career, and we will be friends no matter what."
One thing was true after Price's gem on Wednesday: If the Rays are interested in trading him, his value might never be higher.
Bill Chastain is a reporter for MLB.com. This story was not subject to the approval of Major League Baseball or its clubs.