Cards cap big comeback with clutch two-baggers
Descalso, Carpenter come through in eighth in Gonzales' debut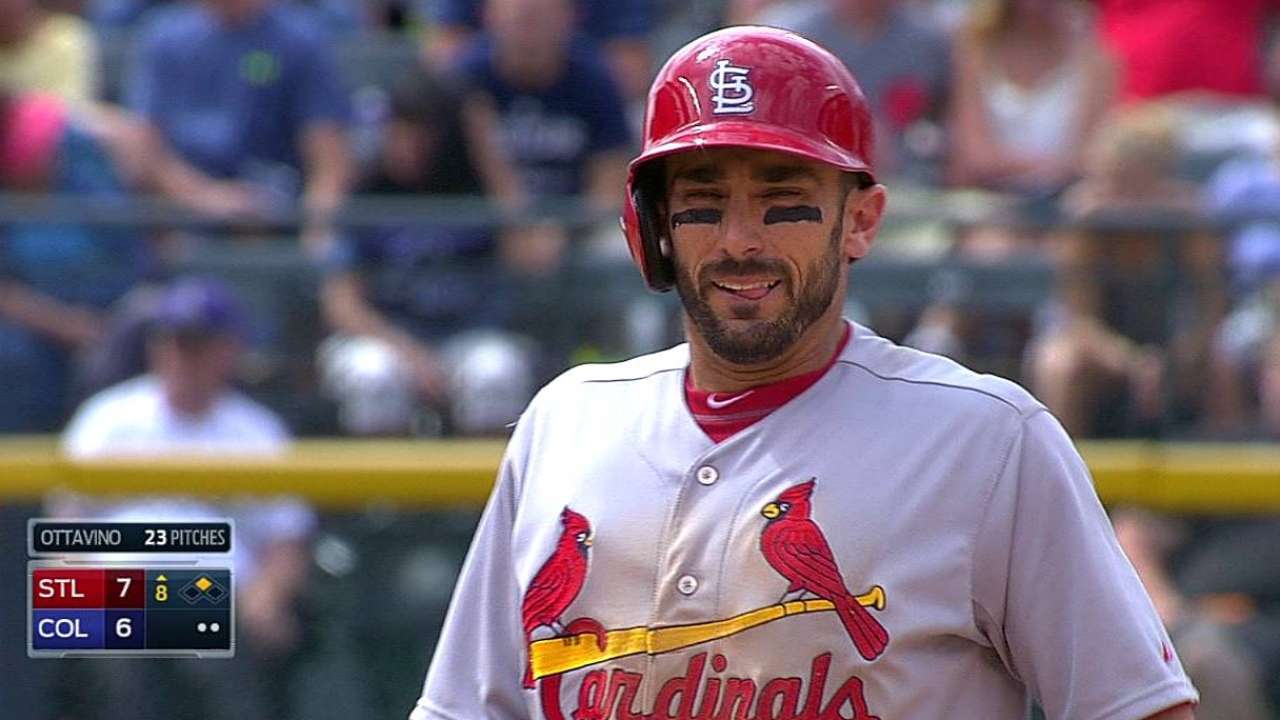 DENVER -- All it took was a rough fourth inning to undo a Major League debut from left-hander Marco Gonzales that was almost too good to be true. But the rest of the game was spent bailing him out.
Gonzales' hometown Rockies got to him for all five of his earned runs in that one inning, but the Cardinals bounced back for a series-sealing 9-6 victory at Coors Field on Wednesday.
St. Louis rallied for a total of five runs in innings seven through nine, with Daniel Descalso and Matt Carpenter registering RBI doubles off right-hander Adam Ottavino (0-3) to take the lead in the eighth.
"Overall, just a great, gutsy win," manager Mike Matheny said. "To be able to get guys on third with less than two outs and to get the run in, that's who we have to be. And I'm real proud of how the guys did that tonight."
Things began storybook enough for Gonzales. The native of Fort Collins, Colo., struck out Drew Stubbs and Troy Tulowitzki on a combined seven pitches to end the first inning of his big league career.
"The one against Tulo was pretty memorable," said Gonzales, who set down the National League Home Run Derby captain on three changeups. "That's my pitch and that's what I'm going to."
But the cheers from the caravan of Gonzales' friends and family that encompassed much of Section 136 were loudest when he doubled in his first Major League at-bat. Gonzales came around to score on a single from his childhood idol Matt Holliday, giving the Cardinals a 1-0 advantage after three innings.
"I was scared to death taking my lead at third because I didn't want [Holliday] to rope one at me," Gonzales said.
The fanfare for Gonzales came to an abrupt end in the fourth inning, as he entered having allowed just one walk.
Stubbs led off the frame by depositing the first pitch Gonzales sent his way into the left-field bleachers for his second home run in as many days. With the tone set, the Rockies sent all nine batters to the plate, totaling two doubles, two singles and a walk off Gonzales before he stopped the bleeding down 5-1.
"A couple things just started to mount up, which happens [at Coors Field] in a hurry," said Matheny. "But he kept making pitches. ... He got right back on the mound and didn't really change his approach that much. He just started becoming more conscious with elevating the ball and what that does in this park."
After beginning Mark Ellis' sixth-inning at-bat in the on-deck circle, Gonzales was pulled for pinch-hitter Jon Jay following Ellis' walk. Jay couldn't capitalize with two on and two outs, and Gonzales' day ended with seven hits and two walks over five innings pitched. He only struck out one more following his emphatic first frame.
"[Gonzales] was really good, all things considered," Matheny said. "First opportunity here in the situation we put him in, it was an incredible test. Hopefully he answered a lot of questions for himself about himself."
The Cardinals got three back in the fifth, when Matt Adams tacked onto Carpenter's sac fly with his third home run of the series, a two-run shot that made it 5-4.
Also making his Major League debut was Rockies left-hander Yohan Flande, who performed admirably aside from allowing Adams' second homer of the season off a lefty. He completed his coming out party with five hits, one walk and four earned runs, striking out four in five innings pitched.
"I was relaxed, because I've been pitching for a long time," said Flande, who had been pitching professionally for nine years before Wednesday's debut. "I treated it like all those days in the Minors."
St. Louis countered Charlie Blackmon's sixth-inning RBI double off Seth Maness with a seventh-inning sac fly from Jhonny Peralta to keep it a one-run game.
After stealing his second base of the season in the ninth and advancing to third on a throwing error by catcher Wilin Rosario, Adams touched home on Yadier Molina's sacrifice fly. The Rockies offered up another run on an Allen Craig sacrifice fly after Nick Masset's wild pickoff attempt allowed Peralta to advance from first to third.
The Cardinals' No. 1 through No. 6 hitters finished the day with at least one RBI each, combining for eight hits and five runs.
"It's encouraging for the guys to keep squaring them up," Matheny said. "Overall, just a real solid approach all the way around. We really took advantage of what they gave us."
Right-hander Pat Neshek (2-0) and lefty Sam Freeman together tossed 1 2/3 hitless innings before handing it over to right-hander Trevor Rosenthal for a difficult 41-pitch four-out save.
In closing out his 23rd save of the season, Rosenthal battled Tulowitzki in an 11-pitch at-bat that saw him touch 100 mph twice before striking him out.
"That was just like two heavyweights standing in the middle of the ring just swinging at each other," said Matheny. "That was impressive."
Cody Ulm is an associate reporter for MLB.com. This story was not subject to the approval of Major League Baseball or its clubs.