Rockies let lead slip away in Flande's MLB debut
Five-run fourth inning builds early cushion for 28-year-old rookie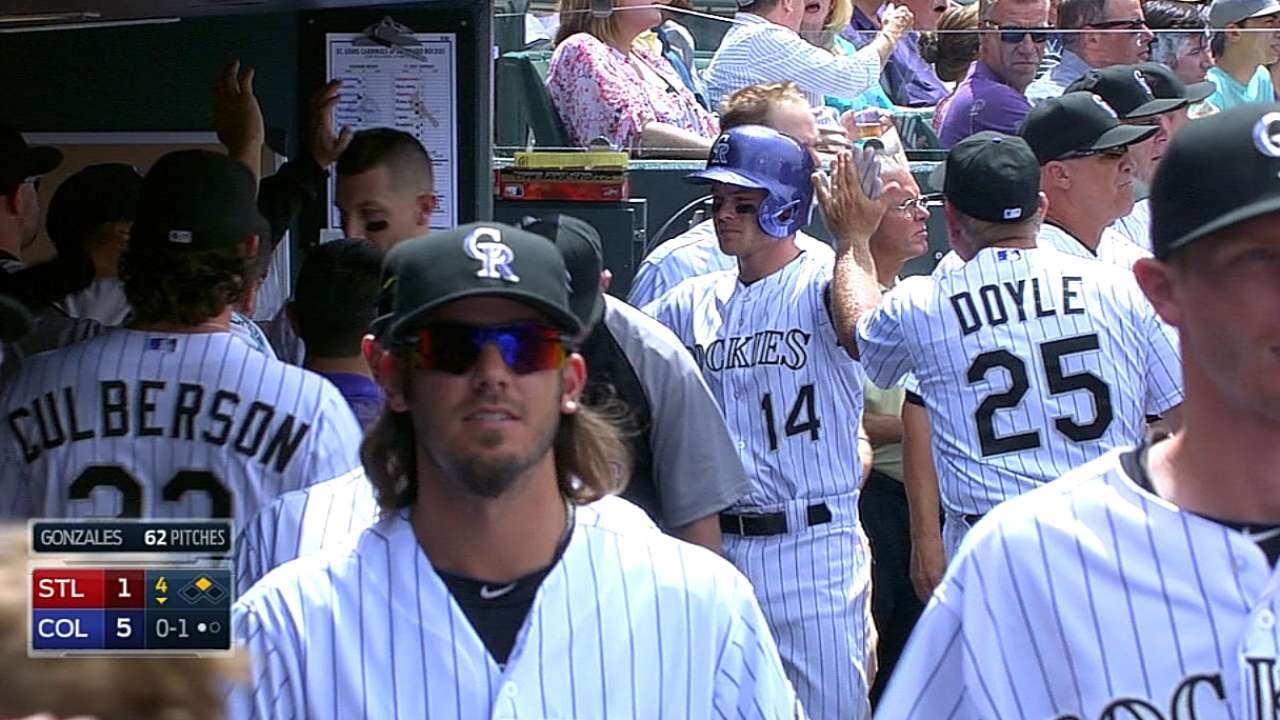 DENVER -- Rockies right-handed reliever Adam Ottavino finished the eighth inning with his hands gripping his head as Matt Holliday's fly ball managed to stay in the yard.
But it was just a snippet of good luck for Ottavino during a rough Wednesday afternoon, the latest day to forget in a nightmarish June.
Daniel Descalso and Matt Carpenter bested Ottavino for RBI doubles -- neither hit hard -- to erase a one-run lead as the Rockies fell for the eighth time in nine games, 9-6, at Coors Field in front of 34,635.
"I don't know," Ottavino said. "I don't have any answers for today. I feel horrible."
Ottavino (0-3) had a 1.46 ERA through the end of May. In June, it's 12.20. When you're going that badly, there are home runs and hard-hit balls. But there are also hits like Descalso's -- to left, with the outfield shading him to right -- on a ball that seemed foul off the bat, but barely landed fair.
Then there was Carpenter's, up the middle and off the glove of diving shortstop Troy Tulowitzki.
"Honestly, I thought [Descalso's hit] was a foul ball, until the moment that it wasn't," Ottavino said. "I wasn't even worried when it was in the air. I thought it was foul. You look at the tape and he thought it was foul, too. But the guy [Mark Ellis] was running on the pitch. Perfect spot.
"We had [Carpenter] shaded up the middle, but that didn't matter."
The inning gave the Cards a 7-6 lead. They added two unearned runs in the top of the ninth to make a winner of Pat Neshek (2-0). Trevor Rosenthal went 1 1/3 innings and threw 41 pitches for his 23rd save. He fanned Tulowitzki after an 11-pitch at-bat on a 100 mph fastball, then forced a Justin Morneau fly ball.
It was a fitting end to the Rockies' downer of a homestand -- 1-5, after going 3-7 during their previous stand against the D-backs, Dodgers and Braves. They were shut out Monday by Lance Lynn and the Cards' bullpen, but in every other game, the Rockies scored at least four runs.
"We're in a tough stretch, no doubt about it, but the resolve hasn't wavered at all," Rockies manager Walt Weiss said. "None of it is coming easy."
Significant numbers of fans were wearing red and supporting Cardinals left-hander Marco Gonzales, who hails from Fort Collins, Colo. He is the son of the Rockies' short-season affiliate Tri-City pitching coach Frank Gonzales, and he was making his Major League debut.
Rockies lefty Yohan Flande also was making his debut, but Gonzales' reception made him practically a visitor in his home park.
But that didn't sway Flande, not after having chased his chance for most of the last 10 seasons -- the first four just trying to graduate from the Dominican Summer League. He had spent the previous years in the Phillies and Braves organizations, and he nearly made the Braves' bullpen at the start of 2010.
But when the Rockies needed a Majors-leading 12th starting pitcher because of multiple injuries, they reached to Triple-A Colorado Springs and called up Flande, who gave up four runs and six hits, struck out four in five innings and left with a 5-4 lead. Three scored in the fifth, two on Matt Adams' ninth homer of the season.
"I was relaxed because I've been pitching for a long time," Flande said, with fellow pitcher Jorge De La Rosa interpreting. "I treated it like all those days in the Minors."
Gonzales, the Cardinals' top Draft pick last year, pleased his supporters by retiring the first eight and finishing with five innings, seven hits and five runs, with three strikeouts. He fanned Drew Stubbs and Tulowitzki in the first inning.
"The one against Tulo was pretty memorable," said Gonzales, who struck the National League Home Run Derby captain out on three changeups. "That's my pitch and that's what I'm going to."
But the Rockies figured him out in a five-run fifth that included Stubbs' sixth homer of the season and second in as many games to open the inning, Corey Dickerson's two-run double, DJ LeMahieu's RBI single and Flande's slug-bunt fielder's choice with one out.
"Both young starters gave their team a chance to win the game," Weiss said. "Flande was outstanding. He gave up three in the fifth. I thought he was very good. Gonzales was outstanding the first time through the lineup. We got a few off him, but he hung in, gave his team a chance to win."
Charlie Blackmon added an RBI double off reliever Seth Maness in the Rockies' sixth.
Thomas Harding is a reporter for MLB.com. Follow him on Twitter @harding_at_mlb. This story was not subject to the approval of Major League Baseball or its clubs.