Padres fall as Lincecum tosses no-hitter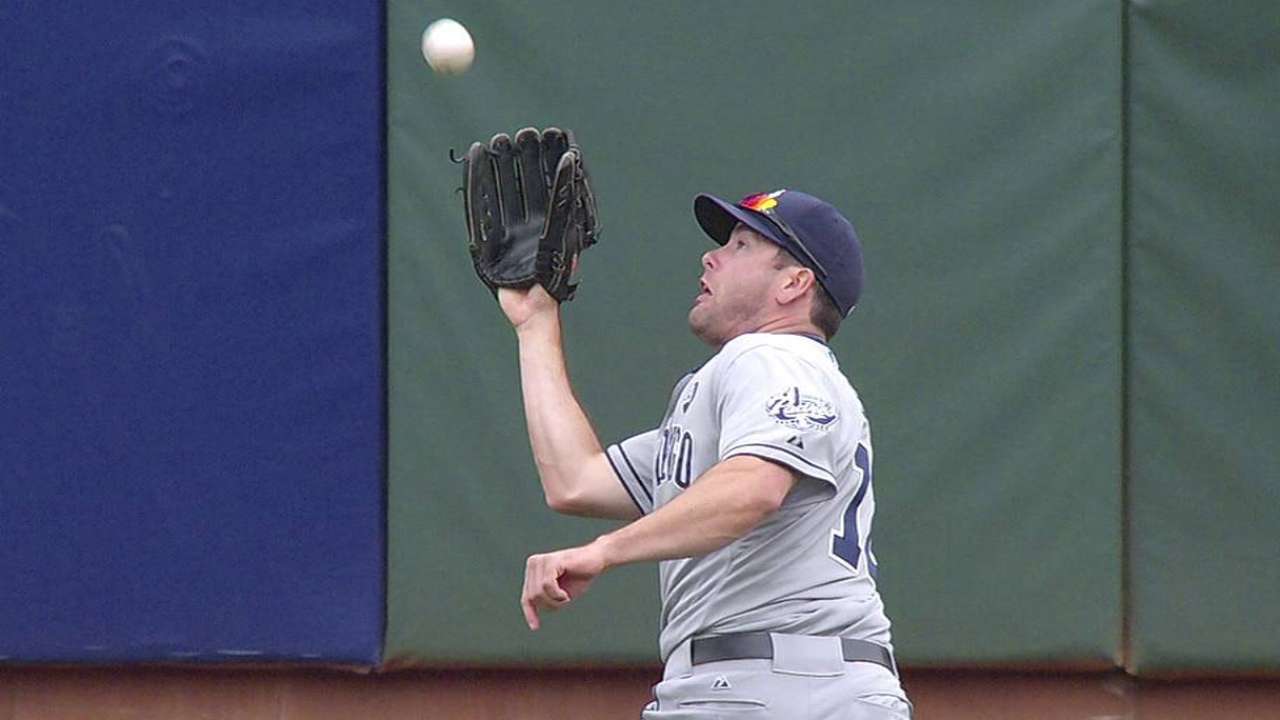 SAN FRANCISCO -- To the end on Wednesday, starting pitcher Ian Kennedy was adamant that history was not going to repeat itself with Tim Lincecum.
"You always think [a no-hitter] is going to be broken up sometime," Kennedy said.
But "sometime" never came for the Padres, who found themselves in a familiar pickle, no-hit by Lincecum for the second time in 11 months, this time in a 4-0 loss in front of a sold-out crowd at AT&T Park.
Lincecum, who entered the game with a 4.90 ERA, handcuffed the Padres much the way he has done during his entire career. This victory is his 15th over the Padres. His ERA in 28 career starts against San Diego stands at a scant 2.35.
"He was good. … That wasn't a fluke," said third baseman Chase Headley, who walked in the second inning and was the Padres' only baserunner.
"His split and change … If [that split isn't] the best pitch in baseball, it's one of the best. I thought that we didn't give in to him and hit a few balls hard, but it goes to show that in this game, it's still pitching that can dominate."
Lincecum worked fast, pounded the strike zone and induced 17 ground-ball outs among the 113 pitches that he needed to dispense of the Padres (34-45), who won the first two games of the series.
In fact, the Padres' scuffling offense looked as though it was starting to awaken early in the series. The Padres scored six runs on Monday and seven on Tuesday.
"Coming off last night [a 7-2 victory], it looked like we had some momentum," manager Bud Black said. "Some guys were starting to swing better. But it goes to show that a starting pitcher can shut it down."
Kennedy (5-9) did have his own success on Wednesday. His curveball and, later, his changeup were both good pitches at times.
"The curveball was all right and the change came around later," Kennedy said. "But they have a good lineup over there."
Kennedy had allowed two runs going into the seventh inning. Reliever Tim Stauffer then allowed two inherited runs to score, leaving Kennedy with four runs allowed in 6 1/3 innings, with eight strikeouts.
The Giants (46-32) got a run in the second inning when Brandon Crawford tripled to deep center and then scored on a sacrifice fly by Hector Sanchez.
One inning later, Pablo Sandoval hit a two-out RBI double to give the Giants a two-run advantage. Buster Posey added a two-run double off Stauffer in the seventh for a six-run cushion.
The rest was left to Lincecum, who retired the first four hitters he faced before walking Headley with one out in the second inning. From there he retired the final 23 batters, including leadoff hitter Will Venable on a ground ball to end the game.
"He threw everything for strikes. The split, the change were good. When he needed to throw a strike, he did. He pitched a great game," said catcher Rene Rivera.
Lincecum's stuff wasn't nearly as electric as it was last July 13 at Petco Park, when he fanned 13 and tied the Padres in knots. But it didn't need to be, not with the quality of his secondary pitches.
"The key for him is locating his pitches. He doesn't have the devastating fastball anymore," Headley said.
Headley has a longer history with Lincecum than anyone in the Padres' clubhouse, having first faced him as a rookie in 2008.
Lincecum, of course, is a different pitcher now. The plus-fastball doesn't have the hair it once did, but his secondary pitches still make him very dangerous.
"I really respect him," Headley said. "He was at the top of his game and then, maybe not reinvented himself, but [he went] through some struggles and [fought] through things. As much as you hate that to happen, you have to tip your cap to him."
Corey Brock is a reporter for MLB.com. Keep track of @FollowThePadres on Twitter. This story was not subject to the approval of Major League Baseball or its clubs.