Kozma designated for assignment; Gonzales called up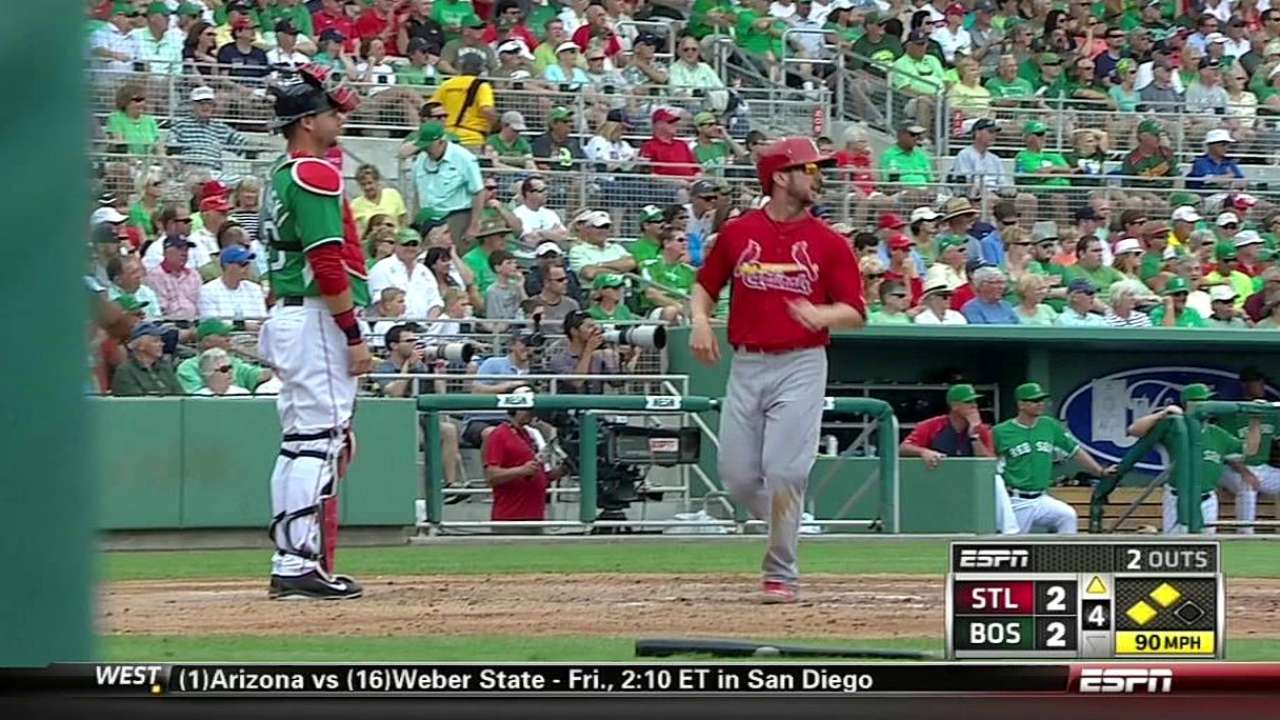 DENVER -- Though shortstop Pete Kozma was already displaced after St. Louis' signing of Jhonny Peralta, the Cardinals had no intentions of shuffling him off the roster this time. But after burning through five relievers in their nine-man bullpen Tuesday, they were left with no choice.
Kozma was designated for assignment Wednesday to make room for left-hander Marco Gonzales on the 25-man roster. Kozma has already cleared waivers and will be optioned to Triple-A Memphis.
Cardinals manager Mike Matheny was forced to have a "very long" conversation with Kozma after right-hander Shelby Miller departed just 2 2/3 innings into Tuesday's start against the Rockies with "mid-back spasms."
"It wasn't our intention when we brought [Kozma] in to watch him leave so quick," said Matheny, who is now back to a four-man bench. "But every arm we have, we need right now."
With No. 4 prospect Gonzales being called up from Double-A Springfield to make his Major League debut Wednesday against the Rockies, the Cardinals also transferred right-hander Joe Kelly (left hamstring strain) to the 60-day disabled list.
The move involving Kelly is purely procedural to make room on the 40-man roster for Gonzales. Kelly has already been on the DL since April 17, more than 60 days, and he will begin a rehab assignment Friday.
Kozma was called up Monday to take one of the two roster spots vacated by right-hander Michael Wacha (right shoulder stress fracture) and left-hander Jaime Garcia (left shoulder soreness). The Cardinals had previously been playing with a four-man bench over the last week, but Kozma didn't make an appearance through the first two games of the series against the Rockies.
Kozma was St. Louis' starting shortstop in 2013, and he batted .217 with 44 runs scored in 410 at-bats. His best run came towards the end of the '12, when he hit .343 with 11 runs and 14 RBIs during September and October to close out the regular season.
Kozma was originally optioned to Triple-A Memphis on April 15 with one hit in three at-bats off the bench during the season.
Cody Ulm is an associate reporter for MLB.com. This story was not subject to the approval of Major League Baseball or its clubs.